A New World Record Revisited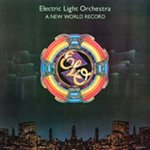 "Soon millions will hold
A New World Record
", proclaims the
Face the Music
website. This clever wordplay is reminiscent of the print and television ad campaign that coincided with the release of what many believe is Jeff Lynne's greatest work.
A New World Record
was released in 1976, amid the coming global superstorm of disco and punk music. It provided an interesting juxtaposition to the sounds that would soon be taking over the airwaves.
Yet somehow it not only survived, it thrived.
The album contained nine tracks, each one of them a gem. From the maudlin "Telephone Line" to the ethereal "Mission", Lynne creates a near-perfect pop masterpiece; an aural soundscape that heightens your appreciation of the music. Listeners are treated to superb songwriting, catchy melodies, and equally brilliant production.
A New World Record
went on the sell over five million records worldwide and spawned three hit singles. It also paved the way for record-setting tours, even bigger-selling albums, and, unfortunately, cries of commercialism for being
too
successful.
With ELO receiving numerous accolades in the music industry press, and credit for influencing modern bands like Jellyfish and Supergrass, one gets the sense that a reevaluation of ELO is in order.
But to fully appreciate Jeff Lynne's genius all you have to do is listen to the music.
Sally Bacchetta - Freelance Writer
Music
Traveling Wilburys
Freelance Writer