Traveling Wilburys Chart Positions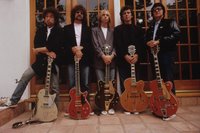 The Traveling Wilburys Collection
is a runaway hit with music fans this summer.
Following its number one positions on the
UK album chart
, IRMA album chart, Australian album chart, Amazon's pre-order and sales list, and Apple's iTunes, the collection debuted at number nine and number one on the Billboard album and
digital album charts
, respectively.
This is an amazing accomplishment considering that the Deluxe edition was out of stock on nearly every major online distributor's website (e.g. Amazon, Best Buy, etc.) just one day after its release, and had very limited retail distribution (read no Starbucks displays). What's even more amazing is that this is a
three-disc
collection.
Although, you must admit, selling music at Starbucks is an excellent idea that has worked well for Ray Charles, Bob Dylan, Paul McCartney, and the Police, among others. How else can you get music in front of over 40 million customers every week?
Sally Bacchetta - Freelance Writer
Music
Traveling Wilburys
Freelance Writer