Heading For The Light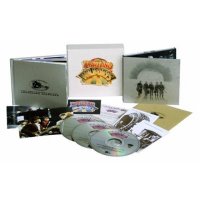 The new
Traveling Wilburys Collection
promises to make a splash when it's released on June 12.
The multi-platinum
Traveling Wilburys Volume 1
and
Traveling Wilburys Volume 3
will be available together in one package with bonus tracks and a DVD of rare video footage, as a deluxe linen-bound edition, a vinyl set, and a digital bundle. The DVD boasts a 24-minute documentary and five music videos.
With media coverage from interviews and reviews in major trade publications, this much-anticipated release is likely to be one of the big hits of the summer. It has already reached the Amazon.com top 10 sales rank in it's pre-release.
Watch the YouTube
video clip
of never-before seen footage from the upcoming DVD documentary.
Sally Bacchetta - Freelance Writer
Music
Traveling Wilburys
Freelance Writer