Jamie Oliver's Tesla Coil Demonstration Page:
(Webster, NY. Near Rochester, NY)

I have witnessed a lack of interest in science in young school age children and took it upon my self to try to make a difference in inspiring an interest in science and electronics. What better way to show science and electronics than a demonstration of a medium power Tesla coil. This is something that you can see, feel, hear, and smell.
Why Look at and What is Different About This Website?
This site is for you if you would like to see a tesla coil that has the design criteria below and/or you would like to know some things about giving demonstrations to kids/people of all ages that I have picked up over the years.
The Design Criteria for this coil was basically two things:
Make the biggest coil I could, and have it powered off of 120V / 15 Amp standard US line power.
Make it so it disassembles easily, quickly, and fits into our Dodge Caravan for demonstrations.
Also on this site is a detailed method to tune a coil with a scope and signal generator.
About This Site:
All pictures in this site are images of this coil running off 120VAC-15 Amp line. Some of the pictures are of the coil in the "Magnifier" Configuration. See the magnifier section for more info on that. I am currently using it in the conventional coil mode as I don't currently have a sufficient insulator that will allow me to run it without breaking down my insulators.
Special Thanks to my tesla coil mentors and helpers Dan Boughton and Ed Wingate.
Below is my friend Baker from Shanghai, China who was visiting and got to play with the coil.

Below is a great shot by Don Race of Webster. This was with his Canon 10D DSLR, handheld, set to asa 3200 using a Canon 28-135mm image stabilization lens. More of his pics in the photo gallery.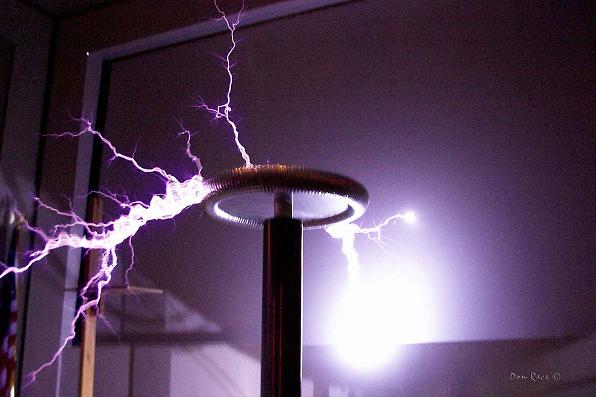 Demonstrating the operation of a "Portable Lightning Rod" at the Rochester Museum and Science Center: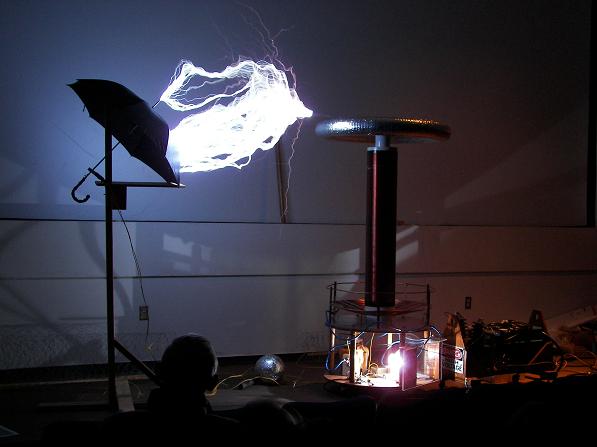 Classroom demonstration at St. John Fisher College for Science Exploration Days events: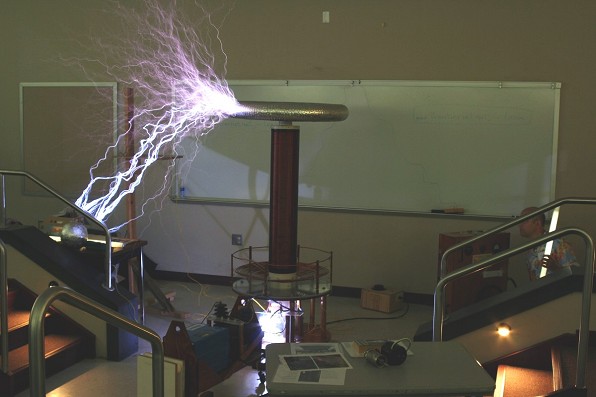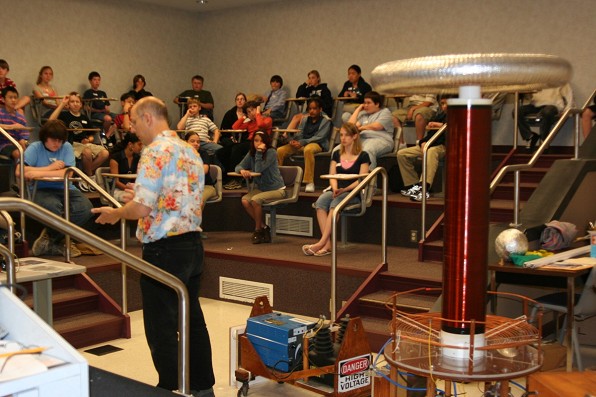 Questions? Suggestions? Email me at: kf2b @ frontiernet.net
Tesla Coils are dangerous and can really hurt or KILL you, even when you think you know what you're doing! Just ask me! Please read this safety information if you plan to experiment with any facet of high voltage. There are no such things as "insulators," only things that conduct less than others.
© Copyright 2006-2017. Jamie Oliver - Contents of this page are the sole responsibility of me, Jamie Oliver, and no, I'm not the British "Jamie Oliver, The Naked Chef" but I'd enjoy meeting him some day.