Transformer Cart Page:
Transformer Cart.
The transformer cart was home made after I had the two components of the cart. It consists of an instrument transformer and an Arc Welder as a inductive current ballast.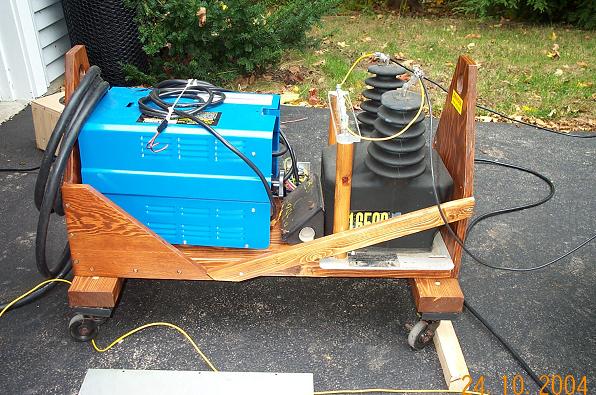 The first component was the 1.5KVA, 16500Volt "instrument or potential" transformer. These are not easy to find and I got this one from a coiler friend. I paid $200 for it. If supply and demand rules apply this is priceless as I have never seen one like it. I wish it was higher power but it is built like a tank and was about the right power level for my design criteria (120V operation). Note the overvoltage protection spark gap on the transformer. This is to prevent a destructive failure. It would fire when not tuned properly.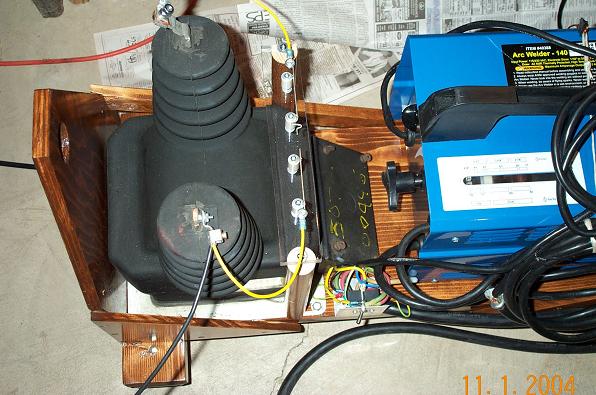 The second component was an arc welder as my ballast. This unit is a Harbor Freight cheapo that cost about $85 or so. It is and should only be rated at 120V but output current is spec'd at 30-70 amps with 120VAC input. The output of the welder is shorted. The tap adjustment on the face of the welder is the current setting and set at 30Amps I can run the coil maxed out for a fair amount of time before my 15 Amp breaker pops. If I run the coil for a while during tests, it will smell of "cooked electronics" inside and get warm. To make sure this was portable, you can notice the two holes at the top of the vertical sections of the cart. I have a 4 foot oak rod that goes through this and makes it easy to lift into the car. This same rod goes through the control box to make it liftable.