Jamie Oliver's Tesla Coil Demo Page:

I have done demonstrations for thousands of people in the Western New York area at High/Middle/ and Elementary Schools, Scout Pack meetings, Science Exploration Days at St. John Fisher College. I'm also a regular at the Rochester Museum and Science Center for a "Science Saturday" program and the Kodak Sponsered "Engineering Week."
Next Demonstration:
"Lightning Extravaganza"

Witness 4-foot, continuous lightning discharges from a 1,800-watt Tesla Coil. Experience plasma forming, and learn about Nicola Tesla, one of the world's true genius inventors.
Nothing pending at this time.
Why Do I Do This?
I have been very concerned for the future of our nation as a technology leader. Enrollment in the engineering professions have dwindled over the last decade and this is a significant problem. I feel kids have not been stimulated in the sciences in their early school years and I have taken upon myself to find a way to "spark" (pardon the pun) the interest in science and engineering.
Although I target to inspire kids, interested audiences have ranged from 4 to 90s. This demo can be 40 minutes to over an hour depending on the age and interest levels.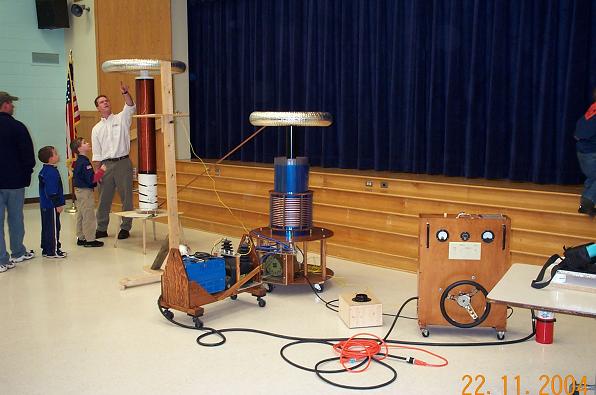 Want to Arrange a Demonstration?
If you would like a demonstration and electronics show and talk, feel free to email me and then we can talk on the phone about details. I usually only do this for groups with at least a hundred people as it is ALOT of work for me to dissassemble, pack, transport, reassemble, demo and do it all over again to get home. I just want to make it worthwhile as I have to take a vacation day from my day job.
Things I will ask you include alot of questions about your facility. Auditoriums and "Cafetoriums" are best. High ceilings are necessary. Active fire control sensors should be at a good distance away from the location of the coil. I've never set off an alarm and intend to keep it that way.
If you are not in the Rochester, NY area, sorry. I'm not a traveler with this (unless it is really worth my while).
Please send your requests, comments, and suggestions to me at kf2b@frontiernet.net
Thank you.