This design is pictured with a round metal frame (approx. 16" dia.), but it can also be put into a round wooden frame, of 18" diameter.
Another deco design, with steeper ziggurat "V's" also comes in this size, as well as a larger one that fits into a 25" diameter oak wood frame. For the copper framed version, click on round copper deco "V"
The larger version, framed in oak, can be seen by clicking on 25" Round Deco "V"
The same 25" diameter wood frame is used for an "L" pattern, pictured below. Using similar bright mirror strips, the right angles introduce some rectilinear geometry on the circular design.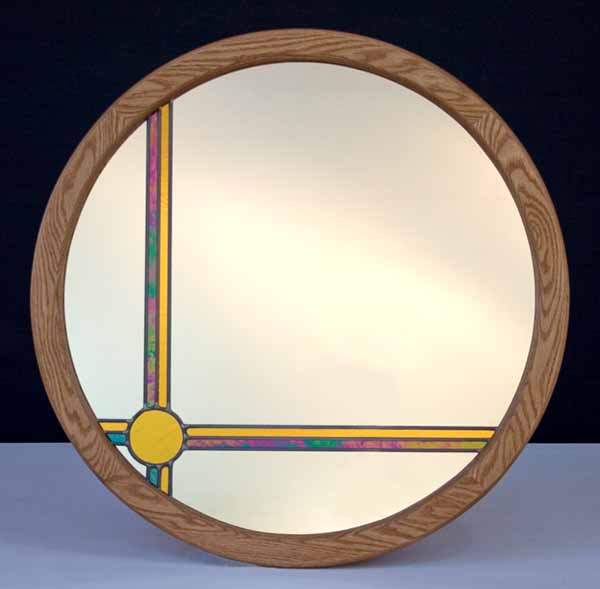 25" diameter round "L" mirror
---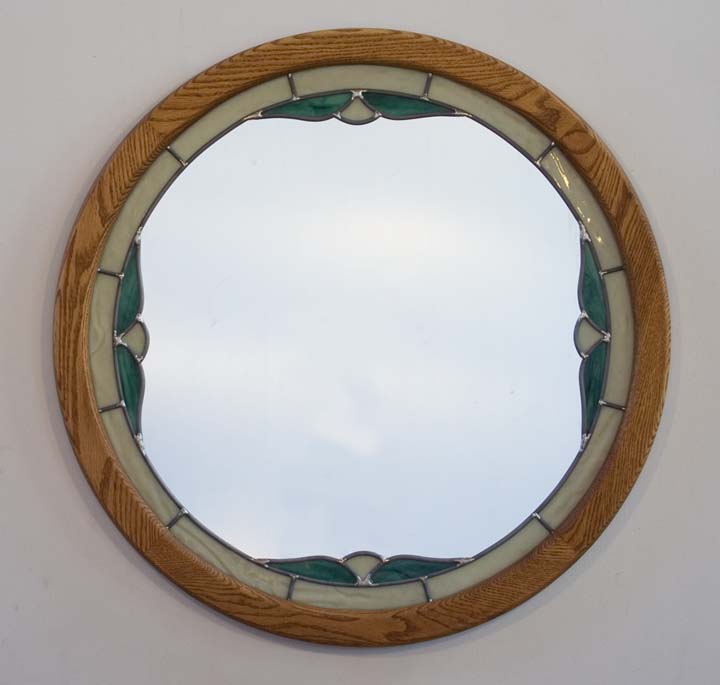 25" diameter round Victorian mirror
This is a mirror design I've made for a long time, in various color combinations (like blue, carmel, etc.). I've also got a larger version---30" diameter.
From my experience, this mirror looks good above something---like a bathroom vanity cabinet/counter, an entry or hall table, or even wall wainscoting. These round mirrors, of whatever theme or style, also can fit well above a dresser, mantle, buffet, or sofa. The reason it's good to place something under a mirror like this is that, by the time it's hung at a working height (i.e., where you can see your face reflected in it), there's still lots of room below it, and this space can appear somewhat empty. The same thing doesn't seem to happen as easily with other shapes of mirrors, whether they're hung vertically, or horizontally.
Warren Slocum
2220 122nd St. New Richmond, Wisconsin 54017
Phone: (715)248-3150, Email: dooda@frontiernet.net