Here's a picture of my floor-standing mirror with stained glass border. The woodwork is oak, though I've made these with various other species.
This is a traditional design, done to my own original specifications. I turn the spindles on a lathe, and make the stand in such a way as to allow it to be disassembled, for mobility. I haven't dared try to ship these large pieces via common carrier, since they're far too vulnerable in transit. For most customers, even distantly located ones, my regular wooden box, made to size for this oval frame, provides satisfactory protection in a car, or even an open truck.
---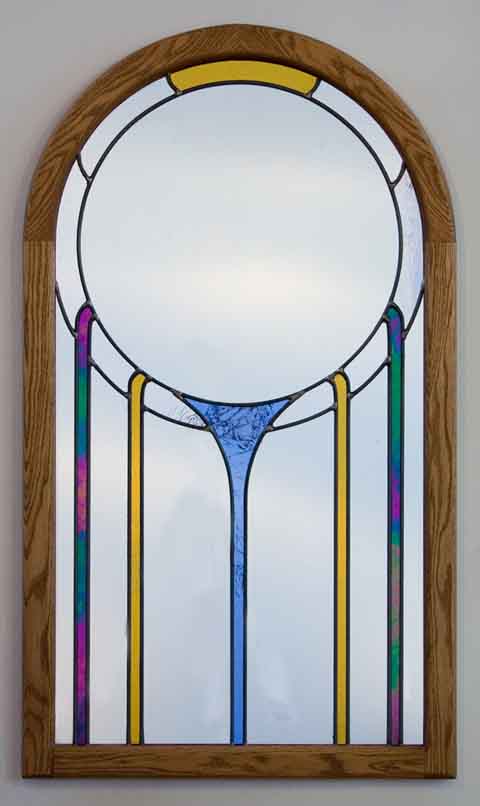 Here's an Art Deco style mirror in an arched frame
20" by 35"
This piece uses some German "antique" glass that's been mirror plated stateside. The bright colors, and shimmering texture, work so well with regular mirrored glass that I use it frequently, usually for the geometric Deco styles that can include elements of "mission", or "arts and crafts" themed works.
Besides my own oak frames, in various shapes including ovals, circles, arches, and rectangles (some with innovative corner details), I also offer some pieces with metal frames, and these impart a completely different look to glass panels that can also be framed in wood.
---
Below is a wooden frame in an arts-and-crafts style (15" by 22"), with a simple, complementary glass design that looks quite different with a metal frame (13" by 20"), on the right. This example illustrates the way that even simple changes bring about very different results, in the finished piece. The substitution of colors, alteration of dimensions, and many other factors influence the final outcome of pieces that can usually be tailored to customers' individual needs without too much trouble.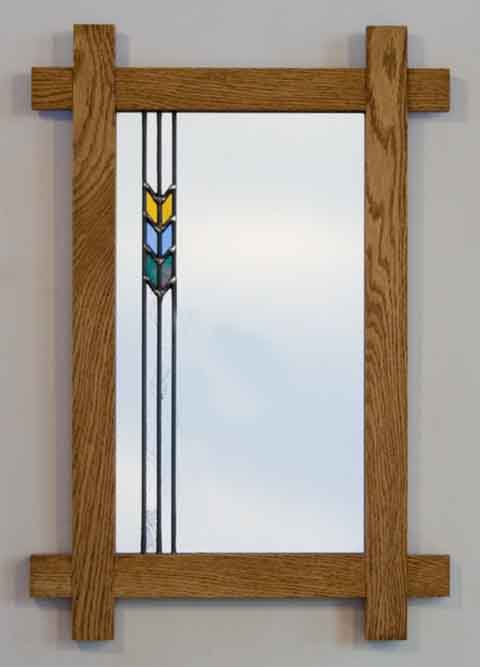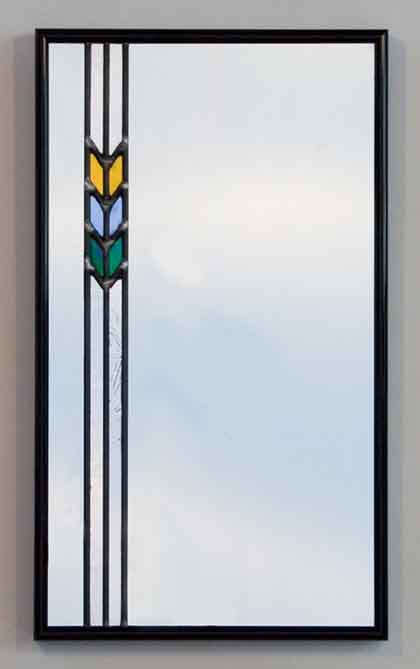 ---
Warren Slocum
2220 122nd St. New Richmond, Wisconsin 54017
Phone: (715)248-3150, Email: dooda@frontiernet.net