This is page 2 of 3 of the Faller site which covers information on the Faller family from the Black Forest (in particular one branch from the area near Gütenbach, Neukirch and Furtwangen). The surname Valler dates from at least the 10th century in Switzerland and its derivatives include Faller, Falleur, Faleur, de Falleur, Faler, Fallers, Fehler, Foeller, Fellure, Falloure, Fowler, Fahller and Fallier.

Table of Contents:
Page 1: ... Greetings ... Background ... Site Overview ... Credits ... Privacy Policy ... "House of Faller" ... Coat of Arms

Page 2: ... Schwarzwald Roots ... Maps ... Origins ... Famous Fallers ... Descendants ... Faller "Citings" ... Photographs ... Research Queries ... Correspondents

Page 3: ... Genealogy & Resource Sites ... Books & Sources ... LDS Microfilm Sources ... LDS Invitation ... Yucatan Hacienda ... Wineries ... Black Forest Clocks ... Glass Works ... Travel Sites ... Miscellany ... My Background

NOTE: See page 1 for last update date.

top of page
SCHWARZWALD ROOTS

(10/30/99)Fallengrund

The Fallengrund and its Oberfallengrundhof in Neukirch were home to a large Faller family branch. The family later spread to neighboring farms through marriage. This account is one chapter of the book "Aus der Geschichte von Neukirch; Höfechronik einer Schwartzwaldgemeinde" by Klaus Weber. When I first encountered this book, I was amazed at all these Fallers from long ago, whose lives had been documented through recording of important events... in church and civil records. I had an English translation (origin unknown) and decided to type it all on the web to help other researchers. Only later did I realize that this account is but a small part of the Faller story, but I have decided to leave it online since it provides an interesting sketch of farm life for three centuries. After finding the German original in the LDS microfilm archives, I checked the names and dates (of the translation, and also of my error-prone keyboarding) but my German is not good enough to allow me to conveniently check the wording of all the text. I have added some of my own notes in square brackets. Where I was unable to get a good translation, I left the original German in quotes. I converted all dates to month/day/year format.

(7/4/99)Another book, "Die Bauern von Gütenbach und ihre Hofguter von 1504 bis Heute," by Klara Werber has some introductory notes about the Fallers. My translation of two paragraphs follows:

"The Fallers came relatively late and were from Oberfallengrundhof in Neukirch near Gütenbach. They became owners of Kilpenhof (Hof 4), where they remained until 1772, through marriage of the heiress. The son of the last farmer took over the Unterlehmannsgrundhof (Hof 9), likewise through marriage, around 1792, but already his grandson sold the property and grounds in 1885.

"Also the Fallers of Oberlehmannsgrundhof (Hof 8) originated from Kilpenhof, first through marriage, they remained one hundred years until 1857 when the family died out through loss of children. But since the last person to carry the name of the farm left it to his sister, the present farmers still are descendants of the Fallers of Kilpenhof and, therewith, of the Fallers of Oberfallengrundhof in Neukirch."

See Maps for a photo of Gütenbach.

The number after "Gut." in the Descendants file corresponds to the farm from which the person came. Each farm corresponds to one numbered chapter in the book. These farms and the surnames of the owners/farmers (for the chapters I have a copy of) are:
1. Obereckhof, Fehrenbach
2. Untereckhof, Beha, Duffner, Dorer
3. Ecklehof,
4. Kilpenhof, Faller
5. Kirnerhof, Kirner, Scherzinger, Wehrle
6. Wolfetsgrundhof, Ketterer, Dorer
7. Buehlhof, Ketterer, Winterhalder, Hunnel
8. Oberlehmannsgrundhof,
9. Unterlehmannsgrundhof, Kern, Fehrenbach, Faller
10. Gutenhof, Ketterer, Kern
11. Bachhof (Breiteckhof),
12. Bachwirtshof-Vogtsgrund, Ketterer, Wehrle, Scherzinger, Kuss, Fehrenbach
13. Unterscherenhof, Rosina Faller, Kern, Kirner, Dorer
14. Oberscherenhof, Fehrenbachk, Hummel
15. Untergschwendhof, Duffner, Scherzinger
16. Obergschwendhof, Faller
17. Untergrundhof, Kienzler
18. Obergrundhof,
19. Unterleimgrubenhof,
20. Oberleimgrubenhof,
21. Heiligenwaldhof.

(8/8/01)Thanks to Robert de Falleur for sending in an extract from another book by Klara Werber. This is in German, so unfortunately I cannot include it in this site. Robert reports that it was bound in an archive of the Generallandesarchiv Karlsruhe. The title and foreword in rough English: History of a Black Forest Land-holding Peasant Clan: The offspring of Theis Faller and Veronika Märckhin from Oberfallengrundhof in Neukirch in Kreis Donaueschingen. I will be perusing this extract soon to determine if there are any further additions to my Descendants file.

Back to the Neukirch book by Klaus Weber:
Chapter 1: OberFallengrundhof
Site: On the Fallengrund (Fahlgrund) on the north and west borders in the precinct of Gütenbach.
Tenure: "2 und Fürsatz"
"Fähle": 4, two at a time St. Peter Cloister and Waldkirch bishopric/seminary.
Farm Size: 1780: 509 "Juchert" of which 323 "Juchert" were hunting grounds. 1967: 75.6 hectares of which 46.6 are in the precinct of Gütenbach. The farm includes the original entire Fahlgrund in the Gütenbach precinct bordering on Dreistegen in Wildgutach and the Könighof.
Farm Name: After the Fallengrund site.

In the following diagram, the numbered squares correspond to the first 16 owners of the Fallengrund.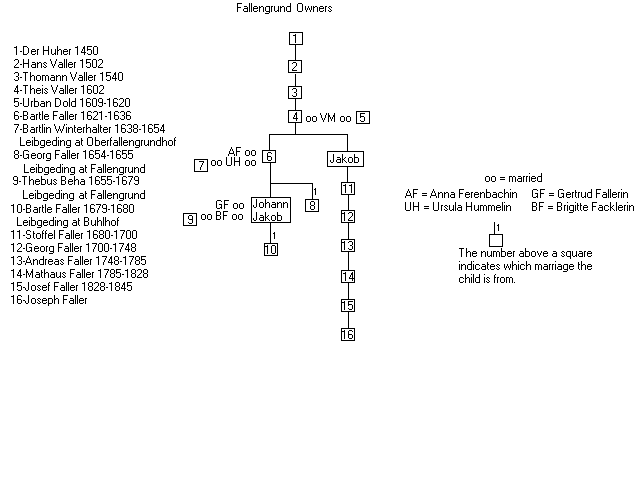 Click here to continue reading about the Fallengrund farmers.
Lenzkirch
(10/28/01) Thanks to Robert de Falleur for this information on Fallerhofs around Lenzkirch (south of Furtwangen): taken from a 1953 book by Max Weber [sorry I cannot decipher the old German title]: Felix Faller (1841-?) was an artist from the Fallerhof in Kappel, who depicted the exterior of the house and an interior of a death-watch (Totenwache). Other pictures by Felix Faller are shown. Photo of Kommerzienrat Franz Josef Faller 1820-1887. Pictures of Michael Faller (1791-1857), Kreszentia Kammerer Faller (1797-1874), Maria Agathe Laule Faller (1782-?). Family tree of Walter Tritscheller (1860-1921). Please refer to "Citings" for a list of names from this book.
LETTERS of INTEREST
Richard Faller of Toronto wrote to my father (EAF Jr.) in 1954: "For the past two years, I have had a trained genealogist working part time for me in Switzerland and the South of Germany on our family records with a fair amount of success. ... I had mentioned to him that your father had done a considerable amount of research and had our lineage traced back to the year 967 A.D." After my grandfather died in 1948, my father also corresponded with various Fallers on the family tree.
Letter from my grandfather (EAF Sr.) to Richard Faller, March 13, 1943:
"My Dear Countryman: ... As you know, the difficulty of our research lies in the fact that the "Fallengrund" farm, of which you came to hear at Neukirch, and therefore, outside of the subsequent research (inquiries), remains with the Pastor Schüssle. In the time between our correspondence, I concluded that our ancestors (forbearers) wandered from Switzerland to Dreisamtal [area between Freiberg and the Feldberg] after 1372 A.D. The "Diesselmuther Bergweisthum" from the year 1372 puts forth a complete family list of all names, who were well-to-do at that time in the "Bergrevier Kirchzarten." One copy, of a copy of the 18th century, surely in St. Blasien, was accessible to me, also I consulted a copy of the "Compromise and Order of the Totnauer Froner" of 1438, in which appears the name for the first time, but they are probably the "Totnauer" [Todtnauer] Fallers who figured here; in any case, we are all from the common extraction. ... [Todtnau is about 18 km south/southeast of Freiburg.]
"Of more interest is the story of a Mathias Faller from the Upper Falligrund, born 1707, died 1781. His father was George Faller, whose wife Barbara, born Furtwängler. Both Fallengrund farms were pastorates in Neukirch at that time. Pastor Jäck, from whom I learned much, was pastor of Gütenbach from 1804 until 1808. This Mathias Faller is ofttimes mixed up/taken to be another Mathias, who stemmed from Gütenbach and moved to Furtwangen. He was an important painter and invented the "gold stripes" and much else. The Falligrinder Mathias, son of George Faller, was a famous wood carver; the two holy figures (statues) at the Schwibbogen [light arch] in the Gütenbacher church are his work. Also the Holy Antonius and the Holy Francis at the altars at the sides are his works. His daughter Maria, invented the "hand painting" for clock/watch shields/signs."
Letter from EAF Sr. to Richard Faller, April 13, 1943:
"Aunt Minnie, Roslindale, Wilhemine Faller, wife of the recently deceased Adolf Faller, is the daughter of the Leo Faller an-der-Strasse (on the street) in contrast to my father, Leo Faller am Bach (on the stream). Their father, better known, regionally, as the BreiteckerLeo, as his house originally stood on the wide/broad corner. It burned down many years ago, and he built the new, present standing house on the street. He was even better known in ancient times as the "Stoffel-Diewise Leo." His father was "the Stoffeldeiwis," or Christoph (Thaddeus?) Faller. We old people recall still the exact history, Leo maintained the fountain of his old "Hofstatt" on the "Breiteck" and conveyed it in wooden barrels to his new house. The distance was (approximately) an English mile and with every spring, he had to make repairs; this cost him a small fortune. The route went the way from our house, past the Schmittebruck and Landstrasse.... The Stoffeldeiwis died before I was born; he is a descendant of Falligrund, was an older son of the farmer, and, consequently, did not inherit the farm; his youngest brother did. It shouldn't be all that difficult for me to enter the Stoffeldeiwis in the Ahnentafel. He was most probably born in the 18th century. In any case the "Breiteck" belonged to the Gütenbach, not the Neukirch, municipality. ...
"As soon as I have ascertained once and for all the relationship of the "Fallers" of the Upper and Lower "Falligrund" (without contradictions) further study of the Faller ancestry will be an easy assignment. I have the "Ahnenliste" (descendants) of the other Falligrinder of the Schüssle. That there exists a relationship leaves no doubt; it is only a matter of tracing it and establishing the fact without any contradictions or objections. ... Note 1: Thaddeus was perhaps not the first name of "Stoffel"; it could also have been Mathaeus (Deiwis). The dictionary of the Badish dialects of Ochs will confirm this. Note 2: The dialectical short form of Matthias was Matthis."
"Witches". Letter from EAF Sr. to Richard Faller April 25, 1943:
"A story of the Faller House: Agatha Ketterer, farmer on the Lehmansgrund, was accused of witchcraft; she was thus tortured, in order to bring her to confession, and subsequently burned. (This occurred around 1625.) She is supposed to have bewitched the milk of other farmers' cows so that they would give blue (skimpy) milk, while her own cows would give such excellent butter. She is supposed to have made this butter on the "Ankenbühl" farm. The name Ankenbühl remains the same even today; but she (Ketterer) was not burned at this place; she was taken to the city of Triberg. A commemoration or service for this "witch" was established by her husband. It is still held to this present day. This husband's name was given to be Martin Kern. It is supposed that he remarried.
"The farmer on the Falligrund (on the upper Fallengrund) was also accused of performing witchcraft. Under torture he did not prove himself as obstinate as Ketterer, but was beheaded. As this farmer was supposedly on the way to the scaffold, he supposedly said to his friends: "If I go where God is, I will ask of him that I am allowed to bring my child with me to him." The five-year-old little boy became ill really immediately and after five weeks was dead."
(6/21/05)FURTHER BACKGROUND from Paul Faller
Professor Hans Joachim Faller of Karlsruhe (b Staufen im Breisgau, 17th May 1915) has supplied me [Paul]with a document listing the owners of the Oberfallengrund in Furtwangen-Neukirch near Gütenbach, about 30km north of Saig. Many Faller families, including his, trace their origins to this farm. It is doubtful, in his opinion, whether there is a connection between his family and ours. A closer scrutiny of the work of Albert Faller, a specialist in family research, might reveal otherwise. His work is lodged with an association in Gütebach. ...Hans Faller, a constitutional judge, is featured in the European Biographical Directory, 8th edition, 1989-1990. Since 1976, he has been an honorary professor at the University of Mannheim and has written many articles about civil rights questions. He is also the author of a lengthy article which appeared in the Gütenbach Local History Society's publication, "Heimatblättle", which a colleague of mine, Schoenstatt sister Florence Henkel, kindly translated. This 12-page article is available, should anyone wish to read it. it is, however worth quoting the few paragraphs that deal with the origin of the name "Faller."
THE ORIGIN OF THE NAME "FALLER" by Hans Joachim Faller
Here a few remarks may be added about the origin and meaning of this family name which is very wide-spread in the Upper Black Forest. There are often several possibilities for the explanation of the linguistic meaning of a family name. In that case one speaks about concurrences or "crossings of interpretation." Often the arbitrary spelling of names blocks the access to their original meaning. In farming areas in Southern Germany family names are frequently connected with the names of homesteads. It is plausible, therefore, to see the name Faller in connection with the name of the Fallengrund farm; but by doing so the question has only been shifted to: How is the name of this farm to be interpreted? Considering the historical, legal and economic development in this area of the Black Forest the following explanation can be given:
As a rule, the large farms were not the property of the farmers who cultivated them. Rather, the land was owned by worldly or spiritual "Lords." So, for example, from the twelfth century onwards, the Monastery of St. Peter was the landlord of Neukirch, and the Margarethenkloster (the Monastery or Convent of St. Margaret) at Waldkirch was the landlord of Gütenbach. The farmers received their farms from the landowners as a fief for lifetime. This meant that they owned their farms in a type of sub-ownership which entitled them to own and cultivate the land, but obliged them also to pay rent. In addition to the annual rent the landlord demanded the so-called "case-duty" (Fall-Abgabe or Fahl-Abgabe) which was due in the case of a change in the ownership of the farm (through death, inheritance or sale). According to this case-duty (Fall-Abgabe) the new owner of the farm had to give to his landlord the so-called "best-head" of cattle in the stable. Depending on the size and productivity of the farm, up to three case-duties (Fähle) could be owed to the landlord, and this was experienced as a heavy burden by the family of the farmer. In order to have a change in ownership occur as rarely as possible, the customary law developed very early of making the youngest son the heir of the farm.
The Fallengrund (Fahlgrund) was such an ancient fief, and, from time immemorial, burdened with two case-duties ("Hauptfähle"). This fact is probably the reason for its name. According to this interpretation the "Faller" would have been the owner of the farm who found himself bound to his landlord in such a legal relationship.
This interpretation is in agreement with Alfred Götze's view. In his essay on "Family Names in the Badensian Upperland" he writes: "In the case of the family name Faller, which, in this version occurs ten times in the old town of Freiburg during the period 1537 to 1796, one thinks of a rent-paying farmer from whom a case duty ("Gefälle") is procured..."
Another interpretation seems to be possible. The landlords would often entrust one of their subjects with the task of collecting the rents. "Faller" could also be the one who had to collect case-duties (Fall-Abgaben). This was later the task of the "Lehensvogt." However, evidence is lacking that a farmer from the Oberfallengrund was ever entrusted with this "office." Alfred Götze is of the opinion that one could also think of a farm worker who has to loosen the ground; or this name could be connected with place names like Oberfall and Unterfall near Triburg. However, this seems as improbable as the supposition that Faller was the name of a man who lived at a waterfall or who had been a feller of trees. Such more outward interpretations based on orthography can with some certainty be excluded.
top of page
MAPS & LOCATIONS
(2/28/14) This section is out of date (not loading properly) but with everyone using Google Earth and Google Maps nowadays I won't bother fixing it anytime soon.
(10/30/04) On a separate page, which may take a few seconds to load, are several MAPS, photographs, and descriptions of locations of interest:
Part of Switzerland with Faller area, in the canton of Graubünden/Grischun/Grisons (German/Romansch/French). Romansch or Rumantsch is the language used only in the easternmost canton of Switzerland, Grischun.
The Septimer Pass.
Robert de Falleur's snapshots of the area from his travels.
Part of Schwartzwald from Simonswald to Eisenbach.
Farms around Gütenbach and Neukirch.
Snapshot of Gütenbach.
(10/30/04)Southwest of the town of Mulegns is the Ava da Faller and the Faller area in Graubünden, Switzerland. There are many mountain hikes in the area, and one of the hiking outfitters, Toenihuus has a web site with maps and hikes. Thanks to Xaver Hutter who provided the following explanation:
Faller is not a village - it is a small region on the end of the Vallee Faller [Val da Faller, or Faller Valley in English]. In German, "Alp" is a place in the mountains where farmers put their cattle during summertime (6 to 10 weeks). In the local language [what I'm calling Romansch] Alp is alpe or alpa. On maps the word Alp is almost always left out. Therefore, Alp Faller is the same as Faller. Furka stands usually for a mountain pass - highest point of a track over the montains from valley to valley. [Fallerfurka is mentioned in the hike description.]
Xaver sent along a couple of very detailed maps. Also, a reference to historical information on the area, which is included in German on the Maps page.
(11/2/01) A map (not included on the Maps page) from Der Herzog von Schwaben by Helmut Maurek shows the locations of church properties in the duchy of Alemania. St. Blasien (near Neukirch) dates from the 11th-12th centuries. It is a spin-off of the Swiss monasteries.
top of page
ORIGINS
This section includes all the pre-Schwarzwald information--that is, our Swiss, Italian and beyond roots. (Thanks to Hilda Patrick, Robert de Falleur, Jean-Pierre Faller and Wille Faller.)
(6/21/05) 6. Baedeker 1910 (North Germany) says that the Faller ancestors lived in the Brandenburg area before 979, and moved from there to Switzerland. (from Paul Faller)
(3/28/03) 5. Hilda sent me some new news about the Faller origins. She had received a copy of the "Compromise & Order of the Todtnauer Froner von 1438." This is the document which seemed to reference the Faller name in the 15th century. However, on closer inspection the reference does not seem to be to the Faller family. Hilda also was in contact with the town of St. Blasien regarding the Klaus Faller family which has lived there for centuries. They say that the name Faller stems from the middle ages from northern Italy and South Tyrol. Furthermore, they say that the name derives from the occupation of "Vahl." Vahlers collected the tithes--as they went from house to house you would hear "The Vahler comes."
(10/27/01) 4. Robert sent in a map labelled Mappa Atlantica della strada da Venezia a Zurigo per il Lago d'Iseo Edolo & .... This map shows a route from Venice thru Vicenza, Verona, up Lake Iseo toward Edolo, passing Bivio and Chur, then north-west to Zurich. A close inspection of today's maps shows that this route would pass through Mulegns which is close by the village of Faller. The map was published in a book by Martin Bundi titled Frühe beziehungen swischen Graubünden und Venedig.
(10/27)01) On my National Geographic traveler's map of the Alps, an ancient route through the Rhaetian Alps (passing Tiefencastel, Savognin ... Tirano) is labelled the Schwarzwald Veltlin Route. Veltlin is a valley in the Lombardy region of northern Italy, bordering Switzerland. In past centuries it was a key alpine pass between northern Italy and Germany and control of the "Valtellina" was much sought after, particularly during the Thirty Years' War.
(8/16/01) 3. I've received an excerpt from Landnahmetätigkeit am Alpenkamm im Hoch- und Spätmittelalter from Robert de Falleur that has several pages (in German) on Val da Faller. Stay tuned for a translation sometime.
(8/4/01) 2. Swiss Origins
The following excerpts from the Rätisches Namenbuch, by Huber, were sent in by Robert de Falleur. The passages are all from the "Wohnstätten- und Herkunfsnamen" section for Graubünden canton in Switzerland. The first passage under the heading FALERA indicates possible connections among the various name forms. [Pardon my feeble translation.]
(8/4/01)Persons referenced under the name FALERA preceded by date: 1347 Rudolfus de Falaria, 1350 Jacobus dictus Wangeir de Faleira, 1512 Jacob Valär, 1524 Janet Fallaira, 1543 Janett Vallera, 1551 Janett Falleren, 1604 Jon Falära gutt, ~1650 Jan Falärry erben, 1654 Lutzi Falera, 1796 Chatrina Fällerj, 1528 Christ Fallera, 1540 Luring da Faleyra, 1591 Flurin Fallera, Jan da Falera, 1641 Barbara ex Gion da Falera, 1629 Catharina Faller, 1633 Chater. Faler, 1696 Polonia vel Balongia Valler, 1703 Barb. Valer, 1629 Muretzi da Fallera, 1633 Barbara de Fallera, 1634 Lucius da Falera, 1666 Urbanus de Falera, 1651 Anna Valler, 1659 Jacobus Waller, 1670 Cathar. Waller de Maysen, 1701 Vigilius Valer, 1727 Anna Valèr, 1651 Clau da Falera, 1704 Nicolaus Waller.
This list was followed by the following explanation:
(8/4/01)"The Valär family of names produces almost unsolvable difficulties. The postings [above] shows the following three dominant modes. a) de Falaria, de Faleira (15th century Surselva), b) Valler, Faller, c) Valar. The Falar and Falaria names of Surselva may be placed without harm with the name of Falera. Now, however, in Grüsch about 1375 there is an Ulricus de Falaira. That posting does not fit today's "Flurnamen" Vallar already in Grüsch. So two possibilities result: either the "Praettiauer" Valär immigrated in the Middle Ages from the Surselva, or there arose in Grüsch a second Falaria, which then was reinterpreted into the much more frequent Vallar. The name is also written Faller or Valler. Two possibilities result here also: a) immigrants from valleys (the residents of valleys are called Valler); or b) original people from the Val da Faller. We will accept the assertion of "Schorta 1": The inhabitants of the Val da Faller have moved from valleys. For this peoples-names-book, we will separate the names in such a way: --Falera and Valer from Surselva: Falera. Faller, and Valer from the central federations (Surmeir, Bravuogn, Heinzenberg) to Val da Faller (Mulegns)-- Valär in German districts to "Flurnamen" [common name?] Vallar. An absolutely safe separation is not given thereby."
(8/4/01) As you can see, my translating skills are poor. This is how I would interpret the above excerpt. (If anyone can shed light on this, please let me know.)
The Falera form of the name derives from the Surselva district of Gra.
The Faller form of the name derives from valley-inhabitants in general or inhabitants of the Faller valley (VAL DA fALLER) near Mulegns in particular; it is impossible to be more definitive.
The Vallar form of the name derives from other German districts.
(8/4/01) Next, under the heading MULEGNS are the following names: 1390 Jan Valler, 1475 Jacobus de Valare, 1486 Schuwanin von Faller (in Splügatsch), 1490 Gaudentzutt (Gaudenz) von Faller, 1668 Lucy Faller, 1515 Tfaller, dessen weib, 1519 Pfaller's wib, 1528 Christ Fallera, 1530 Pedrutt Dfaller, 1557 Kristen Faller, 1584 Jöri Mias Faller, 1667 Agta Valler, 1558 Lutzy vonn aler, 1641 Barbara Fallar, 1667 Catrigna d'Falar, 1561 Jacob Faller, 1603 Pol Dfaller, 1654 Franciscus Faler, 1681 Vonaventura Faler, 1608 Hans Faller, 1611 Jachem Faller, 1617 Ambriesch Faller, 1695 Jacob Faller, 1628 Anna Fallerin, 1634 Jöri Faller, 1632 Urrich Faller, 1637 Anna Faller, 1686 Joannes Foler, 1663 Catharina Faller (di Sondrio), 1671 Jacum Faller, 1673 Caterina Valer, 1678 Urschla Faller, 1682 Pol Faller, 1683 Wioland Faller, 1697 Nicolaus Faller, 1698 Leonhardus Faller, 1803 Susanna Faller, 1855 Faller (von Tscappina).
(8/16/01) Next, under the heading JENAZ (Jenaz is an area northeast of Chur) are the following names: Chur 1326 Gaudentius (Gaudenz) von Faleria, 1386 1395 and 1396 Gaudenz von Väler, 1375 Ultricus de Falaira, 1386 Georgius Wallaer, 1394 Hans Falaira, 1443 Vallären wingarten, 1414 Jacob Valär, 1489 Petter Valèr, 1623 Hans Jacob Falär, 1674 Hans Valär, 1693 Lenz v. Valär, 1415 Jäckli Valär, 1435 Härtli Vallär, 1437 Hans Valären, circa 1500 Disch Valler, Amma Falär, Ott Vallären husfrow, 1623 Jacob von Fäler, 1644 Hans Valär, 1495 Thöni Valler, 1524 Dys Vallär, 1599 Thomas Valähr, Hans Falär,1623 Bartli Falär, 1695 n. Valärin, 1625 Hans Faleer, 1697 Verena Faller, 1767 urschla Faleri (von Bergün, 1649 N. Valär, 1674 Hans Disch von Valär, 1682 Fida Fallären, 1669 Burga v. Valärin, 1675 Madalena von Valär.
(8/16/01) A book by Andrea Schorta, Wie der Berg zu seinem Namen kam has the following under Faller: Val da Faller (Mulegns). Urk. 14 jh. hof ze Faller, 1410 den Mayern von Vallers. Zu einem PN. Faller oder Valler, einem aus Vals hergezogenen walserischen Siedler.
(10/28/01)Swiss localities based on "Faller" include Falleren (near Oberdorf canton Solothurn), Fallerin (near Schleuis canton Graubünden), and Fallern (near Rüttenen canton Solothurn). Note that Fallerin would be the name of a woman married to a Faller, and Fallern is the German datif of Faller. Thanks, Robert
(6/6/01) 1. Ancient Origins
Could the Fallers have come from the ancient Etrurian city of Falerii, founded by Halaesus, son of Agamemnon? Follow the trail through Italy back to Greece, or on to Chur, Graubünden, Switzerland then Germany and Alsace.
A. Etruria.
Falerii, near the present-day Civita Casellana north of Rome, was built on a plateau surrounded on three sides by gorges 200 ft. deep. It was conquered by the Romans in 241 B.C. The following quotes are from Baedeker's Central Italy. "The Plateau of Falerii: At Civitatia Castellana, where the town of the Falerii once stood, an important centre of S. Etruria captured by Camillus 396 BC, destroyed by Pomarus in 241 BC. The inhabitants were removed to Falerium Novum further south, but they returned in the 8th and 9th centuries to the former town." Their motto is purported to have been 'Drink today and don't worry about tomorrow.' "To reach Falerii, you must cross the valley of Fosso Maggiore and then Rio del Purgatorio with its numerous [Etruscan] rock tombs.... At Villa di Papa Giulio there is a museum and on the ground floor are vases from Corchiano (near Falerii). On the walls are copies of paintings in Etruscan tombs, terracotta wall coverings from the Etruscan temples of ancient Falerii and a plan of the excavation at Falerii. There is a coffin hollowed out of a tree-trunk with the skeleton and the coarse early earthenware in it."
This paragraph quotes another reference. "Roman policy with regard to conquered cities and tribes during the early years of its expansion is strikingly illustrated by the fate of Falerii, the capital of the Falisci, and one of the twelve cities of Etruria, destroyed in 241 B.C. The inhabitants were compelled to abandon the strategic position of their city, built upon a height between the Monti Cimini and the river Tiber, and to construct at a short distance away on the plain a new dewlling-place, Falerii Novi, which was no danger to the Romans. ... The modern town of Civita Castellana, on an eminence formed between steep river valleys...stands on the site of the original Falerii. A few miles away in the plain is Falerii Novi, also called Aequum Faliscum. Many remains survive, but the city was again abandoned in the Middle Ages in favour of the original site. Outside the city wall a cemetery with long corridors was hewn out of the rocks."
More on the Falisci from the Encyclopedia Britannica: "Faliscan language, an Italiic language closely related to Latin and more distantly related to Oscan and Umbrian languages, Faliscan was spoken by the Falisci in central Italy in a small region northwest of the Tiber River. Falerii, the Faliscan capital, was destroyed by the Romans in 241 BC and it is likely that the Faliscan language was completely displaced by Latin in the following century. Modern knowledge of Faliscan comes from a small number of inscriptions writtin in a native Faliscan alphabet derived from Etruscan.
Falisci, ancient people of southern Etruria in Italy who, though Latin in nationality and speech, were culturally closer to the Etruscans. They occupied the region between the Tiber River and Mt. Ciminus, with Falerii (modern Civita Castellana) as their capital. Resistance of the Falisci to Rome began in 437 BC, when they joined with Veii in the Etruscan alliance against the common enemy and ended with the razing of Falerii by the Romans in 241 BC. Object in early Faliscan graves are indistinguishable from early Etruscan objects."
B. Falerone
Faleria or Falerio Piceno was a municipal town on the left bank of the Tinna (now the Tenna), about 20 miles from the sea, near Marche (the area east of Umbria). It had a senate and magistrates and was mentioned at the time of Hadrian, Domitian and Antonines. The ruins are still there one mile below the modern village of Falerone. The ruins consist of an amphitheatre and statues and architectural fragments of buildings.
C. Venice
Several Venetian doges may have been Faller ancestors. Vitale Valier was the 32nd Doge. Ordelafo Faliero was the 34th Doge. He brought bones of St. Stephen and fragments of the True Cross back from the Holy Land. Marino Faliero was the 55th Doge. Bertuccio Valerio was the 102nd Doge. Silvestro Valier was the 109th Doge.
More on Marin Falier from the Encyclopedia Britannica: "Italian Marino Faliero (b.1274 - d. April 17, 1355, Venice), leading official in Venice and doge from 1354 to 1355, who was executed for having led a plot against the ruling patricians. His tragic story has inspired several important literary works, including the tragedy Marino Faliero: Doge of Venice (1821) by the English Romantic poet Lord Byron.
"Of patrician family, Falier spent many years in high positions in the Venetian government. During Venice's struggle with Genoa and Hungary for naval predominance in the Adriatic, he commanded in the Venetian victory over the Hungarians at Zara (1348). He continued to defend Venetian interests against these two powerful foes, leading a naval squadron against Genoa (1352) and playing a major role in peace negotiations.
"As ambassador at Avingnon, Falier was negotiating with Pope Innocent VI (reigned 1352-62) to resolve the dispute with Genoa when he was elected doge in September 1354. The rout of the Venetian fleet by the Genoans at Porto Longe (Novermber 1354) obliged Falier to negotiate a four-month truce. The humiliating defeat and the subsequent truce aroused the hostility of the patricians, engaged in a struggle for power with the doge.
"Either personally provoked by a patrician or impelled by purely political reasons, Falier led a plebian plot to kill all the nobles, whose power would revert to the people and to the doge in particular. The plot was discovered, however, and Falier, along with his accomplices, was tried and executed." He was beheaded.
D. Italian Cardinals
Cardinal Pietro Valier, b Venice in 1574, d Padua in 1629, was a nephew of Cardinal Agostino Valier. Pietro was also governor of Orvieto. Thanks, Hilda.
E. Greece
In Greece in 1400 BC the city of Mycenae (at Argos) was formed by mainly Cretans. Good pottery and bronzes (jeweled daggers found in Mycenaen graves) were made. In 1200 BC Mycenae was captured by Dorians and their culture ended. Around 1400-1200 BC Agamemnon lived. He was a Mycenaen from Achaia, northwest of Corinth. In the legends he was responsible for the siege of Troy, north of Lydia in Asia Minor. The Etruscans came from Lydia and pottery was exported from Troy to Rome from around 1500 BC. (The ancient and powerful city of Falerii, described above, is one of the 12 cities that composed the Etruscan confederation.)
F. Switzerland
In 1326 a Gaudentius (Gaudenz) von Faleria came to Chur. This seems to indicate there is a connection between Faleria or Falerii (Italy) and Chur (Switzerland). While a definitive connection cannot yet be made, the artistic bent and wine-making skills of the Falerii people certainly could have travelled with them even to the present-day Fallers. See also the list of early Swiss Fallers above.
top of page
FAMOUS FALLERS
(7/4/99) Sculptor Mathias Faller,
born 2/23/1707 in Neukirch, d. 2/3/1791 at St. Märgen. His father was Georg Faller of Oberfallengrund and his mother was Barbara Furtwängler. Mathias Faller was an apprentice wood carver with the master wood carver Phillipp Winterhalder at Gengenbach in Baden. After that he traveled for many years and worked at Augsburg, Munich, Prague, Vienna, Colmar (France), and Rome. Then in 1735 he served two years as a friar in the monastary St. Märgen. Later on he worked in St. Peters, Black Forest, for 20 years and he was known as the most famous wood carver for baroque churches in the southwest area of Baden, Black Forest and Breisgau.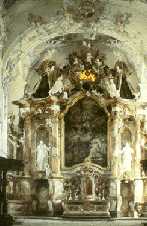 This altar in the church at the Kartause Ittingen museum is by Mathias Faller. (Photo credit Verlag Photoglob AG, Zurich). By the way, Ittingen is in Frauenfeld in the canton of Thurgau in Switzerland.





This picture is of the library next to St. Peter's Church. Mathias Faller's work can be seen on the balcony. His sculptures were of gilded wood, hollow inside.






(6/15/94) Architect Johann Faller
From the Dictionnaire Historique et Biographique de la Suisse (Societe General Suisse, Neuchatel, 1920): FALLER: Family probably from Baden, present in several cantons. Johann Faller, architect, b. 1817 at Sufers (Rheinwald), has built the beautiful wood bridge on the gorge of Rusein near Disentis, the "Kurhaus" of Schuls-Tarasp and other places. d. 1874 at Remüs.
top of page
FALLER DESCENDANTS
(11/3/99) This is a flat file of descendants of Thomann and Gertraud Faller, from 1540 to the present. It contains 13 generations, but due to privacy concerns only the first 8 generations are included in the web version, since generation 9 has living members. Anyone having a valid interest in Faller genealogy and agreeing not to publish the information can send me a request for generations 9-13 of Faller Descendants. (If you need a file copy of generations 1-8, please ask for both files.)
(2/10/05) I estimate that I have names of about 2000 descendants. If you are descended from anyone in this file, you are invited to send me your family particulars if you wish to be included in the next update. Time permitting, I want to add more names to this file from the Neukirch and Gütenbach histories. If you have specific questions concerning ancestors from around Neukirch or Gütenbach, you're invited to contact David Dale who has access to several local history sources. A few step-families in the "Descendants" file include children not necessarily descended from Thomann and Gertraud Faller. The Faller branch from Alsace includes about one quarter of the 2000 descendants in my file.
(2/10/05)There is an interesting (I think) reason why I choose not to use a genealogical software program for this data. Every time I try to get a handle on the structure of the family--13 generations, many intermarriages (some between different generations), some conflicting sources, duplicate name/birth-year pairs, large numbers of children, etc.--I get a mind-boggling mess. The result thwarts the very purpose of applying structure--to see at a glance the various relationships. Therefore, it suits me better to just use a flat file with no inherent structure (other than individual identifiers for each of the 2000-odd persons). Of course, I had to use systematic rules to create the file, but the system seems to cover all the relationships I have so far come across.
(2/10/05)For smaller files, such as my immediate family tree, I use Family Tree Maker. But it is unwieldy for more than a few generations. For example, there are at least seven paths by which I can trace my ancestry back 11 generations to Thomann Faller. If I were to enter only those paths in Family Tree Maker, then print an outline descendant tree chart for Thomann, it would be about five pages without duplicating intermarriages. I would not even attempt to print a regular ancestry or descendancy tree.
The farms in the Gütenbach area which are covered in the book by Klara Werber are:
1. Obereckhof,
2. Untereckhof,
3. Ecklehof,
4. Kilpenhof,
5. Kirnerhof,
6. Wolfetsgrundhof,
7. Bühlhof,
8. Oberlehmannsgrundhof,
9. Unterlehmannsgrundhof,
10. Gutenhof,
11. Bachhof (Breiteckhof),
12. Bachwirtshof-Vogtsgrund,
13. Unterscherenhof,
14. Oberscherenhof,
15. Untergschwendhof,
16. Obergschwendhof,
17. Untergrundhof,
18. Obergrundhof,
19. Unterleimgrubenhof,
20. Oberleimgrubenhof,
21. Heiligenwaldhof.
The number after "Gut." in the descendants file correspond to the chapter of the book that includes the person.
This file will load separately, so please click here to Go To Faller Descendants.
top of page
FALLER "CITINGS"
This section includes references to Fallers--some published, some not--and associated individuals. Also see "Origins" for a list of early Swiss Fallers and "Black Forest Clocks" for many clock-makers' names.
(6/21/05)From Paul Faller:
The earliest overseas emigration I know about is that of Bernard Faller who was born in Barr, Alsace on 12th August 1822. He died in the 1880s. He was one of four Faller brothers who emigrated with an aunt, Marianne Mertian, to Jasper County, Illinois in 1838 to develop land purchased by a gentleman from Strasbourg, F X Mertian. The land would eventually be divided between the Mertian and Faller families. It is fascinating to read the Agreement between Mertian and the parents of the Faller sons. I quote the first of 13 articles signed on 12th July 1829.
M Mertian binds himself to advance a sum of ten thousand French francs for the purchase of one thousand acres of America, half forest and half uncultivated land situated in the United States of America, province of Illinois, settlement of the Picquet brothers.
An article from "The Newton Weekly Press", dated 7th March 1878, which describes how Bernard lost his watermills in a fire following an explosion. Undaunted, he promptly went into partnership with another well-known businessman, and built a new mill. Bernard is described as an honoured pioneer and influential businessman of Jasper County. He had made his initial fortune in the California goldrush of the early 1850s.
Another early emigrant to the USA was Adam Faller (or Faler), (b.1813; d.1889). He settled in the State of Mississippi in 1847 and had eight children - Ferdinand, Martin, Charley, Catherine, Elizabeth, Rachel, Caroline, and one other. The tombstone describes him and his wife, Caroline Martel, as natives of Alsace, Germany. His great-grandson Francis of New Orleans (b 1921) says they came from Gambsheim near Strasbourg. This Francis is the son of Martin, son of Charles (or Charley),(b.November 1843), the third child of Adam and Caroline. Charles was three years old when they came over.
Adam was a farmer at Williamsburg in Covington County near Hattiesburg. He had a brother, Martin, who settled in Copiah County, Hazelhurst, Mississippi near Jackson and made a fortune there. There seem to have been other Fallers who settled in the states of Mississippi, Louisiana, Texas and other areas at the time. The 1830's and 1840's were bad times in Alsace, accounting for a massive emigration to the States and Canada. There is a problem tracing Fallers in America. In the ship's list that arrived in New Orleans from Le Havre, France, the name was spelt Foeller, the 'OE' being pronounced the same as 'A'. Others spell it Fehler, and , as mentioned above, Faler is also fairly common. Francis, who has supplied me with these details, uses this variation.
The American Fallers seem to be fairly large if the number of Fallers appearing in various sources is anything to go by. Here are a few prominent figures I've come across:
Alan Judson Faller (b 1929)[American Men & Women of Science 1976]
Madelyn Faller & Nancy Faller [Women in Public Office 1976]
Nikola Faller (1862-1938) [Baker's Biographical Dictionary of Musicians 1978]
Marion Faller (b 1941) [Who's Who in American Art 1978]
Theodore Sylvester Faller (b 1901) [Who's Who in Finance & Industry 1974]
Thompson Mason Faller [Directory of American Scholars 1974]
Clement Faller (1819-1901) [New York Historical Society's Dictionary of Artists in America]
Kevin Faller (b 1920) [International Who's Who in Poetry 1977]
Dr George Washington Faller (d 21st February 1923) [New York Times Obituary Index 1858-1968]
Susan Grogan Faller (b Cincinatti 1950) - a lawyer and recipient of the Career Woman of Achievement Award, YWCA 1990 [Who's Who in America 1995]
In the British Isles, George Faller was in London at least between 1897 and 1919. John Benson Faller (b 26\9\1921 in Buenos Aires), son of Albert Faller (d 1967), is mentioned in Debrett's Distinguished People of Today (1989). He was educated at Downside, Jesus College, Cambridge. In 1947 he married Mary, daughter of Sir Joseph Sheridan (d 1964), former Chief Justice of Kenya and President of the Court of Appeal for East Africa. John has a son and two daughters. He served in World War II with the Coldstream Guards in North Africa and Italy and was wounded in 1944. He is formerly chairman of Henry W Peabody Grain Ltd and is a member of Boodle's Club and the MCC.
There are Fallers who are prominent jewellers in Galway, Ireland. Stephen Faller Limited of Williamsgate Street are described on their letterhead as the `Home of the Claddagh Ring'. The business has been there since 1879, and the present owners are Paul and Bernadette Faller with three shops and a mail order business. Stephen Faller (b. 1855) arrived in Galway from the Black Forest in about 1870. His father's name was apparently Thomas. Stephen married twice, his second wife being a Bertha Dorer. Paul's father was Cornelius who died in June 1992. There was also William (b.1860, d.1941), a half-brother of Stephen, who set up business in Derry, Northern Ireland.
When looking through the lists of estates in the Pretoria Master of the Supreme Court Office I was intrigued to find listed a John Faller (ESTATE NO 85813) who had died somewhere between 1911 and 1958. I learned from the State Archives that he had never been resident in South Africa. But was he a prisoner-of-war captured in South West Africa during World War I? There is a form in the file from the Magistrate's Office (dd24\8\1934) directing J F Schopf & Hoepner of Trysa Buildings, Andries Street to liquidate and distribute the estate to the following beneficiaries:
Therese Fehrenbach of Waldau (sister)
Josef Faller of St Märgen (brother)
Ludwig Faller (nephew)
Klara Faller (niece)
Pius Faller of Waldau (brother)
Maria Josef Faller (niece)
Bertha Wehrle of Waldau (niece)
Some distinguished members in the Deutscher Biographischer Index.
Emil Julius Faller (b 1836): teacher, philologist
Anton Faller (c 1782): actor
Charlotte Faller (b 1758): actress
Frans Joseph Faller (1820-1887):industrialist
Johann Faller: copper-engraver
Joseph Faller (b 1768): district councillor
Sebastian Faller (b 1799, d 1854): teacher, musician
(2/4/05)From Hans Kuoni:While searching through the Churchbooks of Maienfeld GR, Switzerland, I found several entries which you might be interested in. One of them reads as follows:
Taufregister 1827 to 1885, Blatt 15:
1839 Juni 9/13 entry #98, Peter (son of) Christian Ruffner, Maienfelder Bürger & Cordula Faller, verbürgert urspr. in Nufenen: Grandparents: Christian Ruffner & Anna Just, Peter Faller & Cordula Schäni; Wittnesses were Georg Kuoni, Christian Faller v. Nufenen, Verena Kuoni geb. Rüdi....
(1/18/04)Faller branch from Scotland and Lancashire emigrated to Australia. Thanks to Gay Ritter for sending in the following information related to her research.
Wife: Elizabeth Faller, b 1842, Scotland; d Dec 1888c, Blackburn, Lancashire, England. Children: 1 F Rosina Faller b 1875, Over Darwen, Lancashire, England; d 1953; m Joseph Southworth. 2 M Theodore Augustine Faller b 28 Apr 1872, Over Darwen, Lancashire, England; d 22 May 1925, Greenslopes, Brisbane, Queensland, Australia; m Eda Augustie Pinnow (1884-1959) 1 Jun 1918 - Brisbane Queensland. 3 M Samuel Augustine Faller b 26 Sep 1877, Over Darwen, Lancashire, England; d 1955, Hapton, Lancashire, England; m Mary Ellen Stevenson 1904 Padeham, England. 4 F Annas Faller, b 1879c, Over Darwen, Lancashire, England.
In the 1881 census, it lists the Fallers as living in 10 William Street, Over Darwen, Lancashire, England. Elizabeth Faller, unmarried, age 39, b Scotland 1842c, a box tender in the Cotton Mill, children: Theodore aged 8, Rosina aged 5, Samuel aged 3, Annas aged 2. William Street no longer is there; it was one street to the left past Union Street. The nearest cotton mills were George Street Mill or New Mill in Union Street, Darwen.
There was also another Faller family living in 77 Kay Street, Darwen, Peter Faller aged 36 yrs b Manchester 1845c. Occ Shiper & Grinder. Wife Ann aged 28 yrs. Children: Theodore aged 9, Robert aged 5, Thomas aged 1. Whiteside Faller aged 38 yrs b Tyrone, Ireland 1843c, paper maker, Regina b 1874.
Also found: Blackburn. Theodore aged 34 d in the June quarter of 1885 b 1851c, Elizabeth aged 43 d in the Dec. quarter of 1888 b 1845c, Theodore m in the Dec. quarter of 1899. (This could be Peter's Theodore)
1891 census "Barhouse Farm," Kircowan, Wigtownshire, Scotland. John & Annie Young, 5 children, plus Theodore Faller, aged 18 b England 1872, farm servant.
1901 Census: Theodore Faller 1873c, Darwen 1901 Platelayer. Theodore Faller b 1872 Darwen 1901 Cotton Piercer Spinning Mill.
Fallers christened 10 Feb 1879 all living 26 Cobden St, Bolton: Galalius Faller b 6 Jan 1872, parents Salina & Joseph A. Faller. Maria Anna Faller b 6 Feb 1878, parents Salina & Joseph A. Faller. Samuel Augustine Faller b 26 Sept 1878, mother Elizabeth Faller.
Husband: Theodore Augustine Faller, b 28 Apr 1872, Over Darwen, Lancashire, England, d 22 May 1925, Greenslopes, Brisbane, Queensland, Australia, m 1 Jun 1918, Brisbane Queensland, wife Eda Augustie Pinnow. Two children. Theodore left London 8 May 1911 on the "SS KAIPARA" arriving Brisbane 21 June 1911. He came to Australia as a navvy, working on the railways. Theodore joined the AIF in Brisbane in 1916, and went to England before going to France, where it is beleived he was gassed. He was then in and out of hospital frequently. He was taken away from fighting, and put into cookery school, he was still in and out of hospital till they returned him to Melbourne 1 May 1918, and was transported to Brisbane straight away and admitted to hospital here 4 May 1918. Theodore was discharged 28 May as an invalid, and pensioned off 8 June 1918. Eda Pinnow married Theodore Faller in 1918.
The Belgian Falleur Branch
(2/7/04)The following information was gleaned from several correspondants. Most of it is consistent but there appear to be some inconsistencies. See Research Queries for further information and names of sources. Also see the Glassworks section on page 3.
Martin FALLER is said to be the ancestor of all Fallers and Falleurs in Belgium and northern France (the Cambrai area). One source said that Martin Faller stayed a few seasons in Forbach and that his wife, Marguerite/Margaretha Siegler had a daughter, christened Madeleine, on the 23 September 1634. Martin Faller and Marguerite Siegler had five children: Pierre, Jean, Anne, Jacques, Marie. This generation changed their name to Falleur. Martin moved his family to Charleroi, Belgium, around 1650. Another source says that Martin married Margaretha Siegler in 1643 [??], as recorded in the church records of Guendelwangen [SE of Neustadt].
Martin Faller (d 1685) was the son of Jean/Johann Mathis Faller, b about 1590 in Triberg, and Maria de Berg, who are believed to be from Triberg. Triberg is just up the road from Schoenwald and Furtwangen, but no one has uncovered how this line links to the branch detailed under "Schwarzwald Roots." Mathis Faller is said to have been a glassmaster at the glassworks at Grünwald.
The Charleroi Falleurs were involved in glassmaking and electrical manufacturing while other descendants of Martin went on to live in France, Sweden and the USA.
I put together the following names from details submitted by several correspondents. Symbol oo means married.
Gen. 1
Mathis Faller (b ~1590 Triberg) oo Maria de Berg
Gen. 2
Martin Faller (b of Mathis, 1620) oo Marguerite Siegler
Gen. 3
Pierre Falleur (b of Martin, 1/8/1653 Jumet)
Jean Falleur (b of Martin)
Anne Falleur (b of Martin)
Jacques Falleur (b of Martin)
Marie Falleur (b of Martin) oo Jean ANDRES
Gen. 4
Pierre Francois Falleur (b of Pierre, 4/24/1686 Gilly)
Gabriel Faller (b of Pierre, 1690)
Gen. 5
Jean François Joseph FALLEUR, (b of Pierre Francois, 1/11/1729 Lodelinsart)
Pierre Joseph Falleur (b of Gabriel, 1714)
Gen. 6
Gabriel Joseph FALLEUR, (b of Jean Francois, 7/18/1768 Lodelinsart)
Charles Joseph Falleur (b of Pierre Joseph, 1743)
Gen. 7
Eugène Joseph FALLEUR, (b of Gabriel, 4/15/1804 Lodelinsart)
Jean Joseph Falleur (b of Charles Joseph, 1785)
Gen. 8
Louis Achille Jéon, (b of Eugene Joseph, 4/25/1837 Lodelinsart)
Marie-Thérése Falleur (b of Jean Joseph, 1822)
Gen. 9
Charles Constantin Faleur (b of Marie-Therese, 1856)
Gen. 10
Achille Louis Faleur (b of Charles Constantin Faleur, 1888).
Jean Jacques Lannois is another descendant of Martin and Marguerite. He wonders if there is a filiation between Martin Faller and Joannis FALLER (x Barbara KNAUFMANN). He found that Joannis FALLER had a daughter Marie born in 1644 in Isny in Allgau, and that a Martin FALLER was the godfather. It is reasonable to think that Joannis and Martin FALLER may be brothers, but there is no proof.
(3/12/03)Fallers from HungaryThanks for sending this in, Gyula
All of the Hungarian towns and villages mentioned in the Ellis Island records are situated in a concentrated area in Bacska, which formerly belonged to south of Hungary and now belongs partly to Yugoslavia, partly to Croatia. About Kullod [one of the towns, now in Yugoslavia] from a genealogical point of view (English, German): Kullod. The author in the bibliography is very interesting. It mentions that in the village in the year 1890 the inhabitants are almost all Germans. Osijek (hungarian spelling: Eszék) is a well-known Croatian town. Other Hungarian Fallers live at Várpalota centre of Hungary. One of them was a famous mine-engineer in Hungary. His name was Faller Jenõ (1894-1966). (He was also the founder and the first director of the Central Mining Museum in Hungary.) And there is a secondary school named "Faller Jenõ szakképzõ iskola" at Várpalota for training miners.
(3/7/03)Naming Notes.
Fehrenbach or Ferenbach is a corruption of Forellen-bach or Trout-stream. Obviously whoever was given that nick-name first lived beside a trout-stream. Paul Dold's ancestors come from the Schochenbach valley off the Katzensteig, north of Furtwangen. Schochenbach or Schachenbach comes from Schachen (copse) and bach (stream) - hence, copse beside the stream.
See "Origins" for theories as to how the Faller name originated. Also, "Fall" in German and "fall" in English mean waterfall; Faller may have meant a person dwelling near a waterfall. Holzfäller means wood-cutter in German. In English a "faller" means a tree feller or cutter.
The Fallers in Belgium added the u to the last syllable (-er) at the end of the 17th century to match the French consonance.
According to the Generallandesarchive in Karlsruhe, Fallers are numerous in Gündelwangen, Grünwald, Donaueschingen and Villingen.
(3/7/03)There are literally hundreds of Fallers, Ferenbachs, Ganters, Rombachs, etc. listed in David Dale's genealogy. See his link under Correspondents.
(3/27/2004)About 435 Names from Bevölferungsgeschichte im Hochschwarzwald - Quellen und Forschungen aus dem Raum von Lenzkirch. by Max Weber, 1953. A copy of the book's index was provided by Robert de Falleur. There may be some typos in this because I'm doing it quickly. Dates are in the original format day.month.year. There may be details I am omitting, such as occupation or place of birth or death or parents of a spouse, so contact me if you want me to look someone up for you. "b" is born, "d" is died, "m" is married with the spouses name and info on the next line. Only the males' children are listed in a subsequent paragraph. I got tired of putting in the days and months, so only the years are listed for most of these names. Multiple marriages have a number after the m. (It appears that few, if any, of these Lenzkirch Fallers would be the subject of searches by unknown relatives; therefore, I have stopped adding the dates to the list and will instead concentrate on the other book provided by Robert de Falleur.)
Aus dieser Familie geht die Strohhut-Handelsgesellschaft Faller, Tritscheller und Compagnie hervor.
A1 Mathias Faller b 1728 Langerordnach, d 25.2.1782
m Maria Imberi, b 1728, d 24.1.1804
B1 Johann Faller, b 16.5.1751, d 19.3.1824
m Agathe Furderer, b 2.2.1757, d 27.6.1836
B2 Christian Faller, b 17.12.1752
B3 Anton Faller, b 7.5.1755, d 30.6.1773
B4 Alois Faller, b 12.1.1757, d 1821
m unknown
B5 Maria Faller, b 18.6.1758
m Christian Beha
B6 Justina faller, b 10.10.1760
B7 Michael Faller, 6.5.1763
B8 Kaspar Faller, b 3.1.1865, d 1815
m Agnes Bertsche, b 7.1.1778
B9 Bernarda Faller, b 17.1766
m Christian Meyer
Children of B1
C1 Johanna Faller, b 10.5.1780, d 19.10.1824
m Simon Schoepperle
C2 Maria Faller, b 15.6.1783, d 20.3.1858
m Alois Heizmann
C3 Magdalena Faller, b 1786, d 1857
m1 Felix Stoll, b 1786
m2 Kajetan Sigwart
C4 Nikolaus Faller, b 1789, d 1865
m1 Kreszenz Kessler, b 1796, d 1832
m2 Kreszenz Wiest, b 1802, d 1865
C5 Michael Faller, b 1791, d 1864
m Kreszenz Kammerer, 1 1797, d 1874
C6 Franziska Faller, b 1793
m Johann Scherzinger
Children of B4
C7 Anton Faller
C8 Johann Faller
Children of B8
C9 Ignaz Faller
C10 Nepomuk Faller
C11 Nikolaus Faller
Children of C4
D1 Dominik Faller, b 1818, d 1845
m Therest Spiegelhalder, b 1822, d 1897
D2 Franz Josef Faller, b 1820, d 1887
m Therese Spiegelhalder (widow of D1)
D3 Johann Georg Faller, b 1821, d 1822
D4 Johann Georg Faller, b 1823, d 1839
D5 Fidelis Faller, (I think the notation indicates he was a twin of D4), d 1824
D6 Maria Agathe Faller, b 1825, d 1886
m Nikolaus Tritscheller
D7 Johann Alois Faller, b 1829, d 1832
D8 Maria Agathe Adelheid Faller, b 1830, d 1861
D9 Josef Nikolaus Faller, b 1832, d 1843
D10 Fridoline Berta Faller, b 1840, d 1844
Children of C5
D11 Lorenz Faller, b 1826, d 1880
m Bernhardine Kleiser, b 1828, d 1900
D12 Augustin Faller, b 1827, d 1902
m Adelhied Schwarz, b 1830, d 1901
D13 Maria Theresia Faller, b 1826, d 1898
m Pius Burger
D14 Johann Baptist Faller, b 1829
m Carlotta Baldantony
D15 Franz Anton Faller, b 1830, d in USA
D16 Berhard Ludwig Faller, b 1832, d in USA
D17 Elisabeth Faller, b 1835, d 1909
m Nikolaus Studinger, b 1823, d 1885
D18 Johann Albert Faller, b 1839, d 1871 in England
Children of D1
E1 Nikolaus Faller, b 1844, d 1845
E2 Dominik Faller, b 1845, d 1845
Children of D2
E3 Elise Faller, b 1847, d 1918
m KarlGustav Duffner, b 1840, d 1895
E4 Emil Faller, b 1848, d 1926
m Emma Spiegelhalder, b 1855, d 1941
E5 Julius Faller, b 1850, d 1925
m Anna Spiegelhalder, b 1852, d 1909
E6 Pauline Faller, b 1852, d 1932
m Oskar Duffner, b 1844, d 1885 (brother of husband of E3)
E7 Agathe Berta Faller, b 1853, d. 1906
E8 Maria Josefa Faller, b 1855, d 1855
E9 Rosa Faller, b 1857, d 1882 in Basel
m Karl Spiegelhalder
E10 Leonie Mathilde Faller, b 1861, d 1923
m Adolf Tritscheller
Children of D11
E11 Julia Henrika Faller, b 1861, d 1861
E12 Maria Josefa Faller, b 1864
m Franz Josef Giessler, b 1854, d 1923
E13 Karl August Faller, b 1865
m Luise Siegel, b 1867, d 1936
E14 Johann Arnold Faller, b 1868, d 1946
m Berta Fehrenbach, b 1901
Children of D12
E15 Anna Elisabeth Faller, b 1858, d 1911
m Adolf Ganter
E16 Bernhardine Faller, b 1860, d 1887
E17 Adolf Faller, b 1862
m Anne Maria Josefa Kopp, b 1876
Children of D13
E18 Agathe Faller, b 1856, d 1857
E19 Blasius Faller, b 1856
Children of D14
E20 Chiara Faller
E21 Ernesto Faller
E22 Adolfo Faller
E23 Azuna Faller
Children of E4
F1 Erich Fidel Faller, b 1881
F2 Robert Franz Josef Faller, b 1883
Children of E5
F3 Hedwig Maria Faller, b 1875
m Paul Stritt
F4 Alfred Faller, b 1880, d 1950
m Emmy Sehringer
F5 Leonie Faller, b 1881
m Edwin Bennetz
Children of E6
Rosa Duffner
Children of E12
F6 Leonie Giessler
F7 Franz Giessler
F8 Hermann Giessler
F9 Rupert Giessler
m Irmgard Freitag
Children of E13
F10 Karl Josef Faller
F11 Hedwig Faller
F12 Richard Faller
m Else Wickenhauser
Children of E17
F13 Maria Anna Josefa Faller
F14 Anna Martha Faller
F15 Frieda Hedwig Faller
F16 Otto Faller
Children of E3
F17 Josef Duffner
m Maria Grieshaber
F18 Arthur Duffner
m Maria Krafft
F19 Elise Therese Duffner
m Karl Klingele
F20 Hedwig Duffner
m Eugen Schumacher
Children of F9, F12, F17, F18, and F20 are listed in the book, but not here due to privacy concerns.
Children of G5, G8, G11, G12, and G13 are listed in the book, but not here due to privacy concerns.
Another Faller family starts here.
A1 Johann Faller came from around Grundbuch in 1745
m Anna Maria Baur
Children of A1
B1 Martin Faller, b 1741, d 1815
m Marie Schlegel
B2 Philipp Faller
m Theres Drescher
B3 Marianne Faller ?
m Michael Schlegel
Children of B1
C1 Johann Faller
m Marie Wehrle
Josef Faller
Johann Faller
Katharine Drescher
Next generation: Mathaus Faller
Rosa Brugger
Josef Faller
Elisabeth Villinger
Veronika Faller
Adelheid Faller
Josef Straub
Next generation: Konrad Faller
Maria Ursula Schopperle
Emilie Faller
Sophie Faller
Josef Frei
Max Theodor Faller
Walburga Dufner
Otto Faller
Katharina Uttenweiler
Friedrich Arnold Faller
Martina Maria Faller
Georg Ernst Faller
Albertine Brogle
Bertha Faller
Luise Faller
Euphrosine Faller
Florentine Faller
Paul Brugger
Fridolin Faller
Elise Hassel
Next generation: Otto Faller
Emerentia Faller
Maria Mathilde Faller
Lorenz Karl Reinfrank
Karl Faller
Hermine Faller
Max Theodor Faller
Hermann Faller
Emilie Faller
Ida Faller
Maria Magdalena Faller
Adeline Faller
Julius Bohringer
August Faller von Hinterzarten
Karl Faller
Julius Faller
Ernst Robert Faller
Alfred Faller
Julie Fahlbusch
Emma Faller
Wilhelm Hog
Emil Josef Faller
Ida Vogt
Karoline Maier
Chlothilde Faller
Albert Winterhalder
Anna Faller
Emil Gruber
Maria Theresia Faller
Elisabeth Hulda Faller
Ernst Robert (Albert) Faller
Katharina Henkel
Ernst Albert Faller
Anna Heinzl
Frieda Anna Faller
Rosa Maria Faller
Ludwig Schambach
Mathilde Hedwig Faller
Friedrich Feser
Arthur Sebastian Faller
Anna Geiger
Freidrich Eugen Faller
Martha Faller
Konrad August Faller
Theodor Oskar Faller
Josef Faller
Thusnelda Faller
Artur Faller
Next generation: Emil Josef Faller
Hilda Kappele
Karl Ernst Faller
Luise Rosa Maria Greiner
Emilie Faller
Karl Dahm
Katharina Faller
Paul Krapp
Hermine Faller
Georg Robert Faller
Irma Maria Faller
Next generation: Wolfgang Friedrich Karl Faller
Rosemarie Luise Faller
Barbel Ute Dahm
Doris Sieglinde Dahm.
Main Male: Andreas Faller
Maria Wiest
Magdalena Zipfel
Next generation: Paul Faller
Magdalena Ganter
Maria (?) Faller
Andreas Beckh.
Main Male: Josef Faller
Rosa (Monika Bohringer ?)
Next generation: Josef Faller
Katharina Pfaff
Agathe Faller
Next generation: Maria Agathe Faller
Franz Anton Faller
Katharina Faller
Fidelis Faller.
some pages missing then 3rd generation: Josef Faller vom Sternen in Hoellstieg
Maria Agathe Laule
Next generation: Fidel Faller
Rosalie Heizmann
Friedrich Faller
Maria Anna Thoma
Maria Anna Wasmer
Josef Faller
Kunigunde Faller
Johann Nepomuk (Nikolaus) Bader
Alois Faller
Klara Weigel
Xaver Faller
Therese Tritscheller
Alexandrine Vogt Faller
Next generation: Ludwig Faller
Adolf Faller
Firedrich Faller
Eduard Faller
Eduard Faller
Isabella Faure
Mathilde Faller
Eugene Faure
Ida Faller
Eugene Faure
Adolf Faller
Josefine von Weiss
Emil Faller Heinrich Faller
Adeheid Ganter
Ernst Faller Rose (Rebekka) Brugger
Maria Anna Faller
Elisabeth Faller
Klara Faller
Anna Faller
Karl Hebting
Carl Bader
Josefine Bader
Johann Baptist von Weiss
Ida Faller
Marie Isabelle Faure
Leon Nouvian
Ida Maria Faller
Heinrich Fidel Faller
Adolf Johann Faller
Mathilde Josefine Faller
Karl Hebting
Elsa Bauer aus Flensburg
Josef Hebting
Friedrich Faller
Luise Tschudi
Ilise Weber
Anna Faller
Georg Wieser
Maria Faller
Rupert Burger
Ernst Faller
Lina Faller
Otto von Weiss
Ida Faller
Anna Faller
Josefine Weiss
Adolf Faller
Kuno Weiss
Otto Weiss
Lina Faller
Next generation: Jean Nouvian
Marguerite Nouvian
Ferdinand Friedrich
Claus Hebting
Heinrich Faller
Ida Stahelin
Friedrich Faller
Frieda Faller
Werner Goeritz
Ernst Wieser
Georg Wieser
Else Wieser
Paul Burger
Hans von Weiss
Gretel Schandelmaier
Margarethe Friderike von Weiss
Jean Claude Friderich [sic]
Karl Heinz Faller
Gerty Krejei
Magdalene Kalb
Ingrid Goeritz
Karin Faller.
Main Male: Josef Faller
Franziska Vogt
Next generation: Wilhelm Faller
Konrad Leopold Faller
Margarete (or Magdalena) Spath
Sofie Faller
Johann Georg Winterhalter
Ferdinand Bank
Albert Faller
Therese Faller
Josef Maria Alois Schneckenburger
Felix Albert Faller
Gabriel Friedrich Josef Faller
Hermann Faller
Maria Faller
Karl Faller
Next generation: Makar Faller
Eleonore Hauser
Next generation: Maria Agathe Faller.
Main Male: Simon Faller
Katharina Spath
Next generation: Hermann Faller
Engelbert Faller
Maria Faller.
Main Male: Johann Georg Faller
Anna Wangler
Next generation: Johann Faller
Pauline Burkle.
Next generation: Albert Faller
Rose Gunter
Next generation: Paul Robert Faller
Elsa Jaiser
Rosa Maria Faller
Albert Josef Bisser
Johann Albert Faller
Anna Amalie Maier
Klara Hildegard Faller
Elsa Hedwig Faller
Next generation: Rosmarie Faller
Helmut Faller
Ingeborg Hildegard Bisser
Irmgard Maria Bisser
Hans Kurt Faller
Robert Heinz.
Main Male: Donat Faller
Katharina Guntert
Next generation: Friedrich Faller
Josef Faller
Anna Kaiser
Maria Faller
Robert Vogt
Anton Lindner
Antonie Faller
Next generation: Mathilde Faller
Emil Bauer.
Main Male: Augustin Faller
Emma Hummel
Wilhemine Faller
Next generation: Elisabeth Faller
Hugo Ernst Faller
Emma Hilda Faller
Luise Faller.
Main Male: Wilhelm Faller
Rosa Behrle
Bertha Brugger
Next generation: Ernst Faller
Paula Faller Oskar Faller
Erwin Faller Wilhelm Faller.
Miscellaneous from same book:
Konrad Faller (d. 4/19/1874)
Genovefa Faller (d. 12/23/1855)
Josefa Faller (1/23/1880)
Eduard Faller (d. 2/11/1903)
Barbara Faller (d. 7/9/1890)
Maria Faller (d. 12/1/1840)
Andreas Faller (d. 5/9/1819)
Josefa Faller (d. 1/23/1880).
(8/8/01) A few of the emigres (C-I) extracted from the Chronik und Familiengeschichte von Neustadt, Schwarzwald by I.R. Pfarrer and Walter Goebel, 1951.
Anton Faller to New York 1845, August Faller to New York 1845, Bernhard Fehrenbach to NY, Pauline Fehrenbach, Frieda Fehrenbach, Johann Dilger, Karl Ganter, Josef Ganter (clockmaker) to South Africa.
(8/4/01) Ellis Island Foundation passenger records
Search on Last Name = Faller: Exact Matches = 279
Note that some names may have misspellings (e.g. Fakob is probably Jacob)
The following four fields are separated by commas and there may be commas in the Residence field.
Note that there are several Fallers from Hungary listed below. Gyula Faller has provided further information on Fallers in Hungary above.
Name of Passenger, Residence, Arrived, Age on Arrival
1. Adam Faller,Cacuci, Hung.,1912,3
2. Addheid Faller,Dittishcuren,1899,18
3. Adel F. Faller,,1912,49
4. Adelhaid Faller,Jersey City, USA,1912,11
5. Adelheid Faller,Vanneburg,1900,20
6. Adelheit Faller,,1907,9
7. Adolf Faller,Chicago, Ills,1922,44
8. Agnes Faller,Opick, Hungary,1911,18
9. Agnese Faller,,1898,20
10. Albert Faller,,1896,2
11. Albert Faller,,1909,31
12. Albert L. Faller,,1896,32
13. Alfred Faller,,1896,21
14. Alois Faller,,1893,24
15. Alois Faller,Ujtelep Hungary,1909,15
16. Amalie Faller,,1895,45
17. Amalie Faller,,1906,43
18. Amalie Faller,New York, NY,1911,61
19. Amelia Faller,New York City,1923,70
20. Amelie Faller,,1909,33
21. Andrea Faller,Bergnia,1898,39
22. Angelina Faller,Fallerburg, Co.,1914,15
23. Angelina Faller,Fallerburg, Co.,1914,46
24. Anna Faller,Portland, Oreg.,1911,36
25. Antal Faller,Kullod, Hungary,1910,15
26. Antalne Faller,Apatin, Hungary,1907,23
27. Antol Faller,Kullod, Hungary,1911,24
28. Anton Faller,Apatin,1907,24
29. Anton Faller,Casinsco, Ungary,1911,27
30. Aron Albert Faller,Frankfort,1904,28
31. Arthur Faller,,1906,2
32. Arthur Faller,Brooklyn, N.Y.,1913,8
33. August Faller,Reihert. Bd.,1904,23
34. August Faller,Germany,1906,28
35. Augustin Faller,Leutkirch, Germany,1923,23
36. Autal Faller,Apatui, Hung,1909,14
37. B. Faller,,1892,28
38. Beile Faller,Russia,1913,0
39. Bernard Faller,,1894,40
40. Berta Faller,Merida, Mexico,1910,15
41. Berta Faller,Woodcliff, N. J.,1921,44
42. Bertha Faller,,1894,34
43. Bertha Faller,Neustadt, Ind.,1900,24
44. Bertha Faller,Grombach,1904,55
45. Bertha Faller,Schlingen,1907,30
46. Bertha Faller,,1907,31
47. Bertha Faller,Jersey City, USA,1912,36
48. Bertha Ceonia Faller,,1914,39
49. Borbala Faller,Kullod, Hungary,1911,22
50. Brigitta Faller,Germany,1892,19
51. Carl Faller,,1892,34
52. Carl Faller,,1895,23
53. Carl Faller,,1908,11
54. Carl Faller,,1921,65
55. Cehaly Faller,Kullod,1906,25
56. Charles Faller,New York, N.Y.,1913,61
57. Charles Faller,Rochester, N.Y.,1913,59
58. Cina Faller,,1892,27
59. Csar Faller,Leavenworth, Kansas,1906,46
60. Cuzen Faller,,1892,0
61. David Faller,Ozimina,1903,32
62. David Faller,Moscisko, Galicia,1903,20
63. Dobe Faller,Bialogelkow, Russia,1910,27
64. Dora Faller,Frankfortur,1905,24
65. Edmund Faller,Hoxton, England,1916,52
66. Elisab Faller,,1906,31
67. Emil Faller,Buchheim, Germany,1924,19
68. Emilie Faller,,1905,22
69. Emilie Faller,Paris, France,1913,30
70. Emily Faller,New York, U. S.,1907,23
71. Emma Faller,,1896,21
72. Emma Faller,Me...do,1903,15
73. Emma Faller,,1903
74. Eno Faller,Belpa, Cz. Slovak,1921,9
75. Erich Faller,Charlottenburg, Germany,1911,30
76. Erid Faller,Jaernd, W. Indies,1913,32
77. Ernst Faller,,1892,21
78. Erzsebet Faller,...orzan, Hungary,1907,26
79. Etel Faller,Belpa, Cz. Slovak,1921,13
80. Ethel Faller,Pittsburg, , Pa.,1924,26
81. Ethel Faller,Portsmouth, Va.,1924,32
82. Eugene Faller,Obevndorf,1905,31
83. Eurico Guglielmo Faller,Fallerburg, Co.,1914,7
84. F. Faller,,1896,1
85. F. Faller,Mexico City,1904,58
86. Fakob Faller [Jacob?],,1905,22
87. Felise Faller,,1894,42
88. Felix Faller,,1894,40
89. Felix Faller,Me...do [Merida?],1903,58
90. Felix Faller,,1903
91. Felix Faller,Merida,1904,57
92. Felix Faller,Merida,1907,13
93. Felix Faller,Mexico,1907,60
94. Felix Faller,Merido,1907,60
95. Felix Faller,Merida, Mexico,1910,64
96. Ferencz Faller,Kuelloed,1906,25
97. Francisco Jose Faller,Merida, Mexico,1921,21
98. Franjo Faller,Osick, Hungary,1911,16
99. Frank David Faller,,1903
100. Franz Faller,Thortheim,1893,26
101. Franz Faller,,1896,24
102. Franz Faller,Roje,1900,33
103. Franz Faller,Hardtsheim,1901,34
104. Franz Faller,Osijek, Hungary,1912,48
105. Frederick Faller,Pittsburg,1924,61
106. Frederick N. Faller,,1911,43
107. Frederick W. Faller,Boston, Mass,1920,25
108. Fredrik Georg Faller,Gulbergsiden, Norway,1916,17
109. Friedr Faller,Gutenbach, Germany,1904,43
110. Frieda Faller,,1906,22
111. Frieda Faller,New York City, U.S.A.,1923,39
112. Friedrich Faller,Thaslan,1893,17
113. Friedrich Faller,Cleveland, Ohio,1905,22
114. Friedrich Faller,Rudolfagrad, Jugoslv.,1922,2
115. Fritz Faller,,1896,9
116. G. Faller,,1919
117. Gdalie Faller,Dubno, Russia,1907,17
118. George Faller,,1892,35
119. George Faller,,1908,53
120. George Faller,,1909,9
121. George M. Faller,,1912,57
122. Gertrud Faller,Furtwangen, Germany,1923,19
123. Giacomo S. Faller,Fallerburg, Co.,1914,46
124. Giacomo Y. Faller,Fallerburg, Co.,1914,13
125. Giulia Faller,Fallerburg, Co.,1914,20
126. Guglielmo Faller,Fallerburg, Co.,1914,7
127. Harald O. Faller,Milwaukee, Wisc.,1924,28
128. Harold Faller,Fr.stad, Norway,1911,16
129. Heimase Faller,Grumbach,1904,56
130. Helene Faller,Furtwangen, Germ.,1923,21
131. Hermann Faller,Neusatz, Germany,1924,21
132. Hermini Faller,,1893,22
133. Hugo Faller,,1920,48
134. Hugo Faller,Secanens, New Jersey,1923,51
135. Ignaz Faller,Achern, Germany,1914,30
136. Iozsefne Faller,Kullod, Hungary,1910,25
137. Irma Faller,,1907,8
138. Isaac Faller,Munchen, Germany,1908,37
139. Jacob Faller,Ghesttgart, Germany,1907,23
140. Jacob Faller,,1911,48
141. Jacob Faller,,1920,37
142. James Faller,Glasgow, Scotland,1923,19
143. Janos Faller,R. Keked,1904,25
144. J. Baptiste Faller,,1893,23
145. Jennie Faller,Prospect Park, NJ,1923,20
146. Johann Faller,Buchheim,1892,26
147. Johann Faller,Zurich,1900,28
148. Johann Faller,Obenoyl,1904,41
149. Johann Faller,,1907,38
150. Johann Faller,Steinbach, Germany,1924,22
151. John E. Faller,,1893,30
152. Jolan Faller,Belpa, Cz. Slovak,1921,11
153. Josef Faller,Wittnan, Rd..,1903,28
154. Josef Faller,Gornjagrad, Austria,1909,30
155. Josef Faller,Ober Sackingen, Germany,1922,8
156. Josef Faller,Ottersweier, Germany,1923,27
157. Josep Faller,Ujtelep Hungary,1909,11
158. Joseph A. Faller,,1906,55
159. Jozsef Faller,Kullod,1907,45
160. Julianna Faller,Kullod, Hungary,1910,40
161. Julius Faller,,1892,4
162. Karl Faller,Simmeuer,1898,25
163. Karl Friedrich Faller,Germany,1906,33
164. Katharina Faller,,1913,30
165. Katie Faller,Warschan, Russia,1912,22
166. Klara Faller,Breisagh, Germany,1922,18
167. Klara Faller,Schoenwald, Germany,1923,19
168. Leib Faller,,1896,19
169. Lena Faller,Secanens, New Jersey,1923,49
170. Lillian Faller,Darwen, England,1912,30
171. Lina Faller,New York,,1907,42
172. Lina Faller,,1909,40
173. Lina Faller,Chaux-de-Ponds, Germany,1913,55
174. Lina Faller,Russia,1913,23
175. Lina Faller,Ober Sackingen, Germany,1922,29
176. Lina Faller,Chicago, Ill.,1923,54
177. Linse Faller,Baden, Germany,1913,21
178. Loreta Faller,Merida,1904,12
179. Loreto Faller,Mexico City,1904,14
180. Loreto Faller,Merida, Mexico,1910,20
181. Lorina Faller,,1911,38
182. Louis Faller,Germany,1892,42
183. Louis Faller,N. York,1912,34
184. Louis Faller,New York,1912,34
185. Louisa Faller,Toledo, OH,1922,34
186. Louise Faller,Milano, Italy,1914,17
187. Magda. Faller,,1906,28
188. Magdalena Faller,,1903,47
189. Magdalena Faller,,1921,65
190. Magdalene Faller,,1896,36
191. Magdolna Faller,Apatui, Hug,1909,24
192. Manzinilla Romano Faller [should be Ramona Manzanilla Faller],Merida, Mexico,1919,51
193. Marcell Faller,,1921,27
194. Marg Faller,,1894,24
195. Margareta M. Faller,Merida, Mexico,1919,21
196. Margareth Faller,Brooklyn, N.Y.,1913,7
197. Margaretha Faller,Obenoyl,1904,34
198. Margaretha Faller,Bereg,1906,19
199. Margarethe Faller,,1906,0
200. Maria Faller,Harthausen, ...g,1900,25
201. Maria Faller,Fallerburg, Co.,1914,17
202. Maria A. Faller,Rochester, N.Y.,1913,57
203. Marian Faller,Bialogelkow, Russia,1910,8
204. Marie Faller,,1896,34
205. Marie Faller,Zurich,1900,27
206. Marie Faller,dest. New York, NY,1908,42
207. Marie Faller,Germany, Freiburg,1911,28
208. Martan Faller,Kullad, ...,1910,26
209. Martha Faller,Brooklyn, N.Y.,1913,34
210. Martine Faller,,1893,21
211. Mary Faller,,1894,35
212. Mary Faller,Pittsburg,1924,50
213. Mary Faller,Asperg, Germany,1924,18
214. Matyas Faller,Kullod, Hungary,1910,48
215. Max Faller,,1895,5
216. Max Faller,New York, N. Y.,1911,21
217. Max Faller,Com. Rivadavia, Argentina,1923,36
218. Michael Faller,Obenoyl,1904,7
219. Michael Faller,,1909,43
220. Michael Faller,Prospect Park, NJ,1923,25
221. Miguel Faller,Merida,1907,15
222. Miguel Faller,Merida, Mexico,1924,32
223. Mildred Faller,,1910,2
224. Mildred Faller,Chicago, Ill.,1921,13
225. Minna Faller,Sambor, Austria,1907,21
226. Nikolaus Faller,Belpa, Cz. Slovak,1921,15
227. Olaf Faller,Svindal, Norway,1910,20
228. Oscar Faller,Munich,1906,40
229. Oscar Faller,Munich,1906,36
230. Oscar Faller,Munchen, Germany,1908,38
231. Ose Faller,Nuinuts,1907,32
232. Oskar Faller,Munchen, Germany,1911,41
233. Otto Faller,Karlsruhe,1907,32
234. Peter Faller,Bereg,1906,46
235. Pucka Faller,,1896,19
236. Raebelle Faller,Jaffe, Turkey,1914,43
237. Rafael Faller,Kalinowke, Russia,1912,18
238. Rasa Faller,Cacuci, Hung.,1912,20
239. Raymond Faller,,1922,35
240. Raymond Faller,,1922,35
241. Raymond Faller,,1922,35
242. Raymond Faller,,1922,35
243. Raymond Faller,,1923,35
244. Robert Faller,Heaton, England,1908,29
245. Rosa Faller,,1896,9
246. Rosa Faller,,1903,20
247. Rosa Faller,,1913,9
248. Rose Faller,,1905,24
249. Rose Faller,Chicago, Ill.,1921,37
250. Rosy Faller,,1910,26
251. Rozalia Faller,Kuelloed,1906,29
252. Rozalia Faller,Kullad, ...,1910,20
253. Rudolf Faller,Schenkenzell,1893,16
254. Rudolf Faller,Cincinnati,1898,21
255. Rudolf Faller,Fundenlaun Bade, Ger.,1922,22
256. Rudolf L. Faller,,1906,29
257. Sedia Faller,Jersey City, New Jersey,1900,34
258. Sigmund Faller,,1910,29
259. Sigmund Faller,Chicago, Ill.,1921,40
260. Silvio Faller,Rovereto, Trento,1921,40
261. Sophia Faller,Jersey City, NY,1897,20
262. Sophie Faller,Jersey City, New Jersey,1900,23
263. Sophie Faller,Ergolsbach, Germany,1912,26
264. Sophie Faller,Los Angles U.S.A.,1913,26
265. Stjepan Faller,Osijek, Hungary,1910,22
266. Te... Faller,Kullod, Hungary,1913,63
267. Teodor Faller,Brooklyn, N.Y.,1913,36
268. Teresa Faller,Milano, Italy,1914,20
269. Theodor Faller,,1906,29
270. Theodor Faller,Columbus, Ohio,1914,46
271. Thomas Faller,,1909,26
272. Viola Faller,Fallerburg, Co.,1914,5
273. Virginia Faller,Fallerburg, Co.,1914,18
274. W. Faller,,1896,25
275. Wm. Faller,Germany,1892,26
276. William Faller,,1904,6
277. Willy Faller,Frankfurt, Germany,1912,7
278. Yetta Faller,B. Aires, Argentine,1922,19
279. ... Faller,,1892,24
Information passed on by Steve Troy
LDS film number 1568251 is Volume R57, 2--8, of "Zentralkarte der Deutsche Wanderung", 1750--1943, a set of index cards, sorted alphabetically by surname, of people who emigrated from Germany. The subtitle is "Kartel der Deutschen Wanderung der Forschungsstellen des Deutschen Ausland-Instituts Stuttgart". This particular film had cards from "F" through "H". There were three Fallers listed:
Faller, Adam; Heimat: Baden. 22.6.1840 mit Fregatte "Pauline" nach New York USA.
Faller, Georg; Heimat: aus dem Breisgau, Baden, Beruf: Bauer. ausgew. 1770. Ziel: Ungarn od. Banat am 6.7.1770 in Ulm anwesend.
Faller, Georg: Heimat: Neukirch, Amt Donau-eschingen, Baden. ausgew. vor 1793. Ort: Ofen. Prov.: Ungarn. (symbol for death): am vor 1793.
Finnish Fallers sent in by Jim Kurtti
(Since I, Pat, can't translate the Finnish book Lasitutkimuksia I from which these names were compiled, please contact Jim for further information.) These families were engaged in the glass-making trade.
Alexander Faller b. 9-1-1820 d. 6-24-1880 Children:
Alexander Viktor Faller b. 6-15-1842 d. 12-15-1871
Viktoria Faller b. 8-24-1843 d. 2-10-1919
Edgard Frithjof Faller b. 4-2-1845 d.6-9-1890
Hilda Alexandra Faller b. 4-6-1847
Hilma Matilda Faller b. 11-27-1849
Anton Frans Faller b. 4-21-1762 Children:
Carolina Fredrica Faller b. 4-28-1792
Johan Adolf Faller b. 5-16-1793
Maria Emerentia Faller b. 1-3-1796
Henrik Matthias Faller b. 12-27-1798
Antonius Faller b. 1799 d. 7-14-1852
Christian Faller b. 3-4-1804 d. 1-10-1867
Emmanuel Faller b. 9-1-1806
Fredrik Wilhelm Faller b. 5-22-1808 d. 7-13-1840
Fredrika Wilhelmina Faller b. 5-22-1808
Wilhelmina Faller b. 6-1-1812
Johanna Faller b. 6-23-1814
Christian Faller, above, Children:
Wendla Wilhelmina Faller b. 3-28-1830
Magdalena Faller b. 8-14-1835
Johan Wilhelm Faller b. 6-13-1837
Maria Wilhelmina Faller b. 3-7-1842
Carl Fredrik Ignatius Faller b. 9-21-1845
Christian Johan Faller b. 1760, Children:
Johan Matthias Faller b. 1788
Petter Abraham Faller b. 1790
Margareta Faller b. 1793
Anna Lovisa Faller b. 12-1-1794
Isak Faller b. 3-19-1797
Lars Gerhard Faller b. 2-1-1810
Stina Lisa Faller b. 1812
Emmanuel Faller b. 9-1-1806, Children:
Johan Adolf Wilhelm Faller b. 12-12-1829
Josefina Sofia Faller b. 11-26-1831
Robert Emmanuel Faller b. 8-4-1834
Emerentia Fredrika Faller b. 1-5-1837
Matilda Charlotta Faller b. 1-13-1840
Natalia Gustava Faller b. 4-13-1842
Alexander Faller b. 7-22-1844
Edvard Waldemar Faller b. 7-9-1846
Emilie Henriette Faller b. 8-7-1848
Amanda Elise Faller b. 6-11-1850
Fredrik Wilhelm Faller b. 5-22-1808, Children:
Sofia Elisabet Faller b. 10-16-1836
Ernst Wilhelm Faller b. 7-10-1839
Henrik Matthias Faller b. 12-17-1798
Isaac Wilhelm Faller b. 6-11-1815, Children:
Anna Brita Faller b. 12-30-1839
Carolina Faller b. 1-3-1842 d. 1851
Wilhelm Enok Faller b. 3-31-1844
Erica Elisabet Faller b. 4-24-1846 d. 1846
Johan Georg Faller b. 9-27-1848
Johan Abraham Faller b. 10-4-1810, Children:
Catharina Elisabet Faller b. 10-27-1834
Emma Faller b. 5-4-1837 d. 3-1-1920
Lovisa Josefina Faller b. 10-1-1839
Johan August Faller b. 3-24-1841
Edla Sofia Faller b. 11-12-1843 d. 1-22-1920
Hilda Erika Faller b. 1-17-1846
Amalia Wilhelmina Faller b. 8-9-1848
Maria Faller b. 5-24-1851 d. 10-23-1915
Amanda Faller b. 4-3-1855 d. 4-30-1941
Johan Adam Faller b. 1756 d. 2-19-1820, Children:
Anna christina Faller b. 4-9-1779
Maria Christina Faller b. 10-14-1794
Christina Albertina Faller b. 4-2-1798
Eva Regnata Faller b. 7-24-1801
Johan Matthias Faller b. 8-4-1803
Anna Johanna Faller b. 3-16-1806
Lovisa Sofia Faller b. 5-10-1812
Conrad Christian Faller b. 8-26-1818
Johan Adolf (Adrian) Faller b. 5-16-1793, Children:
Johan Fredrik Faller b. 11-3-1814
Anton Julius Faller b. 10-10-1816
Maria Sofia Faller b. 9-4-1819
Alexander Faller b. 9-1-1820
Anna Birgitta Faller b. 3-15-1822 d. 4-1-1822
Anna Margareta Faller b. 12-7-1823
Emilia Faller b. 9-30-1825
Augusta Faller b. 8-22-1827
Ernst Otto Faller b. 6-7-1830
Johan August Faller, b. 3-24-1841 d. 3-29-1893
Johan Matthias (Matts) Faller b. 1761
Petter Abraham Faller b. 1790, Children:
Anna Elisabet Faller b. 1-26-1812
Brita Lisa Faller b. 6-6-1814
Robert Emmanuel Faller b. 8-4-1834
(2/24/99) Hilda Patrick has pursued Faller genealogy for about 25 years. From Ernst Hug, a local historian who made a study of Matthias Faller the sculptor ("Der Kloster Bildhauer Matthias Faller 1701-1791."), Hilda acquired a list of Faller descendants which appeared to be an appendix to another publication, possibly by the local historical society. Sorry, that's all I know about it.
Letter on Early Fallers provided by Robert de Falleur
(6/19/98) From a letter written in 1933 to the grand-father of Robert de Falleur comes a list of early Fallers.
From Louis Faller, Tax Auditor (Administration) at Mulhouse 9, Eugel Dollfus, Upper Rhine (Alsatia), France
"... I have the pleasure to give hereunder some information on the Fallers of Alsatia and duchy of Baden.
Georgius Faller, born in ...?.., is the first Faller who came to Alsatia from the neighborhood of Tüberg [?? Triberg 10km from Furtwangen ?? Tübingen near Stuttgart] (Baden); he came to Epfig in Lower Alsatia in 1660. The genealogy of the Alsatian Fallers includes 10 generations...."
(6/19/98)
[List of Fallers mentioned in letter in order of associated date (day-month-year):]
Sixtus Waler in Schweinfurt registered in Heidelberg 24.6.1464.
Johannes Valler (Phaller) in Furtwangen, Baden, registered in Heidelberg 11.2.1505.
Simon Waller in Eppingen (Baden) 12.6.1506 (registered in Heidelberg).
Andreas Faller, Rector of Furstenberg, 1510-1560.
Mathias Faller, 'laicus' 6.3.1520 Freiburg.
Mathias Faller, Cavalry Master of the Count of Fuerstenberg - Cuisingen 1536.
Dr. Andreas Faller, registered at the University of Freiburg from Duanlichingen 2.4.1538.
Augustinius Faller, 'presbyter constant' matriculated 1.2.1541 Freiburg.
Jacques Faller, writer, St. Blassien, 1555
Mathias Vallerus, 'laicus' Thiengen 4.9.1565 Freiburg.
Sigismundus Faller, 'laicus' 25.3.1565 Freiburg.
Thomas Faller, 'laicus' 22.6.1565 Freiburg.
Johannes Wallerus, Eppingen, 23.10.1595.
Melchior Faller 'sulzischer Vermundschaft secretär' 1600 (see Coat of Arms).
Joannes Faller, doctor in theology, general apostolic vicar in the diocese of Basle.
Andreas Faller, U. of Dillingen 1.10.1614.
Georges Faller, U. of Dillingen 24.10.1627
Mathias Faller, clock maker, b. in Raversheven in April 1650 (Sponheim county- Baden Palatinate).
Stephanus Faller, U. of Dillingen 10.11.1651
Jacques Faller, Mayor of Freiburg, 1697.
30.7.1726: marriage between Philippe Faller clerk of court at Gullkirch with Regina Warin daughter of Adolphe Artopacus innkeeper at Warbach.]
(6/19/98) Another excerpt from letter:
"At Enkirch (Moselle France) I have identified Mathias Faller, clock maker, b. in Raversheven in April 1650 (Sponheim county - Baden Palatinate). His ancestors were natives of Baden where the clock industry was which spread; in 1675 he has built a house named 'Faller house' which still exists; his crests are on the building and it is written 'Fallerhaus 14.12.1703'."
top of page
PHOTOGRAPHS
To assist other researchers who may need any leads they can get, I'll list here names of people in any photographs that come my way.
2. 1926 SCHWARZWALDER WALDFEST. A large photograph and article were published in the Neues Schwarzwalder Tagblatt of September 11, 1926. This German-language daily was published in New York City in Gothic type font (hence, indecipherable to me). The article was also published in a Furtwangen paper. Someone has identified the participants in the photograph by number--perhaps the host, Franz Xaver Wehrle from Thomaston, CT. A few are listed in my descendants file. Sorry, the copy is very faint and I may have missed some umlauts, etc. There are misc. relationships (brother, uncle) I have omitted, so contact me if you have further questions on these people.
(2/24/05) I have added the photo and a translation of the article.
September 11, 1926, by Alfred Wehrle.
My uncle's house lies outside the city of Thomaston in deep quiet at the foot of a mountain. A small deciduous forest, not far from it, embellishes the mountain area. Its high foliage gives a pleasant shade, inviting you to stay.
On America's national holiday, busy hands prepared for the Black Forest Picnic, making tables and benches. When I first heard about it, my heart pounded. In my memory, I leafed through the delightful fairy-tale books, up through the green forest's rustling pines, up the dark hills, and there I saw joyful men and women with juicy sausages and foaming beer. Oh, wait a minute, there isn't supposed to be beer here. For a person from the Black Forest, a picnic without beer is absolutely unthinkable!
A car drove up. A person brought out a basket and brought it into a quiet little house, whose purpose had not been clear until then. Bratwursts were pulled out of the baskets and hung up in the small house. Finally, a fire was lit and soon after that those standing outside could see the smoke coming bellowing forth from the cracks and crevasses of the mysterious little house. Gradually, my temperature rose at least ten degrees and there came over me the hope for a successful picnic for those from the Black Forest. But I never really understood how the feast could happen without drinks!
Finally another car came rattling up. It was completely loaded with ice. However, don't think that the ice was intended for cooling beer. Its only job was that of keeping the ice cream cold. Finally, a small truck arrived. It couldn't be seen because, in the meantime, night had swept over this great event and complete darkness had settled in.
A bright Sunday morning dawned and Mrs. Sun had already gotten into her golden carriage as we met each other at the picnic grounds. How surprised I was as I heard the charming old names of all those people from the Black Forest and how great was our common joy! We were all suddenly so near home. With deep emotion, I shook the hands of Marie Eckseppli; Johann Stiarhisliphilippe; those three Reichenbach boys from Schutzebe; Adelbert Seilerhanse and his wife from Fallingrundes; Adolf and Leoe from Dobeldeibife; Mine from Muklisbure; Leo Lini with his two boys; a copper apprentice and his machine; Otto from Kusselbure; Balches Steihalde; Berte and his Katzesteig; a Holleburli from Schonwald; a Miller's boy called Barbas; the Furtwangers; a few dozen Wehrle; and the Great Fallers, as they are called. That was a heartfelt meeting and a joyous reunion.
Then we chatted and told stories. Questions and answers about dear ones at home whizzed back and forth and old happy memories were exchanged. In one corner, the young boys stood crowded together, obviously with something very important to discuss. All of a sudden one could hear the clinking of glasses and it's not necessary to say where the drink came from! Soon each had a mug of real beer before him, a beer so powerful the likes of which you could not even get in our beloved homeland.
But could something be wrong in my uncle's "well house"? Did it concern that last car that came? You couldn't say. But finally the mood, the excitement, was there and it suddenly resounded through the tree tops:
--"O Schwarzwald, O Heimat, wie bust du so schon!"--
--O Black Forest, O Home, you are so beautiful!)--
Everyone sang with great enthusiasm and then quieted with a slight feeling of melancholy. But then a sense of happiness and relaxation moved through our Black Forest hearts, and later on we played Zego in a cozy spot, as it should be played among real Furwangen people. Careful, people from Gutenbach were there!
Joyful songs of the homeland rang out. Of course, the accordion was not missing and the young people enjoyed themselves. The Black Forest sausages were in great demand. It goes without saying how these short hours so far from home brought us from the Black Forest together. It bound us together in a warm-hearted community, more tender than those at home.
A man stood up, a vigorous, genuine Black Forest spirit: Ernest (Sword Leo) from Gutenbach. In warm, sensitive words, he expressed his delight over the reunion of the 73 Black Forest people from all directions in the United States, and about the ability to maintain the old home customs and habits even in dry America. He mentioned, among other things, that now a new spirit of living was found, diminishing the injury of the eternal chase for the dollar. The speaker, whose name carries respect in the city of six million, gave a lot of good advice for the road, especially to us young people.
Before de departed for the picnic, his wife told him, "You are going home." In this endearing group of our people, we felt ever so much at home that we hardly noticed that 4,000 miles separated us from the Black Forest hills, where all of our cradles stood. Like an invisible ribbon, it bound us all together and made us recognize that we really are close to the homeland. All of us: Marie Eckseppli; Johann Stiarhisliphilippe; those three Reichenbach boys from Schutzebe; Adelbert Seilerhanse and his wife from Fallingrundes; Adolf and Leoe from Dobeldeibife; Mine from Muklisbure; Leo Lini with his two boys; a copper apprentice and his machine; Otto from Kusselbure; Balches Steihalde; Berte and his Katzesteig; a Holleburli from Schonwald; a Miller's boy called Barbas; the Furtwangers; a few dozen Wehrle; and the Great Fallers, as they are called.
These are the people listed on the sides of the article:
1. Joseph Zahringer from Neustadt
2. Oskar Grieshaber from Furtwangen
3. Amalie Zahringer, nee Amalie Vogel, wife of #1
4. Frieda Roth from Waterbury, CT
5. Anna Roth from Furtwangen
6. Hans Muller from Heidelberg
7. Margarethe Schaffer from Waterbury, CT
8. Rudolf Faller from Boston
9. Marie Reichenbach, nee Marie Eble, wife of #71
10. Joseph Winterhalter from Langenbach (Eckwirt)
11. Luise Faller from Boston
12. Paula Furtwangler from Engen, nee Paula Nusskern, wife of #72
13. Adolph Faller from Gietebach [sic], Falligrinder
14. Bertha Wien, nee Bertha Hug, from Furtwangen, wife of #21
15. Alfred Wehrle from Furtwangen
16. Wilhelmine Faller, wife of #13
17. Margarethe Bock from Berlin
18. Joseph Stortz from St. Georgen
19. Henry Hertach from Niederurnen
20. Willy Wehrle from Furtwangen
21. Karl Wien from Woodbury, CT
22. Berthe De Barba, nee Berthe Haas, from Schönwald
23. Albert Joseph Faller from Furtwangen
24. Franz Xaver Wherle from Schönenbach
25. Engelbert De Barba from Furtwangen
26. Johann Stoll from Munich
27. Josef Reichenbach from Lenzkirch
28. Otto Faller from Furtwangen
29. Frau Theo Muckle [sic], wife of #30
30. Theodor Mukle from Furtwangen
31. Emil Mukle from Furtwangen
32. Berta Faller from Neustadt, wife of #?
33. Heinrich Hoffmeier
34. Emma Faller from Thomaston, CT, wife of #?
35. Weibert Reichenbach from Furtwangen
36. Karl Reichenbach
37. Augustine Reichenbach, nee Augustine Kirschbaum, wife of #35
38. Adelbert Wehrle from Furtwangen
39. O. Mukle from Waterbury, CT
40. Albertine Wehrle, nee Albertine Mack, from Schönwald, wife of #38
41. Agatha Wehrle, nee Agatha Faller, from Gietebach, wife of #24
42. Margarete Griffith [??]
43. Alfred Schandelmayer
44. Fred Hepting from Schönenbach, Millichklausabus [??]
45. Elise Kirstner from Munich
46. Marle Pellnitz, wife of #47
47. unlisted
48. Edelbert Reichenbach from Schönwald (Escheck)
49. Fritz Wehinger, Braunlingen (Fischerlematiesefriz)
50. Herbert De Barba
51. Armin Wehrle from Thomaston, CT
52. Ernst Muller from Furtwangen
53. Gerda Wehrle from Thomaston, CT
54. Erika Furtwangler
55. Erna Wehrle from Thomaston, CT
56. Fritz Muller from Furtwangen
57. Karl Wien from Waterbury, CT
58. Heinz Furtwangler
59. Maria Hildebrand from Thomaston, CT
60. Ernest A. Faller from Gietebach (Schwertleoen Ernacht) (my grandfather)
61. Weibet Haberstroh from Schönwald
62. Adolph Pfaff from Schnöwald
63. Emma Wehinger, nee Emma Scherer, from Neustadt, wife of #49
64. Adalbert Reichenbach
65. Elias Brieshaber from Rohrbach (Kupferbirli)
66. Elisabeth Riehl from Waterbury, CT
67. Karl Wagner from Donaueschingen
68. Alfred Kirschbaum
69. Johann Baptist Faller from Gütenbach (Stierhisli)
70. Elias Schandelmayer from Schönwald (Stampferbur)
71. Aurelius Reichenbach from Furtwangen
72. Oskar Furtwangler from Furtwanger (Schmittalennes)
73. Louis Pellnitz from Waterbury, CT
1. Hilda sent me a copy of the 150th anniversary program from the St. Märgen church choir. A photo of the 1899 choir shows:
Gustav Albert,
Lambert Saier,
Sattler Herre,
Lambert Faller,
Lehrer Katzenberger,
Amalie Loeffle,
Stefanie Schwer,
Rosalia Rombach,
Sofie Schwer,
Maria Rombach,
Maria Schwer,
Emilie Pfaendler,
Bibiana Rombach,
Rosina Rombach.
top of page
RESEARCH QUERIES
This section contains items from persons researching, to various degrees, their branch of the Faller family tree, other surnames, or related topics. If you have any pertinent information, please contact him/her directly (addresses follow this section) or myself (if no email is listed). Newer items are numbered and added at the top of the list. My most recent update of this section includes #77 on up.
77. Jack Haywood writes that he is trying to research Maria Agatha Faller, his Great-Great-Grandmother. Her grandson (Jack's grandfather) was an orphan with no one to pass along his family history to him. Agatha's Obituary, which appeared in the Tell City (Indiana) News said: "Mrs. Agatha Weissenberger, a well known and highly respected woman of this city, died early Monday [February 15, 1909] morning after enduring a number of months illness, without complaint or much sign of pain. She was the good wife of January Weissenberger and was noted for her kindness and cheerfulness of character…Mrs. Weisenberger was born in Baden, Germany, December 27, 1839....She came to this country in the year 1864 and resided in Boston, Massachusetts for one year and then came to this city, later marrying Mr. Weissenberger, being a residence since. The deceased was a devout member of the St. Paul Catholic Church....She is survived by a husband, one daughter, Mrs. Paulina Walters, four sisters, and several grandchildren."
The Indiana Marriage Record 1850-1920 for Perry County, Indiana shows that January Weissenberger married Agatha Faller on July 10, 1865. A letter from my Grandfather indicates that he remembers that his grandparents said that they were from Alcace-Loraine and Baden-Baden. He also remembers that his grandparents visited relatives in South Nadick, MA, who were in the shoe business. The only name he remembers is "HOPPY." Jack doesn't know if those were Faller relatives or his cousins but my grandfather's biography indicates he was (also) orphaned at an early age. He immigrated about 1863.
Some have said that Father Edward Faller, a hard working priest in southern Indiana, was a brother to Agatha, but since Father Faller died after Agatha and since he is not mentioned in her obituary as a surviving sibling, I wonder if this is correct (or perhaps priests were not mentioned in obituaries). Father Faller immigrated thru New Orleans and seems to be related to the Illinois Fallers.
Jack mentions that Tell City, Indiana, the city in which they lived, was a planned community developed by the Swiss Colonization Society of Cincinnati, Ohio. The first settlers moved to the area around 1857. As the city grew, it adopted the name Tell City after the legendary William Tell to reflect the heritage of most of its residents who were mostly from the small states of Germany, Alsace-Loraine, Luxemburg, Belgium and the surrounding area. The Swiss Colonization Society was a money making operation seeking out settlers (in the old country, I presume) to buy land and settle in the Tell City area. It seems that Agatha made the move from Boston to Cincinnati to Tell City in a matter of weeks suggesting that when she left Boston, Tell City was already her destination and that she had traveling companions and a reason to go to there. I do not know anything specific about her U.S. immigration, which would have been around late 1863 or early 1864. The fact that her and many others used the formal first name Maria is also confusing.
76. Tina Coleman is searching for ancestors of: GEORGE FALLER was born Abt 1815 in Baden-baden, Germany, and died June 13, 1880 in Trenton, Mercer Co., NJ. He married MARY ELIZABETH HIMMELSPAHN in Germany. Emigrated to U.S. abt. 1854 with wife and the 4 youngest of their 12 children. 1860 census spelled Faller as Farrel and some descendants are Fowler.
75. Nigel Lawley writes that he is trying to trace the Lawley family tree. Lawley was Laule in Germany. Several Lawleys came to England in the late 1700's and many of them were clock makers. Nigel's g-g grandfather was Joseph Lawley or Josef LAULE, b 12 feb 1796 in Scwarzenbach. His parents may have been Bernhard Laule and HELENE FALLER.
74. Björn Fahller of Sweden stems from the glass makers in Finland and Sweden and plans to do some research into his Faller ancestors in the coming months. He reports that an "h" was added to Faller a couple of hundred years ago,
73. Jeff Fowler believes his ancestors came to America from Zweibrucken, Germany about 1760. His fourth great grandfather is Hans Adam Fowler, and his father was William (Wilhem) and his mother was Catherine. Jeff is uncertain of the name Fowler before it was anglicized, but Faller seems likely and the children of William have the common Faller given names. Jeff's information is on RootsWeb at http://worldconnect.rootsweb.com/cgi-bin/igm.cgi?op=GET&db=1431gracest&id=I00290.
72. Paul Faller of South Africa has extensive documentation on Faller genealogy. About his own branch, he writes:
The earliest directly related Faller I have record of is Martin, born about 1660. He had a farm about two hours south of Hinterzarten (close to Saig) in the Black Forest, Germany. There is a direct line of descent from this Martin to our own family. The following information was supplied by Paulheinz Faller of Freiburg. Martin Faller (b. c.1660\1670; d. 1719). In 1711 he bought what was later called after him the "Raimartihof" from the Sickengen property company. The farm lies at the foot of the Feldberg two hours (by foot) south of Hinterzarten. The home later passed into the hands of the family Andris from Zastler through marriage to a widow Faller in 1825. The Andris family still own it today. Simon Faller (b. unknown; d. 1766). Like his father Martin, he was a farmer on the "Raimartihof" which he had inherited, and he continued with its construction. In 1723 he married Maria Spiegelhalder and later contracted a second marriage with Christina Zipfel from Breitnau\Fahrenberg (not far from Hinterzarten). With these two wives he had eleven children in all. There is a Pam Wright, née Schuler, living in St Alban's, Hertfordshire, who traces her lineage back to Anna Faller (born 1772). Anna was the daughter of Simon's brother, George (born 1743). Josef Faller (b. 4 March 1733; d. 16 May 1797). Son of Simon, he first married Magdalena Stützerin and after her death, Maria Steiert (b. 1754) in 1789. Since his father had died relatively young and had presumably left no will, Raimartihof was at first inherited jointly by Josef and his brother George. But George bought him out and took over the farm. Josef then bought a small property on the Fursatz. This property was known by various names: Steiertenhausle,Wanglerhausle and Weberhausle. In 1795 Josef exchanged his cottage on the Fursatz for the "Michel-Thomele-Hof" at Hinterzarten-Windeck. The name of the farm derives from the fact that it had belonged to a Michel Droscher and then to a Thomas Droscher. Josef had four sons. Johann Georg Faller (b. 20 March 1790; d. 13 March 1871). He was the eldest son from Josef's second marriage. Like his father he was a farmer on the "Michel-Thomele-Hof" at Hinterzarten-Windeck: in dialect the farm is often called "Micheldumelehof". Together with his wife, Anna Wangler (b. 1789; d. 1831) he had eight children, one of whom was our great-grandfather Paul, born on 13 May 1823.
Paul also sent in other information listed under "Schwarzwald Roots" and "Citings."
71. Gottfried Stemmer lives in Regau, Austria, and has 5 children and 10 grandchildren. He's been doing genealogy for about 5 years. His ancestors emigrated from South Germany to the former Yugoslavia. His Faller-ancestor was Jakob Faller, b 1732 in Littenweiler near Freiburg. His parents were Jakob Faller and Barbara Morath, and were living in Breisgau near Freiburg. Gottfried wants to find out more about the life of these people and further ancestors, and perhaps to connect them to other Faller branches.
70. Philippe Grasselly is looking for information on
- Maria FALLER, born in 1717 in St Peter, married in 1741 in St peter with Clemens GLATZ.
- His parents, Christian FALLER, born in Kirchzarten in 1689, married with Magdalena KALTENBACH in 1715.
- The parents of Christian are Martin FALLER and MARIA MäDER, married inb 1686 in Kirchzarten.
- The parents of Martin are Jakob and Agathe HEITZMANN married in Kirchzarten in 1649.
Also, - Maria FALLER married around 1650 with Samuel KALTENBACH in the region of Kirchzarten.
69. Ralph Cooper is tracking down informtion on an Arthur Faller, who was a pilot in 1913 in Mulhausen, Germany. What little is known of Arthur is at this link. Arthur Faller. If you can help, contact Ralph through the link.
68. Joy Faller Dawson and her cousin Nancy Colby are searching for original documents on and pictures of her great-grandfather Frances Xavier Faller, born July 4, 1834, in Barr, Alsace. Frances came to the U. S. in 1852 through New Orleans. He was a tanner by trade and married and lived in Evansville, Indiana for 16 years. Joy would love to get names and addresses for the oldest Catholic churches in Barr, and any pictures of the Faller's or documents about them, especially Catholic Church records, and family photos.
67. Becky S. is trying to find information on her g-g-g grandfather Peter Faller, b. 1831. He came from the Alsace-Lorraine area. However, on the 1870 census for Louisville, KY, he listed his orgins as the Baden areas. Peter was married to Crescence(nee???) b. 1833. They had Albert, Emma, Susan, Emile, Ida and My g-g-grandfather, William J. Faller b. 1867. Emile worked with tin. William J. had Mary Eulalia, Alois, Emil, Mary, Francis, Catherine, William John (my great-grandfather b. 1891), Eleanor and Louis. Emile is listed on the 1910 PA census and in 1920 in Ohio. My grandfather was a barber and his father was a paperhanger. Would appreciate any information.
66. A.D. is researching the genealogy of Antinetta De Judicibus, b 1885.
65. Barbara Hettwer is searching for descendants of William Villinger, b. 1810 (or 1830 records vary), m. 13 June 1858, Wayne County, Michigan, to Mary Geimer, d. 18 July 1868. He was in the grocery business in Detroit. Descendants: 2 sons who lived named Albert Villinger & William Villinger. The Villingers came to the U.S. in 1812.
64. Douglas Ahrens' great-great-grandfather was Anton Faller, born about 1800's, said to have come from the Black Forest. He was listed as a clock maker. (Doug's grandfather had his tools that he brought from the old country.) In 1838 Anton married Lydia Worrell in Morgan County, Ohio. They had four children. Doug's great-grand-father was the first boy, Andrew Jackson Faller. He married a Mary L. Baird in Hocking County, Ohio in March of 1866 after he was discharged from the Civil War. Doug writes: "My grandfather, Frank Faller was born in December, 1866. When he was about 18, they moved from Ohio to Bourbon County, Kansas. Since they all worked in the coal mines, they were afraid of getting the black lung and turned to farming. Grandfather had 6 brothers and sisters. I have always wondered when Anton Faller left Germany. There was a Joseph Faller who lived in the same area of Ohio and was just a year or two younger. It might have been a brother. Anton Faller and his wife are buried in the Ebenezer Church yard in Haydenville, Ohio."
63. Jim Lee is researching the JAKOB HUMMEL family, 1818--1869. His great-great-great-grandfather, LORENZ HUMMEL, was apparently born in Neukirch in 1746. By 1783, he had married GETRUD KALTENBACH, and after her death he married THERESIA SCHWER, both in Schönwald. A daughter by the first marriage, ANASTASIA HUMMEL, bore a couple of children out of wedlock, including my great-grandfather, JAKOB HUMMEL. JAKOB was a painter of clock faces, and eventually moved to Furtwangen, where my grandmother LIDWINA HUMMEL was born in 1861. Jim lives in Nags Head, NC. Last September he visited Furtwangen, Neukirch, Schönwald, Triberg, and on into Switzerland, taking about 400 pictures, slides and prints. Jim just finished working on a family book, "The Hummel Family of Furtwangen, Germany," which has pictures and biographies of three of the people pictured at the 1926 Schwarzwalder Waldfest mentioned on this web page.
62. L.H., from the north west of France, is the son of Simone FALEUR who is descended from Joannes de Faller Mathis (1590 triberg), Martinus Faller (1620), Petrus Faller (1653), Gabriel Faller (1690), Pierre Joseph Falleur (1714), Charles Joseph Falleur (1743), Jean Joseph Falleur (1785), Marie-Thérése Falleur (1822), Charles Constantin Faleur (1856), and Achille Louis Faleur (1888). His daughter is particularly interested in genealogy.
61. Gay Ritter's ancestors were watch-makers and clockmakers in the Black Forest. Her great-grandmother was Elizabeth Faller (b) 1842c Scotland (ch) Theodore Augustine (b) 1873 Darwen, Lancashire, Eng. Rosina (b) 1876 Darwen, Lancashire, Eng. Samuel Augustine (b) 1878 Darwen, Lancashire, Eng. Annas 1879 Darwen, Lancashire, Eng. Theodore came to Australia 1911 and married Eda Augustie Pinnow 1918 Queensland, Australia. Gay is trying to find a marriage for Anton Burhardt FALLER b 1800c. Also, birth records for his children: Augustine FALLER b 1825c, possibly Linach, Baden, and Joseph FALLER b 1737c Baden, and probably more. Augustine & Joseph went to Lancashire in Scotland and married there.
Gay is also in receipt of a family tree re Niclas Faller of Simmern, Germany, from the 17th century down to about 1953. It has 212 names and some dates. She also has a 46 page book, FALLER - Treffen: Juli 1975 im Schlob zu Simmern, in German.
60. L.C. is researching the family line of Mathias Faller, whose father was Rudoph Faller, mother Josephine.... Mathias's wife was Mary Magdalan Von Wert. He was from Baden Baden, Germany.
59. Brian Hayes is looking for information on his ancestor Adeline FALLER, b16DEC1836 in Frankfort, Hessen, Germany, who married Ernest KLUCKNER. If someone has the book by Max Weber that mentions Adeline Faller, please send any further info on Adeline to Brian.
58. From Robert Green: My father's Grand Mother was Elizabeth Valler from England. My father was born in London but the Valler family all seem to be living outside London. I would like any info concerning this family from England and whom to get in touch with.
57. Kevin Holmes writes: My Great-grandfather Aaron ZIMBER was born 3 Nov 1851 in Hexenloch, Neukirch. He died 17 Jan 1901 in New Ross, Wexford Co., Ireland. His father Vitus ZIMBER was born 8 Jul 1822 in Siegelau, Germany. He died in Hexenloch, Baden-Wurtemburg, Germany. The Siegelau line continues to c1650s. He married Salome HUMMEL on 31 Jul 1848 and they lived in Zimberhausle, Hexenloch, Neukirch. They had 10 children in all: Albertina b.19/9/1845, Lambert b.9/6/1848, Adolph b.18/6/1849, Aaron b.3/11/1851, Richard b.2/4/1852, Rufina b.16/7/1853, Karl-Friedrich b.17/1/1857, German b.18/6/1860, Roman b.3/8/1861 and Rebekka b.12/9/1863. Salome HUMMEL was born 12 Oct 1817. She died 6 May 1877. Her father was Joseph HUMMEL and mother Agatha FÖHRENBACH from Zinkhausle, Brennersloch, Neukirch. Both Vitus Zimber and Joseph Hummel were in the clock making business and had links to the UK (then including Ireland).
56. Mary Faller Duxbury's website has photos of her Faller branch from Carlisle, PA.
55. Vanda from CA is searching for Josef Adolf Zahringer who arrived in England when he was 8 years old and married an English girl named Thirza Denning in Kingswood, Bristol about 1898. Vanda believes that Josef adolf Zahringer was the son of Martin Zahringer and Brigitte Duffner and came from Triberg, or Neustadt. Vanda has an interest in these families from the Black Forest who were clock and watchmakers in the Bristol area of England in the late 1800's and early 1900's. In particular Johan Faller who owned the Swan hotel in Wotton under edge, Gloucestershire, for about 12 years, as well as being a jeweller and watch/clock repairer. Also Johann and Joseph Zahringer apprenticed as watchmakers and subsequently opened jewellry stores in the area. Vanda's husband is the g-grandson of a Joseph Adolphus Zahringer born in Nusbach or Triberg area of the Black Forest in June 1873. He had a brother called Johann and they both travelled to Wotton Under Edge in England in the late 1880's to stay with their uncle, John Faller who owned the Swan hotel there.
54. Jürgen Sterk's website and genealogy database has Faller connections, and other surnames common to the Schwarzwald region.
53. Andrea Kohl is descended from Maximilian Fletcher and Rebeka Faller, daughter of Jacob Faller and Mary Ann Donniker. She is in contact with other Faller descendents.
52. (1/15/04) Also see updated #43 below. Jean Jacques Lanois is a descendant of Martin FALLER who passed to Lorraine from the Black Forest, then settled in Belgium. His parents came from Triberg (Germany). Jean Jacques would like to find documentation on the precise details of the children of Martin FALLER and Marguerite SIEGLER and in particular on Marie FALLER who married Jean ANDRES.
Also, he would like to find more information about Joseph FALLER x 09/01/1703 Dorothée HOKERIN (KOCH). From the old church book of Walscheid (Moselle):
FALLER
1. x09.01.1703 Joseph et Dorothée HOKERin (KOCH):
Catherine b 11.10.1705, p Pierre STENGER, m Christine SCHLOSSER X25.09.1725 (réside à Thomythal) Jean Conrad SAMELY, 30 ans, b Unterbisnang en Suisse;
Marie Magdelaine b 30.09.1708, p Pierre STENGER de Meisenthal, m Christine SCHLOSSER;
Christine d 19.01.1730, 26 ans;
2. X25.09.1725 Jean Conrad SAMELY (de+ Jean George et Ursule KELLERin de Unterbinang en Suisse) 30 ans x Catherine FALLER 20 ans (de Joseph et Dorothée KOCH) (+27.02.1741) demeurant à Thomisthal dit Vasserhütte:
Ursule b.10.02.1727;
3. André N. b Albersing à 3 lieues de Bregentz, +28.02.1734, 50 ans, domestique de Joseph FALLER;
4. x20.04.1741 Joseph X+ Dorothée KOCHER, 62 ans, de Thomisthal, et Elisabeth RASCHSPILLER x+ Rhenaud MAURAUX, de Soldatenthal, 50 ans;
5. Joseph FALLER +29.11.1744;
51. (3/12/03) Lisa Troxler is looking for a Barbe Faller who married Jost Troxler (b ~1660) and (d ~ 1698). Their son Johann George or Jean George Troxler left the Lichtenberg, Alsace, France region to come to America.
50. (3/12/03) Lori Pellnitz is collecting information on the PELLNITZ surname. Louis Pellnitz had a sister Anna and they ended up in Connecticut. Louis was married to Mary, unknown maiden name, in Connecticut. Her grandfather was Gustave E. PELLNITZ, born in the U.S. and married to Matilda FULDNER. Other PELLNITZ references: Ernst, Julius, Franz, Mary, and Johann.
49. (3/12/03) Pat Short is descended from Jean Baptiste Fallour AKA John B. Fallure. The descendants of his son Nicholas Fellure and wife Sarah Antill, have a reunion in Gallia Co., OH, where Nicholas arrived shortly before his death. Nicholas had 2 wives and I believe 22 children. Sarah was his second wife and Pat's ancestor. Pat would appreciate anything on Jean Baptiste Fallour.
48. (3/12/03) Gyula Faller of Budapest writes that her great-grandfather lived in Salköveskút (Salkoveskut), a small village in Hungary with a lot of Fallers. Gyula wonders about the connection between the German and Hungarian Faller branches.
47. (3/11/03)Glen Stamnitz is searching for ancestors of Magdalene Faller who was married to Carl Stamnitz. Their children included Gustave L. Stamnitz b. 1875 -- Arrived NY in 1897 and moved to Texas by 1900, and Frederick William Stamnitz b. 1877 -- Arrived Galveston, TX in 1902.
46. (3/11/03) Laurence Kent Fellure's earliest direct ancestor is Jean Faller, born in 1590 in Triberg, Belgium. He wants to share information and gedcom files with any other Fellure or Fellure relatives. If anyone knows who now owns the land in Guyan Township, Ohio where the Fellure Cemetery sits, email Laurence.
45. (3/6/03) David Dale is pursueing the Buerkle branch of his tree. The Buerkles in this side of his family were clockmakers of some sort and lived at the Winkelhof in Neukirch, farm 9b. Johann Furtwaengler married Nothburg Ganter, and their daughter Barbara married Johann Evang. Buerkle around the same time as Clara Buerkle, daughter of Jacob Buerkle [in my descendants file] and I think they're connected to JE Buerkle and his father Matthaus, but have no proof. Can anyone can shed light on the Buerkles from Neukirch?
44. (9/23/02) Carol Fender writes: "I am looking for information about Adeline FALLER who married Ernest Kluckner. Adeline was born in Frankfurt, Hessen, Germany in 1836. She migrated to the USA before 1865 when she was married to Ernest in Frankfort, Kansas. Their children were Joseph Carl, John August, Frank, William Henry, Anna, Mary Magdalene, and Caroline." Please contact Carol if you have any leads.
43. (3/12/03) Jean Jacques Lannois writes: "Mon grand-père est un descendant de Jean Mathis FALER né vers 1590 à Triberg en Forêt Noire en Allemagne. La descendance émigre en Belgique (Charleroi-Lodelinsart) et sont tour à tour Gentilhomme Verrier, souffleur de verre, verrier. Ensuite, une branche arrive en France comme industriels dans la verrerie (Hirson-Quiquengrogne), une autre comme industriels dans le textile : Mondrepuis et Trélon (les Etablissements FALLEUR), village où je suis né.
Mon grand-père: Aimable FALLEUR, filateur né le 19 oct 1872 à Trélon, fils de: Louis Achille Jéon, verrier né le 25 avril 1837 à Lodelinsart, fils de: Eugène Joseph FALLEUR, verrier né le 15 avril 1804 à Lodelinsart, fils de: Gabriel Joseph FALLEUR, verrier né le 18 juillet 1768 à Lodelinsart, fils de: Jean François Joseph FALLEUR, verrier né le 11 janvier 1729 à Lodelinsart, fils de: Pierre François FALLEUR, verrier né le 24 avril 1686 à Gilly, fils de: Pierre FALLEUR, né le 8 janvier 1653 à Jumet, fils de: Martin FALLEUR, gentilhomme verrier, né à Forbach et décédé à Gilly vers 1685, fils de: Jean Mathis FALER, né vers 1590 à Triberg (Allemagne)."
Now in English: My grand-father is Aimable FALLEUR (b 19 oct 1872 à Trélon), son of: >Louis Achille Jéon, (b 25 avril 1837 à Lodelinsart), son of: >Eugène Joseph FALLEUR, (b 15 avril 1804 à Lodelinsart), son of: >Gabriel Joseph FALLEUR, (b 18 juillet 1768 à Lodelinsart), son of: >Jean François Joseph FALLEUR, (b 11 janvier 1729 à Lodelinsart),son of >Pierre François FALLEUR, (b 24 avril 1686 à Gilly), son of: >Pierre FALLEUR, (b 8 janvier 1653 à Jumet), son of: >Martin FALLEUR, son of: >Jean Mathis FALER, b ca 1590 à Triberg (Allemagne).
Martin FALLEUR and Marguerite SIEGLER had five children: Pierre (My ancestor), Jean, Anne, Jacques, Marie.
I am researching three points: (1) An article of Léo Maurice CRISMER said: Martin Falleur stayed only few season in Forbach, coming of Triberg, in the Black Forest, where his wife, Marguerite Siegl or Siegler, brought into the world, on the 23 September 1634, a daughter christened Madeleine. I would like any information on Madeleine. (2) Marie FALLEUR would be married with Jean ANDRES? (3) Where can I find the ancestors of Jean Mathis FALER?
42. (3/6/03)Linda Williamson is descended from Dorothea Faller Kaiser, daughter of John Charles Faller. Linda would like to contact any Faller cousins in this branch. [David Bergman if you see this, try to contact Linda.]
41. (4/10/02)Andrew Sawdon lives in London and is interested in the history of Black forest clock-traders in the British Isles. See Black Forest clocks. Andrew's own names of interest are Spiegelhalter and Fehrenbach.
40. (9/7/04) Fabio de Almeida Faller is from Brazil and is researching his relatives. I, Patricia, know that some children of Christian Faller and Maria Fehrenbach went to Brazil. If anyone has further leads, please contact Fabio.
39. (4/9/02) Ed Benning has done extensive research on his ancestors in Gütenbach, Furtwangen and Pfaffenweiler and wants to figure out how his branch ties into others. He would be a good source for specific questions based on the church records.
38. (5/27/01) Dermot Faller of Derry Ireland is researching his family. His father is Stephen Faller, son of William Faller from Freiburg.
37. (5/27/01)J.B.'s husband is a descendant of Mathaus Faller through his mother's family. [I am going to look up his family tree to determine which Mathaus.]
36. (5/21/01) Pam Dvorak writes that her husband's grandmother was Elizabeth Faller, (b. Fryeburg PA, abt. 1885-1946), m. Henry Hufnagel, ( 1880-abt. 1960, Clarion County, PA). Her grandfather was Jacob Faller I, (b.7/3/1803, Baden Germany, d. 1881, Washington Twshp., Clarion County, PA). To Philadelphia in 1824, m. Mary Ann VanDaniker (B. Switzerland, met in Germantown, Phila., PA, possibly a Quaker). His son, Jacob II m. Mary Greibel (b. 1837, Lucinda, PA). They had nine children, and Elizabeth was their daughter. This branch of Faller's were cabinetmakers/woodworkers, then morticians, bankers, landowners, business owners (now furniture stores in Western PA, she believes). Pam would love to hear from other Faller connections out there.
35. (2/27/03) A.F. is looking for information on ancestors of her father-in-law Lorenz Faller or Laurence Faller. His father was also Lorenz, as was his grandfather. The grandfather Lorenz was from the Black Forest area and married Theresa Wist in the late 1700's. The father Lorenz married Katherine Federer. Father-in-law Lorenz (b. 1889) married Katherine Appel in 1912 and Katherine Foydl in 1915, and had an uncle Conrad Faller, b. 1818.
34. (2/4/00) Rebecca Faller writes from the Rock of Gilbraltar: My husband is Nikolaus Faller from the Black Forest. His parents are Louis Faller and Arnold Faller (deceased) and they ran a guest house called Falken in Oberbraend in the 1970's and before that a bar called Schnitzer in Bondorf. My husband was actually adopted by the Fallers in 1961 when he was a few months old, so he is not a blood Faller.
33. (6/14/00) GJF's grandfather was Anton Faller and the Faller branch originated in the Black Forest area. At some point, 7 Faller brothers dispersed around the world. Recurring names in the family are Anton, George, Wilhelm or William, Stefan or Stephen, and Michael.
32. (4/5/2000) Alison Spring writes: My husband's family here in Scotland married into a Faller family from Linach, Baden, in the Black Forest. They were, to a man, clock and watchmakers and jewellers, the furthest back we know of being Anton Burkle Faller, b. 1800. His sons Augustine Faller and Joseph Faller came to Scotland sometime before 1844, when Augustine married a local girl and settled in Glasgow. Their son William Faller married Mary Jean Wyatt.
31. (4/5/2000) Sandy Faller is looking for the family of Jacob Faller, b. 10 Feb 1824 in Feldberg, Dukedom, Baden, Germany. He had two brothers a. John died in infancy, b. Frederick Faller and three sisters a. Catherine Faller, b. Mrs. John Holderman and c. Mrs. A.B. Scheller.
Jacob married Chistiana Wegstein b. April 1830, Fresisaheim, Baden, Germany. All their children born in U.S. Jacob came to America with a family named Rhinehart. Immigrated 1846. Chistiana Wegstein came to America in 1832 at age of 2; her mother took ill on board the boat en route across the Atlantic and was buried at sea. The father and his family located first in Cambridgeport, MA. There were six siblings in her family. Any help or information provided, would truly be appreciated.
30. (2-23-2000) Gretchen Faller McFarland is descended from Martin Faller (b. August 15, 1704). He married Maria Legelbacher (?) (b. Jan. 14, 1711). Can anyone help trace Martin's lineage? Gretchen has documented Martin's and Maria's descendants.
29. (3-23-2000) Virginia Yeray Ferguson is descended from Cordula Faller. She was the daughter of Peter Faller and Cordula Schoni. She married Christian Ruffner, Jr. in March 1828. Christian was b. March 3, 1807 in Canton Graubünden, Maienfeld, Switzerland. They immigrated to the USA sometime in 1846 to the Wartburg Colony in Morgan County, TN. Christian, Jr.'s naturalization papers were filed in Wartburg in 1848.
28. (11/16/99) Wille Faller of Sweden is looking for someone who knows anything about a Faller or Faler who was a German merchant or noble with a residence in Finland (maybe the Rauma region along the coast) around 1800-1850. That would be his grandfather's grandfather's grandfather. He was born outside of marriage and the church where any records may have been found burned down at the turn of the century. The Mathias Faller connection to Sweden/Finland, is NOT the right one, according to Wille's grandfather.
27. (11/11/99) Ed Faller writes: My great-grandparents came from Germany sometime in the late 1800's and settled in Dunmore, PA. They had at least three children: Henry, Jacob and Bartholomew. Henry Faller settled in Akron, Ohio and had three sons including George Faller and Jack Faller. Bartholomew Faller was my grandfather and had two sons and three daughters, all located in Wayne County near Cotrez PA,: Anna, Carrie, Edith, Russell, John. Russell Faller was my father who had two children Jean and Edgar. Ed would like help or leads to locate his g-grandparents.
26. (11/11/99) David Bergmann is an American who has been living in Germany for several years. His grandmother is Dorothea Faller Kaiser, Ft. Recovery Ohio, 1916-. Her father was William Faller, married to Elizabeth Stein, Ft. Recovery, Ohio, 1886-1967. His father was Charles Faller, married to Mary Rössner, Ft. Recovery, Ohio, 1862-1928. Charles's parents (no name supplied)were probably born in Germany and emigrated to the US around 1830-1840. If anyone has any leads on Charles Faller, contact David.
25. (11/3/99) D.F.'s father (and his father Helmut Faller and brother) came to Quebec, Canada, from Germany around 50 years ago. D.F. is interested in locating any close cousins.
24. (11/3/99) John Faleur writes: I have nearly 100 pages of documentation going back to Mathis Faller or Jean Faller circa 1590, provided to me by a cousin in France. The Faleur branch, which does not appear very numerous, is descended from the glassmakers from the Charleroi area, and is mostly in Belgium or France (the Cambrai area). I have about 30 names and addresses excluding my own direct forebears and cousins etc. The local art gallery in Cambrai, incidentally, is in the Maison Faleur.
23. (11/3/99) P.D.'s descendancy is from Barbara Faller, daughter of Michael Faller and Fanziska Faller. Barbara married Thomas Scherzinger from the Gassenloch in Furtwangen, and bought the Bachhof(Breiteck) from his father-in-law Michael. Barbara's daughters Barbara and Genovefa married brothers, Mathaus Dold and Jakob Dold, respectively. Mathaus is a g-g-grandfather. Barbara's son, Wenzeslaus had a son, also Wenzeslaus, who moved to Schonwald, and his daughter, Ottilia, married a Gregor Kuner from Rohrhardsberg. P.D. is descended from Gregor's granddaughter.
22. (11/3/99) S.H. is researching Lambert Hepting, son of Sebastian Hepting & Catherine Mutly (possibly Muckle) born abt. 1832/4 in Neukirch. The family were noted clockmakers there for many years. Lambert later immigrated to Stirling, Stirlingshire, Scotland where he became an apprentice to his Uncle Peter Ketterer who was a jeweler. Lambert later opened his own jewelry shop there, which is still in business today (although no longer in the family). Sebastian's ancestry MAY be: Marte Kern; Cyriac Mader m. Brigita Kernin; Andreas Hebding m. Margareta Maderin; Barnhard Hebding; Mathias Hebding; Anton Hepting m. Katharina Faller (Anton's sister Gertrud married Josef Beha); Sebastian Hepting m. Catherine Mutle (Muckle).
S.H. also has some info on this line: Hans Valer; Thomann Valler; Theis Valler; Thoma Valler (see next for his brother Jakob); Maria Fallerin m. Mathias Beurlin (son of Thoma Beurlin).
and this line: 1 - 3 as shown above; Jakob Valler; Stoffel Faller; Georg Faller; Andreas Faller; Maria Fallerin m. Bartle Hebding (brother of Barnhard Hebding show 4th in the para. above)
All of this information is new to S.H., who is still digging to uncover as much as possible, and is willing to share. Any help would be much appreciated.
21. (9/15/99) Craig Andrew Duffner is from Bristol, England, second son of Ronald William Duffner and Florence Elizabeth Tovey. His grandfather was Leonard Duffner who married Ethel Elizabeth Reed after his first wife (Katherine Bottle) died in childbirth. Leonard came to Bristol from Germany with his older brother Robert Emmanuel where he lived as a child. However he was born in Kilmarnock, Scotland (18 June 1874) where his parents were married on 24th March 1865. They were Albert Adalbert Duffner and Elizabeth Agnew. Albert had emmigrated from Germany originally and returned to Germany at some point. Albert's parents were Emanuel Duffner and Anastasia Faller as indicated on his marriage certificate. Craig would like to trace Anastasia's ancestors.
20. (7/4/99) John Nihoul was born and raised in Belgium and works in the U.S. (and Paris). His mother is a Falleur and traces her line back to Jean Faller of Triberg in the 1590's. Jean Faller's son was Martin Faller, said to be the ancestor of all Fallers and Falleurs in Belgium and northern France, moved his family to Charleroi, Belgium. The Carleroi Falleurs were involved in glassmaking and electrical manufacturing. There is a town in PA called Charleroi surrounded by glass factories. Specific data on John's lineage is shown in the next paragraph. He is interested in further sources for the Falleur name.
Mother: Georgette Falleur-Nihoul b 30 Nov 1920 Charleroi, daughter of Georges Falleur b 4 Apr 1890 Gilly, son of Pierre Auguste Falleur b 19 Sep 1857 Charleroi, son of Auguste Falleur b 21 Feb 1825 Lodelinsart, son of Eugene Joseph Falleur, son of Gabriel Joseph Falleur (see below) b 18 Jul 1768 Lodelinsart, son of Jean Francois Joseph Falleur or Faleur b 11 Jan 1729 Lodelinsart, Pierre Francois Falleur b 21 Apr 1686 Gilly, son of Pierre Faller b 8 Jan 1653 at Jumet and buried in the church of Lodelinsart (destroyed 1829), son of Martin Faller d 1685, son of Jean Faller b ~1590 and Maria de Berg who are believed to be from Triberg.
John notes that many descendants of Gabriel Falleur went on to live in France, mainly through another son Jules Auguste Falleur, and USA through his great-grandson Jules Gabriel Falleur.
19. (3/5/99) Erik Holmlund is a genealogist from Sweden. Around 1750, Mathias Faller, a German glassblower, came to Sweden. The glassblower profession stayed in the family for many following generations of Fallers in Sweden and Finland. Mathias Faller may have come from the part of Germany called Bohemia/Böhmen. He was born approximately 1726. Erik would like any information on Mathias.
18. (2/12/99) Vicki Alexander is a descendant of Francois Joseph Faller and Therese Theriac. She would like to get in touch with other descendants of Francois Joseph and discover some history about Francois, Martin Florent, and his parents.
17. (2/10/99) Arthur Faller of North Carolina writes: Jacob Faller, my great grand father was born July 3, 1803 in Baden, Germany and died 1881 in Clarion County, PA. He was married to Mary VanDaniker in Philadelphia. He came to America 1824. The names of the children are Susanna Faller (b. Dec. 7, 1832), Jacob Faller (b. April 9, 1834), Rebecca Faller (b. Jan 9, 1835), John Faller (b. Aug. 20, 1837), Sarah Faller (b. Jan 19, 1842), Conrad Faller (my grandfather) (b. Aug. 10, 1843), Michael Faller (b. Oct. 3, 1845) Frank Faller (b. April 10, 1848) and Mary Ann Faller (b. April 1, 1850). Art's father was born Nov. 7, 1883, one of five children of Conrad. Art lived in PA and moved to NC after retiring to be near his children.
16. NM is researching the history of her family (Frutiger) in connection with the battle of Morgarten. (See history of House of Faller, above.) A Frutiger may have fought alongside Enderlei Faller (Andreas Faller) who was mortally wounded in 1315 fighting for Swiss freedom. Anyone with an interest is invited to contact NM.
15. (5/20/98) Francis Faler of Louisiana has researched many generations of his family [but I have yet to tie him into my main line]. If anyone knows of a Faller or Faler [not sure what time frame] in Bayou Sarah in LA, please contact him or me.
14. (6/1/98) David Dale of Sydney is descended from Georg Furtwaengler and Maria Faller (c 1750) and Joannes Herrmann and Mechtild Faller (c 1760). David would be interested in any details of the following families from Neukirch and surrounding areas: Beha, Dilger, Faller, Furtwaengler, Ganter, Goke (Goeke), Hepting, Herrmann, Ketterer, Kurner, Pfaff, Rombach, Tritscheler (Tritschler), Waldvogel, Wehrle, Winterhalder (Winterhalter). Anyone else researching the same names should contact David.
13. (4/27/98) Robert Dennis is interested in locating the ancesters of Georg Faller.
(Generation 1): 1. GEORG1 Faller. He m. Creszens Knoz. Child of GEORG FALLER and Creszans Knoz is: 2.i. Joseph A.2 Faller, b. March 19, 1812, Furtwangen, Baden, Germany; d. March 17, 1889.
(Generation 2) 2. Joseph A.2 Faller (GEORG1) was b. March 19, 1812 in Furtwangen, Baden, Germany, and d. March 17, 1889. He m. (1) Liza Catharine Crossen January 20, 1835, (2) Mary A. Walters Clise July 09, 1860. More About Joseph A. Faller: Fact 1: October 01, 1826, Migrated to U.S. from Germany. Fact 2: October 10, 1846, Nationalized - U.S. Citizen. [lived in Thornville, OH]
Children of Joseph Faller and Liza Crossen are: i. George W.3 Faller, b. 1836; d. Lindley Grundy, Missouri of T.B. ii. Henry J. Faller, b. Sept. 16, 1839; d. Sept. 10, 1877. iii. Isaac Faller, b. 1842; d. June 26, 1889. iv. Jasper Faller, b. 1843. v. James Knox Faller, b. Aug 25, 1846; d. Dec 05, 1920. vi. Sarah C. Faller, b. Aug 05, 1850; d. June 29, 1930. vii. Albert Faller, b. Feb 17, 1853, d. Sept 06, 1939, viii. Mary Caroline Faller, b. March 28, 1855; d. Jan 19, 1856.
Children of Joseph Faller and Mary Clise are: ix. Charles A.3 Faller, b. Oct 13, 1859; d. Dec 31, 1892. x. Samual Vandingham Faller, b. Dec 13, 1862; d. Nov 09, 1940, West Jefferson, Ohio. xi. Emma Faller, b. Feb 07, 1866; d. Oct 05, 1937. (m. Robert E. Kelly, Aug 25, 1888).
12. (4/27/98) Rose Meintjes writes: I grew up in Durban, South Africa. My grandfather was William Frank Valler, b. somewhere in England, on 6th December, 1886 and he came to this country [South Africa] when he was 4 yrs old. My father was John William Valler, b. 29th April, 1917, and sadly he is not here to learn of all the Vallers/Fallers that exist, as he passed away on 14th July, 1989. I am the last of his 3 daughters. All our heritage, both sets of grandparents, trace back to England. One thing I do remember being told was that the name Valler dated back to Anglo Saxon times. My father's only sister's name was Dorothea and she was known as "Doll" or "Dolly", and my father was only ever called "Jack."
11. Miriam Faller Kelley is looking for information on the Irish branch of the family, particularly from Galway or Derry.
In 1881 approx. two brothers, Stephen, Leo and their half brother William came to Ireland from Baden-Baden in the Black Forest, Germany, their wives and families also came. Stephen and Leo stayed in Galway (Southern Ireland), William went on to Derry (North of Ireland) with his wife and made their home there, they had nine children: 2 sons and 7 daughters. There is doubt if William was m. when he arrived, he may have m. later. He had a good business as a jeweller and watch maker. His 2 sons and eldest daughters also became jewellers, 2 of his daughters became nuns and another a dentist. His eldest son David m. had 2 daughters and settled in Dublin. William's 2nd son Stephen carried on the business in Derry m. and had a family.
Stephen Faller his wife and son stayed in Galway, he was also a jeweller and watchmaker and sucessful in his business. (The name Faller and business still continues on Galway today). Stephen's wife d. and he m. his cousin Bertha(German) and had two sons and two daughters. His 1st son William trained as a jeweller and joined his father in business, m. and had 2 children. Stephens other children also got involved in the business, m. and had families.
Miriam is a direct descendant of Leo Faller and welcomes help in tracing the Faller family and hearing from any other Fallers.
10. (11/2/01) Robert de Falleur of Brussels is descended from Martin Faller who came to Belgium around 1650 (the next generation changed the spelling of the name). Robert is continuing to research the ancestry of Martin Faller, whose descendants have migrated all over the world including U.S. and Sweden. See further information under Glass Works. From the book by Ludwig Moser Badisches Glas, Robert has learned that Martin's father was (Johann) Mathis Faller, glassmaster at the glassworks at Grünwald. Martin married Margaretha Siegler in 1643, as recorded in the church records of Gündelwangen.
9. JK mentions that some Faller went to northern Finland and started a glass factory, possibly in Oulu on Bay of Bothnia. JK has the name of someone researching this branch.
8. LF has traced his branch back to a Josef Thomas Faller who married Barbara Reichenbach and had a son Johann b. in 1812 in Waldkirch.
7. (7/4/99) Miguel Faller writes: "I am one of the grandchildren of Felix Faller Rombach, from Baden Villingen, Furtwagen (Born 10 Aug.1845. Catholic). He came to the Yucatan, Mexico, to establish a hardware store to supply the boom of the henequen haciendas during the late nineteenth and early twentieth centuries. I believe that over the last 100 years, he was the only Faller who arrived in Mexico and had descendants."
Miguel welcomes questions about the hacienda (see Miscellany). Since posting the above query, Miguel has heard from a cousin in England and learned further that: "regarding some information about my grandfather Felix Faller Rombach, his parents were Michael Faller and Genoveva Rombach. His brothers and sister were Albertina (b. 15 Jan. 1844), Albert (b. 25 May. 1846), Joseph (b. 9 Mar. 1847), Emma (b. 9 Nov. 1848), Bertha (b. 8 Nov. 1851), Leopoldina (b. 15 Nov. 1852), and Oskar (b. 2 Dec. 1853)."
6. GF was b. in Waldkirch in 1963, surrounded by Faller cousins. He mentions that it's more interesting to do research in USA where the Fallers are not so ubiquitous. When he retires GF plans to keep tracing the link from his branch to the Fallgrund near Gütenbach.
5. (17 Oct 1998)Jörg Zamberger is from Austria and his mother (Gen9) was a Faller. His grandfather (Gen8) was Johann Theodor Faller (1907-1968). His great-grandfather (Gen7) was Johann Chrysostomus Faller, b.20.4.1874 in Sztavna (=CTABHE,West-Ukraine). The following persons are all born in Glaswald/Schapbach(Black Forest/Germany). Gen6: Chrysostomus Faller (b.24.1.1843). Gen5: Cölestin Faller (30.5.1811-31.1.1886). Gen4: Kaspar Faller (Caspar Faller) (5.1.1769-11.8.1844). Gen3: Andreas Faller (25.10.1737-14.12.1798). Gen2: Johannes Valler (Johannes Faller) (4.5.1687-25.11.1751). Gen1: Jerg Valler (Jerg Faller) (1662,1663-28.2.1723). Jörg has all brothers and sisters of these persons (with the exception of Jerg and Johannes). He is looking for ancestors of Jerg Faller and other Fallers with a connection to Glaswald/Schapbach.
4. Roland Faller would like to find links to the Fallerhof in Elzach-Oberprechtal.
3. DF has traced his branch back to a Peter Faller who came to the US through New York (?) from Switzerland in the mid 1800's. He would like to find out where to go for information from Europe.
2. (4/30/98) Stephen Troy writes: My Great-grandfather was named Ludwig Faller. He was from Germany, not sure where, but family rumors say Bavaria. My Great-grandmother was born Friederika Kolb. She first married a man named Klein, who owned a sawmill. They had a daughter, also Friederika. When Herr Klein died she married Ludwig. They had a daughter Maria Magdalena Faller (Mary Faller), b. March 4, 1885, who became my grandmother--she died in 1977. Around 1886 they came to America, and lived in Utica, New York area. They had two more children there, Anna Faller and August Faller. Friederika (Sr.) died in Utica in 1896. I have been unable to find out much more. I would mostly like to find out where in Germany they came from. Mary's marriage certificate (1911) lists her birthplace as Seligenstadt, Bavaria.
1. DFK's great-grandparents were Anton Faller and Franziska Kuss, both born in Neukirch. DFK and her husband JK travelled to Germany and traced Anton's line further: his parents were Johann Chrisotomus Faller (b.1/17/1798) and Barbara Kupferer. Johann's parents were Mathias Faller (b. 2/7/1755) and Maria Duffner (b. 9/28/1754). Mathias's parents were Andreas Faller and Anna Magdalena Wehrle. DFK is also descended from Thomas Beha-Bohmann.
top of page
CORRESPONDENTS' ADDRESSES
(1/18/04)The email addresses of about ten individuals were not current, so I've deleted them in the list below. Please inform me of routine address changes unless you want to drop out completely.
(9/7/04) The following "Fallers" have expressed an interest in genealogy. Some are in the descendants file and some are not connected to it yet. I have many more names of Fallers who have attended reunions in the past; if you need to know if I know any Fallers in a certain country or place, I can check my records and let you know by e-mail. The first name is myself; the rest of the names are in alphabetical order. If you would like to contact someone whose email is not listed, I will forward the message.
(1/17/2006) Since I sent out a general email yesterday, changing my address, I received about 10 incorrect address notices back. So I've deleted them from the list below, but kept the name.
Be sure to replace ATSIGN in the following addresses, with an "@." I changed the ATSIGN to thwart hackers looking for email addresses.
Patricia (Faller) DeRoche, wderocheATSIGNfrontiernet.net
112 Louisa Beall LN, Charles Town, WV 25414, USA
Douglas Faller Ahrens
Vicki Faller Alexander
Ed Benning
David Bergmann, dbergmannATSIGNkpmg.com
J.B. #37
L.C. #60
Tina Coleman, christina.g.colemanATSIGNverizon.net
Joy Faller Cluff, 188 E. 650 N., Bountiful, UT 84010, USA
A.D. #66
David Dale, David_DaleATSIGNbigpond.com David's tree. Enter "david_dale" to search his specific database.
Joy Faller Dawson, joyidawsonATSIGNhotmail.com
Robert de Falleur, 1 Avenue Gustave Latinis, 1030 Bruxelles, Belgium
Robert W. Dennis
Paul Dold, doldpATSIGNsympatico.ca
Robin (Faller) Durst
Björn Fahller, bjornATSIGNfahller.se
Mary Faller Duxbury, alduxATSIGNaldux.com
Pam Dvorak, pjd190ATSIGNhotmail.com Pam's site
Francis A. Faler, 5740 Wilton Drive, New Orleans, LA 70122
Wille Faler
Angie Faller
A.F. #35
Dermot Faller, fallerATSIGNntlworld.com
Ed Faller
Eugen Faller, efa44ATSIGNsurfeu.de, Bundesstr. 45, 79238 Norsingen
Fabio de Almeida Faller, fabiofallerATSIGNcsmtelecom.com
Gyula Faller, gfallerATSIGNgraphisoft.hu
Jennifer Faller
John Faleur, jfaleurATSIGNjanic.f9.co.uk
Lloyd Faller, Rt. 4 Box 48400, Madisonville, TN 37354
Miguel F. Faller C., Apartado Postal No. 1, Administracion de Correos No. 4, Merida, Yucatan, Mexico 97101 Miguel's Hacienda Yaxcopoil site
Pierre Guy Faller, fallerpieATSIGNnumericable.fr
Pierre Faller, pierre.fallerATSIGNgaule.com
Paul Faller, paulfATSIGNcie.org.za
Rebecca Faller, rebeccaATSIGNgibnet.gi
Roland Faller, rolandATSIGNfamilie-faller.de Roland's site
Sandy Faller, Sandy1947ATSIGNaol.com
Laurence Kent Fellure II,
Also: Online Fellure community. (You will need a FREE Live Journal account to join.)
Carol Fender, rrgtyaannATSIGNaol.com
Virginia Yeray Ferguson, VFERG1941ATSIGNaol.com
Jeff Fowler, Jeff19301ATSIGNcomcast.net
Philippe Grasselly, arch2003ATSIGNwanadoo.fr
Robert S. Green U.E.L., ethelgATSIGNns.sympatico.ca, Box 581, Annapolis Royal, Nova Scotia, Canada BOS 1AO
Brian L Hayes, brianlhayesATSIGNattbi.com
Jack Haywood, jackATSIGNprolaminators.com
Luc Hennebel, luc.hennebelATSIGNfree.fr
Barbara Hettwer, bhettwerATSIGNquik.com
Kevin Holmes, kevinholmesATSIGNnmalmk.ie
Erik Holmlund, e_houndATSIGNhotmail.com
Lucy (Faller) Junk, 18344 Aberdeen, Homewood, IL 60430-3524
Miriam (Faller) Kelly
Andrea Kohl
Jim and Debbie (Faller) Kurtti, jkurttiATSIGNchartermi.net, P.O. Box 593, Houghton, MI 49931
Jean Jacques Lannois, jean-jacques.lannoisATSIGNwanadoo.fr
Nigel Lawley, Nigel2249ATSIGNaol.com
Gretchen Faller McFarland, glmATSIGNblazenet.net
Rose Meintjes
Barbara (Faller) Nagler (my sister), bnaglerATSIGNjuno.com, 105 Eaglerock Ct., Chapel Hill, NC 27516-8614, USA
John Nihoul, nihoulsATSIGNaol.com, 5 Avenue Matignon, 75008 Paris, France
Lori Pellnitz, lapellnitzATSIGNyahoo.com
Hilda Woodman Patrick, hilda_patrickATSIGNyahoo.co.uk
Gay Ritter, warlordATSIGNdoggy.com.au ,7 - 178 Coombabah Road, Runaway Bay 4216, Queensland, Australia
Becky S., beckymrsATSIGNsbcglobal.net
Andrew Sawdon, asawdonATSIGNcwcom.net
Jürgen Sterk, sterksATSIGNweb.de Jürgen's site
Pat Short,
Alison Spring, springfamATSIGNhotmail.com
Glen Stamnitz , gstamnitzATSIGNaustin.rr.com
Gottfried Stemmer, aon.912712813.mb3ATSIGNaon.at
Gail Story, mustydogATSIGNwowway.com
Lisa Troxler, lmtroxlerATSIGNcharter.net
Stephen Troy, stroyATSIGNtoad.net
Linda Williamson
Jörg Zamberger, joerg.zambergerATSIGNgmx.at, Obere Kolonie 10, A-8753, Fohnsdorf, Austria
Vanda (#55), wshiresdATSIGNaol.com