This is page 3 of 3 of the Faller site which covers information on the Faller family from the Black Forest (in particular one branch from the area near Gütenbach, Neukirch and Furtwangen). The surname Valler dates from at least the 10th century in Switzerland and its derivatives include Faller, Falleur, Faleur, de Falleur, Faler, Fallers, Fehler, Foeller, Fellure, Falloure, Fahller, Fowler and Fallier.
Table of Contents:
Page 1: ... Greetings ... Background ... Site Overview ... Credits ... Privacy Policy ... "House of Faller" ... Coat of Arms
Page 2: ... Schwarzwald Roots ... Maps ... Origins ... Famous Fallers ... Descendants ... Faller "Citings" ... Photographs ... Research Queries ... Correspondents
Page 3: ... Genealogy & Resource Sites ... Books & Sources ... LDS Microfilm Sources ... LDS Invitation ... Yucatan Hacienda ... Wineries ... Black Forest Clocks ... Glass Works ... Travel Sites ... Miscellany ... My Background
NOTE: See page 1 for last update date.
top of page
GENEALOGY and RESOURCE SITES
Explanation of the International Genealogical Index (IGI).
Webster's Online Dictionary, the Rosetta Edition, Romansch-English translator
Cinnamon Toast search site: Enter "Faller" or variation into the surname search box.
Belgium Roots
germannames.com
genealogyforum.com
dearmyrtle.com
worldgenweb.org

Ellis Island Passenger Records
Phonebookoftheworld.com
Black Forest genealogy
Professional German genealogical service
German information
German genealogy
genforum.genealogy.com/faller
LDS FamilySearch.org
genealogy.com
Cyndi's List
National Genealogical Society
Ancestry.com
usgenweb.org

top of page
BOOKS & SOURCES
(11/3/99) David Dale informs us that many of the towns surrounding Gutenbach and Neukirch have local histories, but not all the books have been microfilmed by the LDS. These books may be available through international inter-library loan. Contact David for further information.
Bibliography
Dorer, Richard: Schönwald in Vergangenheit und Gegenwart, 1948.
Faller, Helmut: 14 volumes on Jungholz area Fallers.
Fischer, Joseph: Chronik von Gütenbach, Furwangen 1904.
Furwangler, Oskar: Die Uhrenmacher im Schwefeldobel, Freiburg 1924.
Habbe, Karl Albert: Das Flurbild des Hofsiedlungsgebietes um Mittleren Schwarzwald am Ende des 18. Jahrhunderts, Freiburg 1960.
Kistner, Adolf: Die Schwartzwaelder Uhr, Karlsruhe 1927.
Kreuzer, Romulus: Zeitgeschichte von Furwangen und Umgebung, Villingen, 1880. [My grandfather had a copy of the 1874 edition and commented that it contained several very old/ancient documents in which the Faller name appears.]
Maier, W. und Lienhard, K.: Geschichte der Statd Triberg, 1964.
Mayer, Julius: Geschichte der Benediktinerabtei St. Peter, Freiburg, 1893.
Schüssele, L.: Die Bauernhöfe von Gütenbach. From "Furwanger Zeitung, 1932.
Werber, Klara: Die Lehenhöfe von Furtwangen and ihre Besitzer von der ersten Haelfte des 15. jahrhunderts an bis zur Aufhebung der alter Lehensverhaeltnisse (1833-1848), 1959.
Wohleb, Joseph L: Aus der Geschichte der fuerstenbergischen Glashuetten, 1949.
(11/2/01) Genealogical Libraries
Here are some selected government archives, libraries and bookstores that may contain Faller genealogy sources.
a. Genealogische Gesellschaft, Alsterchaussee 11, 2000 Hamburg 13. 16,000 vols.
b. Hessische Familiengeschichtliche Vereinigung, 6100 Darmstadt. 4,000 vols.
c. Pro Heraldica, Julius Holder Strasse 48, Postfach 700335, 7000 Stuttgart 70. 150 genealogies.
d. Societe suisse d'heraldique. Av de Rome 2, 1700 Fribourg, Switzerland. T:(0232)251333.
e. Geschäftsstelle des Vereins fur Familien- und Wappenkunde in Württemberg und Baden. Gaisburgstrasse 4a, Postfach 10 54 41, 70047 Stuttgart.
f. Staatsarchiv Graubünden, Karlihofplatz, CH-7001 Chur, Switzerland.
top of page
LDS MICROFILM SOURCES
David Dale provided the following microfilm numbers from the LDS computer.
Neukirch
Geschichte von Neukirch (History of Neukirch) ------------------1183550
Births (1621-1625 and 1650-1750 and 1621-56 and 1749-94)-- 0923690
Marriages (1621-1625 and 1650-1750)
Deaths (1621-1625 and 1650-1750)
Births (1784-1830 and 1810-1879)----------------------------- 0923691
Marriages (1745-1799 and 1784-1891) -----------------------0923692
Deaths (1745-1799 and 1864-1900)
Missing Deaths 1800-1863
[Another possible Neukirch file is 1184023.]
Gütenbach
Birth Index 1618-1866--------------------------------------0921944
Marriage Index 1614-1851
Death Index 1615-1863
Births, Marriages and Deaths 1614-1792
Births 1784-1900---------------------------------------------0921945
Marriages and Deaths 1784-1900--------------------------0921946
Family Books 1618-1808------------------------------------0921947
Family Books 1826-1866------------------------------------0921948
Obersimonswald Births, Marriages & Deaths 1858-1873
Urach
Births, Marriages and Deaths 1620-1692-----------------0923581
Births 1619-1857
Births and Marriages 1744-1817
Marriages 1848-1876
Deaths 1708-1865---------------------------------------------0923582
Family Books 1777-1876
Waldau
Births 1787-1829--------------------------------------------1057202
Marriages 1787-1827
Deaths 1787-1827
Births, Deaths and Marriages 1811-1876
Confirmations 1818-1832-----------------------------------1057203
Property Transfers 1613-1796
Family Books 1612-1820
Census 1809
Births, Deaths and Marriages 1870-1901
Sankt Märgen
Bishops transcripts Births, Deaths & Marriages 1810-1842-----1188028
Bishops transcripts Births, Deaths & Marriages 1842-1859-----1188029
Bishops transcripts Births, Deaths & Marriages 1859-1870-----1192478
Schweigbrunnen Births, Deaths & Marriages 1787-1879----0865606
Sankt Maergen & Schweighofe--------------------------------0865602
Births, Deaths & Marriages 1605-1681
Births, Deaths & Marriages 1850-1898
Wildgutach Births, Deaths & Marriages 1787-1879---------0865603
Hinterstrass Births, Deaths & Marriages 1787-1879---------0865604
Altglashutte Births, Deaths & Marriages 1787-1879---------0865604
top of page
SALT LAKE CITY INVITATION
(5/20/98) Joy Faller Cluff of Salt Lake City has extended an invitation to house any Faller relative(s) who would like to make a trip to Salt Lake City to do research in the [Mormon] Family History Library. Her husband is a reference consultant at the international desk, where they have people who speak German, French, Italian, Spanish, etc. He works there daily and can help a newcomer learn the ropes. The Cluffs have many sheets of collateral lines from research done in Germany in the 40's or 50's that people could also check for their genealogy.
(5/20/98) There is a queen-size bed in the guest room and researches can ride the bus with Joy's husband to the library. Joy would need help with the cost of food for anyone's stay but that is all she would ask, other than, of course, prior notification.
Thank you, Joy!
top of page
Yucatan Hacienda
Miguel Faller runs the Hacienda Yaxcopoil in the Yucatan, Mexico. The hacienda dates to the 17th century and was considered one of the most important rural estates in the Yucatan due to its size and magnificence, both in cattle and sisal hemp cultivation. Click here to take a virtual tour (English or Spanish) of the Yaxcopoil Hacienda. Hacienda
Shown below is the Moorish double arch, the entrance of the hacienda.



top of page
Alsatian Wineries:
Excerpt from the January 1989 issue of Travel-Holiday:
"The wine list [of Restaurant Chambard of Kaysersberg, France] features the great Reislings, Traminers and Tokays of the nearby Clos des Capucins. Until the French Revolution, the estate was a monastery. In 1898 it was bought by a local family named Faller; the second-generation owner, Theo Faller, established its reputation for exceptional wines."
(6/2/01)Excerpt from the July 14, 1999 New York Times, Wine Talk:
"It is now just 20 years since Théo Faller died, leaving the Domaine Weinbach in Kaysersberg in the hands of his wife, Colette, and their two daughters, Catherine and Laurence. Laurence is now the winemaker and each year produces as many as six different rieslings, including the Cuvée Théo and the Cuvée Ste.-Catherine from the Scholssberg Vineyard. Some of the best Domaine Weinbach wines come from the Fallers' 13-acre Clos des Capucins, one of the finest vineyards in Alsace." [There is also a picture of Catherine and Laurence in their vineyard. Thanks, Nick.]
The following wine label is from a Ribeauville winery.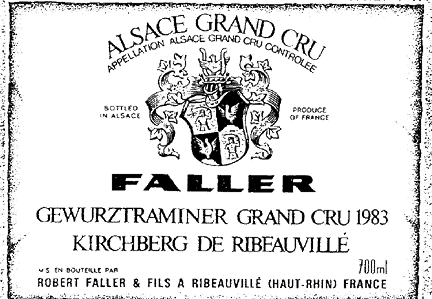 (6/18/01) Alsatian wine
top of page
Black Forest Clocks and Watch Making:
(4/10/02) Andrew Sawdon lives in London and has been looking at the history of Black forest clock-traders in the British Isles. He reports that two examples still in business and in the same family are Fallers of Galway, and BJ Speigelhalter & son, now in Penzance (formerly Kensal Rise). The shop of Andreas Schwar in London, founded 1838, still trades under that name but not in that family. The first firm permanently represented in London were Kleyser and Burger, founded in 1761 at London bridge, but they disappeared from the street directory in the 1960s about 200 years after founding.
The book Schwarzwald Uhren by Berthhold Schaaff is a main reference on the famous clocks. An early history of Black Forest clock-making by Pfarrer F. Steyrer, was published in 1796. It was reproduced in a two volume book (in German) by Gert Bender in 1975, in English: The Clockmakers of the high Black Forest and their Work.
Hilda sent a few pages from a book Black Forest Clocks by John Tyler from which I include the following excerpts:
"One of the remarkable things in the history of the Black Forest clock is that a group of farmers should have possessed the necessary ability for such work. ... The inhabitants are frugal and industrious, but had no spirit of trade or industry until the wars of the seventeenth century brought them into closer contact with the outside world.... The climatic conditions provided only a very short summer and during the long winter the inhabitants had to stay indoors and carry on some activity other than farming. As timber is plentiful, most of them choose woodcarving, but the timber is mostly of the coniferous type and therefore soft, and the harder woods such as beech were less easy to come by. Another factor in the shaping of the economic life was the system of inheritance. A family farm was always inherited by the youngest son, and the older brothers and sisters had either to be dependent on their youngest brother or take up other work. ... Many of them chose woodcarving....and eventually there were a large number of woodcarvers in the area who formed a pool of workers with manual dexterity. ... The making of clocks was unknown in the region until the seventeenth century and its origin is still only a legend. The story goes that a travelling salesman who sold the glassware produced in the district brought back a wooden-wheeled clock from Bohemia somewhere about 1640 and various Black Foresters copied this clock for the purpose of adorning their houses. ... Years ago on a building known as the Glashof in the town of Waldau, there used to be a tablet saying that the brothers Kreutze made the first Black Forest clock there in 1640. ... Some say that clocks were first made in the area at other dates, such as 1667 or 1685, and as well as Kreutz, mention the name of Lorenz Frey from St. Märgen, a maker of musical instruments. Most versions of the origin of the Black Forest clock mention men who were located in the southern part of the region as the pioneers. ... By about 1720, the work had become established and the names of several early makers have come down to us. They were Simon Dilger of Schottenbach...Johann Dufner of Schönwald...Franz Ketterer...and Matthias Löffler of Gütenbach. ... Dilger and Ketterer became the first independent Masters in the area and designs for the clocks began to be developed. By 1740 there were thirty-one independent Masters in the area. The centres were Furtwangen and Neustadt and the workshops were located in the surrounding villages. ... Franz Anton Ketterer of Schönwald is believed to have made the first cuckoo clock, about 1730. Josef Kamerer of Furtwangen, Josef Ganter of Neukirch and Michael Dilger have also been credited with this. ... Apprentices were bound for two to four years, then went to another Master as journeyman in order to learn more.... production went on increasing throughout the eighteenth century and up to the end of the first half of the nineteenth. The accelerating tempo of the industrial revolution made it necessary for more workers to possess a clock so that they could arrive at their factory on time, and the cheap Black Forest product filled this need admirably. ... The capacity of an ordinary shop would be four clocks per week. ... The end of the eighteenth century was a prosperous time for the Black Forest clockmakers. Since the 1770's, designs had not changed much and sales were increasing."
Very interesting! Since this is mainly a genealogy site, I will restrict myself, at this point, to just listing some relevant names from this book, in addition to the ones above: Friedrich Dilger, Simon Dilger, Adam Spiegelhalter, Georg Wilmann, Christian Wehrle, Leopold Hofmayer, Christian Burger, Augustin Kienzler, Leo Faller. An appendix lists the following clock makers: Badische Uhrenfabrik, Tobias Baeuerle & Sons, Matthias Baeuerle, Johann Baptist Beha, Martin Blessing, Johannes Buerk, Michael Dilder, C. Fraessle, Uhrenfabrik vormals L. Furtwangler & Sons, Philipp Haas & Sons, Georg Haller, Thomas Haller, Thomas Ernst Haller, Hamburg American Clock Company, Johannes Jaeckle, Junghans Bros., Jacob Kienzle, Kundo (Johann Obergfell), Jakob Ferdinand Lenz, A.G. fuer Uhrenfabrikation in Lenzkirch (Eduard Hauser), Friedrich Mauthe, (Johannes) Mueller Schlenker, (Wilhelm Jerger) Peter, Thaddeus Rinderle, Ignatz Schoepperle, Benedikt Schwer, Union Clock Company, Uhrenfabrik Villingen, Vosseler family, Wehrle (Andreas Hilser), Emilian Wehrle, Carl Werner, Anton Winterhalder and Johann Hofmeyer.
Here is a picture of a clock designed by Martin Faller.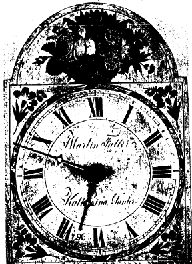 From "Development and today's situation in the economic life of Gütenbach": "The 19th century again brought a heyday for the independent clockmakers; however, in the last decades industrial production increased. Jakob Faller [my great-great-grandfather ?] was the first industrialist of Gütenbach, who packaged his clocks in the "Schwert" Inn. His son, Leo Faller [my great-grandfather ?], later worked in the house at the Breiteckweg, which to this day bears his name. In 1880 he purchased a house opposite the "Felksenkeller" and built it out into a factory. His son, Friedrich Faller, is the builder of most of the older factories; first, at the end of the '80's he built the so-called lower factory; later, when the first two had been sold to the Badische Clockwork Factory Inc., he built the upper factory, which today houses the factory of Karl King. After the turn of the century, he built the house "Schwer" near the Cafe "Bachhof," which, however, soon was turned into a family dwelling. All these factories were bought by the Badishe Clockwork Factory, Inc., which became the sole factory for Gütenbach for about three decades."
top of page
Glass Works
There are many glass works in the black forest. The Belgian de Falleur's were also glass blowers. This picture is by Roland Kröll from the book "Glaskunst im Schwarzwald, Von Glashütten, Alchemisten und schönen Gläsern" by Ursula Kröll. These bottles are from the Franziskaner-Museum in Villingen-Schwenningen.


(10/29/01)A note on toponymy with respect to the glass-works Fallers (and other glass makers) were provided by Robert de Falleur: Near Thusis (northwest of Mulegns) Glaser Grat and Glaspass are related to old glassworks, as are several of the places south of Gütenbach (Glaserberg, Glasberg, Glashütte). Robert also notes that the Corning Glass Museum in Corning, New York, has archives on the glassblowers from Charleroi, Belgium, especially his family. (There is also a Charleroi in Pennsylvania.)
(11/2/01) The first Falleurs from Belgium migrated to the USA around 1800. Jean-Baptiste Falleur was a glassblower who worked in Pittsburgh and drowned in the Ohio River in 1811. In the U.S. his family changed their name to Falloure or Fellure. Visit a site on Belgian glass workers in Pennsylvania.
top of page
TRAVEL SITES
Extensive culture and photos from the Schwarzwald
Mountain Hikes camp-to-camp near Alp Faller
Schwarzwald Farmhouses (with vacation apartments)
Canton Graubünden. This canton contains the village of Faller (see Maps).
top of page
MISCELLANY
1987 Faller Reunion
Thanks, Paul Faller for translations of these articles: "THE FALLER FAMILY IN SEARCH OF ITS ROOTS" and "LARGE NUMBERS OF FALLER FAMILY MEMBERS AT REUNION"
Ribeauville, Kaysersberg and Itterswiller are cradles of the Faller family in Alsace, a family whose branches extend worldwide. It was time for a reunion of this family which became a reality yesterday thanks to Dr. Gaston Faller of Colmar, J. Pierre Faller of Ottrott and Pierre Faller of Paris who have worked for more than a year to make it a reality.
They came to the reunion.... The Faller family took the place of honour on this Saturday and Sunday in November. Around 300 people whose name is Faller, came together at the invitation of Pierre Faller, great-grandson of the painter Louis Clement Faller, a pupil of Delacroix. They came from many different areas: Switzerland, Austria, Western Germany, France, Belgium, and as far away as the USA. (Apologies from our English and Irish cousins.) A great feeling of brotherhood was in the air during these days. Canon Mertian whose mother was a Faller, was, naturally, a visitor to the festivities. (She was the foundress of the congregation of the sisters of Divine Providence at Ribeauville where a street is named after her.)
After a first contact and a meal in the theatre hall at Ribeauville, from where the Upper Rhine Fallers originate, the group was led by Mr Leromaire on a visit to the city of Menetriers. Mr Henri Bernhard provided a commentary. Later, an audio-visual presentation gave the family a better understanding of their roots and some of their famous forebears: Mathias Faller, the sculptor, whose work adorns Baroque churches, the Jesuits, Clement and Aloise Faller, founders of convents and churches, and many others besides.
After a reception by the mayor, Mr Posth, at the Ribeauville Town Hall, the group adjourned to the Badhus at Kaysersberg where a folk group, the Friends of Ried, entertained them.
On the following day there was a busy programme: a Mass at the Ribeauville convent, celebrated by Fr. Xavier Faller, a welcome at the Faller cellars at Itterswiller on the Wine Route on the way to Strasbourg, a visit to "Little France," a boat trip and a gastronomic feast at the Pont St. Martin restaurant, provided by the owner Marcel Faller.
Leave was taken with the firm intention of coming together again in the near future in Baden, the birthplace of the German Fallers. ***end of articles
Visit the Faller Model Factory site. And here's one retailer's site with American prices: EuroRailHobbies The Faller factory used to be (maybe still is) in Gütenbach.
Visit Fallers Jewelry Store in Ireland.
TV Show "Die Fallers"
This popular TV series titled "Die Fallers" is broadcast by a station in south-west Germany. It was popular in the Black Forest and now they sell Faller calendars, Faller posters, and Faller cookbooks!
Fallersleben
Hoffmann von Fallersleben, who wrote the words to the German national anthem, was from Fallersleben near Wolfsburg in northern Germany. How did Fallersleben get its name? Jörg Zamberger has written to the authorities there and forwarded their reply. If you cannot read German, here is the short answer:
Year 942 - Ualareslebo. 973 - Ualresleba. 997 - Feleresleva. 1266 - Valersleve. 1337 - Vallersleue. So...nothing to do with the Faller family name.
Faller Founder of Congregation of Sisters
Sisters of the Most Holy Sacrament, whose motherhouse is in Lafayette, LA, follows the Rule of St. Augustine, and stems from the Sisters of Perpetual Adoration of the Most Holy Sacrament, founded in 1851 by Aloysius Faller, parish priest of Bellemagny in Alsace, France. In 1872, at the request of Abp. Napoleon J. Perche of New Orleans, LA (1870–83), four sisters came to the U.S. Two years later they began their work for the education of children in New Orleans. In 1892, the U.S. branch organized themselves into a distinct congregation, with its motherhouse in New Orleans and later Lafayette.
Bernard Faller's Mill
These excerpts are from the March 7, 1878 edition of the Newton Weekly Press in Newton, IL, and should be of interest to the descendants of Bernard Faller. He emigrated from Barr, Alsace, to Illinois and had 14 children.
"The Mill is Burned-Long Live the Mill"
A real tragedy occurred in our town in February of last year when the watermills owned by Mr. Bernard Faller were destroyed by an explosion and the subsequent fire....Mr. Faller, immediately after the fire, formed a partnership with another illustrious businessman of our community...to erect a large and well-appointed new mill to be known as the Newton Water Mills....The foundation for the new grist mill was commenced on July 12, 1877....Bernhard Faller is an honored pioneer and influential businessman of Jasper County. He was born in the town of Barr, Alsace, France, on the 12th of August, 1822....On coming to this country, Mr. Faller located in Ste. Marie where he resided for three years. He then removed to Vincennes, Ind., where he spent one year, and then went to Evansville, of the same state. Six months later he returned to Ste. Marie, but, after a brief period, removed to Chicago, where he engaged in milling and merchandising. In 1849, when the famous gold discoveries in California created such excitement, Mr. Faller's adventurous spirit prompted him to join a party of gold-seekers and start across the plains for the Pacific Coast. They were several months making the trip and met with some hostile Indians, but were not attacked in force....On reaching the gold fields, our subject engaged in placer-mining and was very successful. He continued in California four years, and then, having accumulated quite a fortune, returned to the states by way of the ocean and Isthmus route. He landed at New Orleans, where he converted his gold dust into coined gold, which he brought home with him.... At Ste. Marie, Mr. Faller made the acquaintance of a beautiful young girl of fifteen, Miss Elizabeth Theriac, who captivated the miner's heart, and to whom he was married on the 13th of April, 1853....After eleven years spent on the farm, Mr. Faller returned with his family to Newton and built a steam gristmill. He had previously bought the watermills in Newton, both grist and saw mills in one building, which he had leased. He has continued to operate the steam mill for the past 10 yrs., and also the improved watermills, until the unfortunate explosion on the 17th of February, 1877.... Mr. and Mrs. Faller have been blessed with a large family numbering twelve children."
Faller doctor mentioned in article about Theodore Roosevelt's death
Oyster Bay, L.I., Jan. 6.1919 -- Theodore Roosevelt, former President of the United States, died this morning between 4 and 4:15 o'clock while asleep in his bed at his home on Sagamore Hill, in this place. His physicians said that the immediate cause of death was a clot of blood which detached itself from a vein and entered the lungs.
His sudden death took by surprise his physicians as well as all others who had been with him lately. It was announced that the blood clot was not directly due to the inflammatory rheumatism from which he had been suffering for two months, but must be traced to earlier conditions. One of the contributing causes was the fever which he contracted during his explorations in Brazil, when he discovered the River of Doubt early in 1914. This fever left a poison in the blood which had been a partial cause of several attacks of illness which he had suffered since that time.
Colonel Roosevelt was working hard as late as Saturday, dictating articles and letters. He spent Sunday quietly, but looked and felt well, until shortly before 11 o'clock, when he had difficulty in breathing. After treatment he felt better and returned to bed.
Mrs. Roosevelt looked in to see how he was sleeping at 2 o'clock this morning. He then appeared normal. Two hours later, James Amos, an old negro servant of the family, formerly with them at the White House, thought that there was something wrong with the manner in which Colonel Roosevelt was breathing. Amos had been placed in the next room to keep a close watch over Colonel Roosevelt, and went at once to the bedside. He was alarmed at the hollow sound of his breathing and summoned the trained nurse. When she arrived, the breathing had stopped. Dr. George W. Faller of Oyster Bay, the family physician, was summoned, and found that life had left the body a few minutes before.
Later, the following statement was given out by Dr. Faller and Drs. John H. Richard and John A. Hartwell of New York, who had Colonel Roosevelt under their care at Roosevelt Hospital:
Colonel Roosevelt had been suffering from an attack of inflammatory rheumatism for about two months. His progress had been entirely satisfactory and his condition had not given cause for special concern. On Sunday he was in good spirits and spent the evening with his family, dictating letters. He retired at 11 o'clock, and at 4 o'clock in the morning his manservant who occupied an adjoining room, noticed that, while sleeping quietly, Colonel Roosevelt's breathing was hollow. He died almost immediately, without awakening. The cause of death was an embolus. (George W. Faller, M.D. John H. Richards, M.D. John A. Hartwell, M.D.)
An embolus is a clot of blood. Dr. Faller said that it had probably occurred in the lungs, but might have been in the brain.
Colonel Roosevelt was taken from Roosevelt Hospital to Oyster Bay to spend Christmas with his family, but was expected to return for further treatment. The inflammatory rheumatism was due, in the opinion of his physicians, to an infected tooth, which had originally given trouble twenty years ago. Inflammatory rheumatism is not known to be a cause of embolism, and it is not believed that the rheumatism was responsible for his death, although it may have contributed to it.
Colonel Roosevelt suffered from pulmonary embolism at the Roosevelt Hospital three weeks ago, and was then in a critical condition for a time, but his recovery was thought to be thorough.
Colonel Roosevelt himself had no idea that he was seriously ill, and was full of interest in everything in the world and full of plans for the future. He was vexed over his two months of invalidism. When he was asked about his health by visitors his reply was a vigorous "Bully!" He deceived not only himself, his family, and his friends as to the seriousness of his condition, but deceived his physicians as well.
Dr. Faller said that he had been paying two visits a day regularly to Colonel Roosevelt since his return to Oyster Bay and believed that he was improving.
"When I called on him last night at 8 o'clock, which was the regular hour for one of my visits," Dr. Faller said, "I wanted to know his condition, but I could not get him to tell me anything about his case. He talked about almost everything except himself and his condition of health. His months of illness had not made much change in his appearance. He was ruddy, and, to outward appearances, nearly as sturdy as ever. I left him on my first visit in the evening apparently improving rapidly and feeling first-rate.
"I was called again at about 11 o'clock by the nurse. I found Colonel Roosevelt looking about the same, but he said that he was having trouble to get his breath, and that he felt as if his heart would stop beating. He was interested in his condition, but not worried. He had no idea that he was in danger.
"After I had been with him for some time he said that he felt better. When I was called again he was dead." The last words uttered by Colonel Roosevelt were to his colored servant Amos after he had retired, and they were: "Please put out that light, James."
I have another couple pages of this news article, if anyone is interested.
top of page
My Family Background
From my grandfather's obituary:
"Ernest A. Faller, 77, retired engineer of the Telegraph Bureau of the New York Fire Department, who took a leading part in designing and installing the fire alarm system now in use throughout the city, died yesterday in his home, 2048 83d St. Since his retirement in 1940, he had served as consulting engineer for the American District Telegraph Company and other organizations.
"Mr. Faller, who first became associated with the Fire Department some 30 years ago, previously was head of the Faller Automatic Telephone Company, which he organized in 1898. He was a pioneer in dial telephoning and, working independently, installed systems of that type many years ago in several cities. He was the holder of a number of patents on communications devices.
"Born in Germany of American parents, Mr. Faller was educated at the Karlsruhe Technical Institute and at one time worked in the Hertzian Laboratories in Germany. He came to the United States as a young man and had lived in Brooklyn for more than 30 years. He had long been a committee member of the National Fire Protective Association."
I refer to my grandfather as EAF or EAF SR in the genealogies.
(5/21/01) The following photo is of my grandparents, Ernest August Faller, Sr. and Amelia Virginia Hartel, in 1939.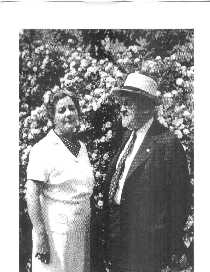 (5/21/01) Following is a photo of my great-grandfather Leo Faller taken in 1865.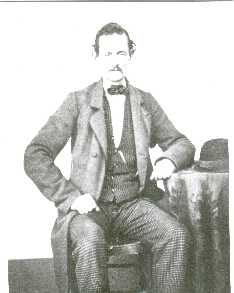 Following is a photo of my grandfather's telephone company, the Faller Automatic Telephone Exchange Co., which was bought out by Bell. The small sign above the door reads: The Faller Automatic Telephone Exchange Co.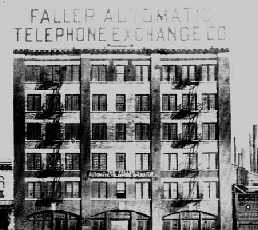 My Father's [EAF JR] memories of his family: Back 15-20 years ago my sister must have given my parents one of those memory books in question-and-answer format to write about their families. I just discovered a copy. Here are some excerpts from my father writing about his father "Pop."
Pop was a distinguished inventor (automatic telephone system and others). Designed New York City fire alarm system. Area consultant, designed Los Angeles, Kansas City, etc. [fire alarm systems]... Sentimental. Home-loving. Built "Coney island" in a row house backyard. ...Pop was fluent in German, French and Spanish [and English]. He conversed with longtime friend Dr. Sachers (Ph.D. from Königsberg) in German. After we lived in the Bronx, we moved to Bensonhurst in 1915 across the street from a tomato farm. Games were pick-up baseball and tag football (900 foot long field and constant running with no time limit). Assumed I would be an engineer, like Pop, when I grew up. He was electrical--I mechanical. Household chores I had to do were grind coffee, raise and lower shades, mow small lawn. Got 25 cents a week. Pop had use of a red fire chief's car with chauffer, but hardly ever used it. ... Favorite food was linzer torte.
(2/20/99) About myself: My most direct line of descendancy from Thomann and Gertraud Valler is through Theis, Thoma, Jacob, Benedict, Jacob, Benedict, Jacob, and Leo, to my grandfather Ernest August Faller, Sr. and my father Ernest August Faller, Jr. There are at least seven other ways that I can trace my line back to Thomann and Gertraud through daughters. My father had neither brothers nor sons. His only sister had no children, so I have no first cousins on the Faller side. I do have three sisters and together we had 12 children of which one has died. My husband Bill and I have one daughter. My father was from New York City. He came to Washington D.C. to work for the Patent Office and got his law degree from Georgetown University. My sisters and I were all born around Washington. My father died in 1986 at age 80 in Florida. My mother died in 2000 at age 92. I worked for the government for 20 years and was a software development manager when I quit in 1994. Bill also worked in software development for the government. He is half Norwegian. My hobbies are rosemaling (Scandinavian decorative painting), Scandinavian clubs, stamp collecting, and genealogy. I lived in the Washington D.C. area for most of my life, London for three years, Texas for two years, and Vienna for one year. In 2007 Bill retired and we moved to West Virginia.
Top of page
Back to Faller page 1