Welcome to the 1800's! The Industrial Revolution has begun and the world is growing and changing every year. Europe carves up the globe into little pieces of economic pie, the United States cries "Westward Ho!" and Civil War breaks out between the North and the South. Human rights, the abolition movement, women's rights and child labor laws are all hot issues of the day. Europe and it's children are bursting with vigor, ambition and industry while the rest of the world struggles to survive against them.

Fashion changes with the times, and the times are changing. Women's fashions change every decade, and by the mid 1800's men's fashion begin to solidify into the three piece suit. The invention of the sewing machine puts hand stitchers out of business and the ready-made market is born. Haute couture changes how people think about clothing, instead of the customer telling the tailor what to make, the designers tell the customers what to wear. A dress by Worth is all the rage.

1795-1810 Georgian

1811-1820 Regency

1821-1890 Victorian

1891-1900 Edwardian

Women's Clothes

Underwear:

Chemise:

#1800L01

cotton $30

linen $45

silk $50

+$10 ruffles

Drawers:

#1800L02

cotton $30

linen $35

silk $40

Drawers can be joined for looks and modern sensibilities or split for historic accuracy and ease of personal needs (going to the Loo with hoops is tricky when you have to pull stuff up and down).

Regency Petticoat:

#1800L03

Silk or satin

Starts at $45

1790's - 1820's The Regency petticoat is a full slip-dress worn over the corset and under the gown to preserve some modesty considering the clingy, light-weight and sheer fabrics worn in this era.

Chemisette / Camisole:

#1800L04

Wool, cotton or linen.

Starts at $35

A chemisette is a small false top to cover the neckline, much like a partlet or dickey and can be worn for any year in the 1800's. The Camisole is an 1880's upper garment, similar to a sleeveless shirt. It is worn under the corset, in place of the chemise. Camisoles can be attached to drawers.

Corsets:

Corded Stays:

#1800L05

Starts at $100

1790 - 1830 Corded stays can be ½ or full bust with shoulder straps and they end just below the hip. They provide a lot of support, are very beautiful and comfortable. There is a busk in front to separate the bust, they are lightly boned at the sides and they lace in back. Perfect for full-figured women dressing in Regency and Romantic styles.

*Any style of stays or corsets can be corded, they tend to be more comfortable and allow a greater range of motion.

Short bust corset:

#1800L06

Starts at $50

1800-1830 This is the predecessor of the modern bra. It is made from one or two pieces that cross over your bust and tie in front. It has shoulder straps and is fully boned or corded. This version is perfect for slight figures that still require support.

½ bust corset:

#1800L07

Starts at $100

1830-1900

This corset can be lightly or fully boned, is back lacing and has a busk in front. It reduces your waist and hips and supports your bust. The corset ends at the nipple line creating a very smooth transition between flesh and garment. Specific style will depend on region and year.

Underbust corset:

#1800L08

Starts at $50

1870-1900

Underbust corsets can be worn under gowns or over them as a decorative belt. They slightly reduce and re-shape your waist.

Petticoats, Hoops & Bustles:

Petticoat:

#1800L09

cotton $30

linen $40

Silk $45

Drawstring or fitted waistband petticoat. The fitted waistband closes with a button or hook & eyes, it can also have hook & eyes that attach to the inside of your bodice. Regency petticoats have suspenders and button or hook to the bodice.

Corded Petticoat:

#1800L10

$40 lightly corded linen

$75 heavily corded linen

1820's - 1890's Our lightly corded petticoats have 12 rows of cotton cording. Heavily corded petticoats have 18" of cording at the bottom, 12" in the center and 8" at the top for maximum skirt support. Starching directions are included.

Hoop Petticoat:

#1800L11

$50

$75 with ruffles

1850's - 1870's This petticoat comes in 90" 120" 150" and 200". Size and shapes vary depending on your needs.

Bustle:

#1800L12

Starts at $25

1820's & 1870's - 1900 Bustles come in many shapes and sizes. Padded pillow bustles are comfortable and easiest to clean. Wire bustles can help you achieve amazing changes in your figure... and they're all fun to bounce around in. Bustle styles will depend on the year and garment you are wearing.

Outerwear

:

Empire Dress:

#1800L13

Muslin, linen, silk, wool, velvet

Starts at $100

1795-1820, Regency style dress. White was the most popular color for evening wear, pastel colors were favored for day wear. Lightweight fabrics for spring and summer, heavier fabrics for fall and winter.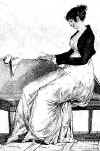 Spencer Jacket:
#1800L14
Wool, velvet, silk
Starts at $80
1795-1820 The Spencer jacket is a Regency garment with a high waist. It was worn for extra warmth in winter and as protection from the sun in the summer. Traditionally it had long sleeves, but they can be of any length.
Romantic Era Dress:
#1800L15
Cotton print, silk, brocade, velvet, other.
Starts at $200
1830's. The Romantic era dresses went through several changes, but they were characterized by a small waist, conical skirt and very BIG sleeves. Waistbands became pointed at the end of the decade and the fullness of the sleeve moved down the arm.

Early Victorian Dress:
#180016
Starts at $250
1840's. Narrow, sloped shoulders restrict arm movement giving women a very "feminine" air. The waist comes to a narrow point and wide skirts are supported by multiple petticoats. The practice of making day and evening bodices to match a skirt began in this decade. Day bodices have a high neckline, evening bodices are usually off the shoulder with short sleeves. Skirts should be worn over a starched & corded petticoat, or multiple layers of petticoats to achieve the desired fullness.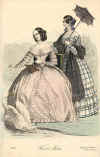 Gored Skirt:
#1800L17
Starts at $100
1850's & 60's. This gored skirt fits over a hoop petticoat or crinoline.
Pagoda Bodice
#1800L18
Starts at $100
1850's & 60's. This mid century bodice has triangular sleeves with the fullness at the wrist. Engagentes were worn underneath it to cover the arms. This bodice can be cut high or low for day and evening wear.
Zouave Jacket
#1800L19
Starts at $80
1860's. Zouave jackets were inspired by military dress, and are similar to Spencer jackets. They are short-waisted, button at the neck and fall away to curve around the back. Much like a cardigan today
Artistic / Aesthetic Dress:
#1800L20
Starts at $100
1860 - 1900. Inspired by the Pre Raphaelite art movement. Many of these dresses were similar to Regency styles, early Renaissance styles and fantasy Medieval styles. They are characterized by a more "natural" form and an uncorseted figure.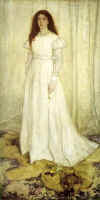 Tea Gown:
#1800L21
Starts at $200
1870's. Tea gowns were artistic-inspired gowns with a loose & flowing sack back. Tea gowns were for informal entertaining in the home or having tea at another family member's home.
Princess Cut Gown:
#1800L22
Starts at $250
1870's. The princess gown is made from panels and gores that go from neck to hem. It is form-fitting from neck to knees then flairs out with a long train and many embellishments. Fabrics were light and airy silks or sheers.

Curiass Bodice:
#1800L23
Starts at $100
1870's A long waisted, form fitting bodice that fits over a bustle.

Skirt with a train:
#1800L24
Starts at $50
1870's. This is a very elegant A-line skirt with a train. The extensive use of trim disguises the simple design.
Polinase:
#1800L25
Starts at $150
1883
Gored Skirt:
#1800L26
Starts at $50
1890's. This gored skirt fits nicely over a bustle or can be worn on its own. It falls smoothly to create a very clean look.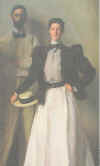 Shirtwaist:
#1800L27
Starts at $45
1890's day wear button-down shirt.
Riding Habit:
#1800L28
Starts at $200
Styles change depending on region and year.
Accessories:
Cloak:
#1800L29
Starts at $100
Shawl:
#1800L30
Start at $35
Indian (Regency, 1870-1900) silk, muslin, cashmere, long rectangle
Sheer (1840-60), square folded into triangle
Engageantes:
#1800L31
Start at $10
1840's - 1900. False sleeves, were worn under pagoda bodices and as lace cuffs later on. They could be pinned, sewn or laced to the chemise or dress, then removed for easy laundering.
Men's Clothing
Undergarments:
Shirt:
#1800M01
Cotton $35
Linen $45
Silk $55
Shirts become more fitted in the 1800's and have a variety of collar, cuff and yoke styles depending on the year and region.
Corset:
#1800M02
Starts at $50
This underbust corset slightly reduces the waist to create a broader chest and curved hips. Lacing loosened throughout the century, and by 1900 most men had abandoned corsets. Many men wore corsets, and if you are portraying a dandy this garment is essential.

Outerwear:
Waistcoat / Vest:
#1800M03
Starts at $75
The waistcoat or vest had few changes throughout the century, but minor variations in style will help date your outfit. Most waistcoats were cut straight in front until the later half of the century when they had tabs. Collars varied depending on the year.
Tail Coat:
#1800M04
Starts at $200
The tail coat can be double or single breasted. This coat changed little throughout the century, tails moved forward or back along the waistline, lapels and collars changed with fashion and sleeves had
more or less poof depending on the year.

Fall Front Pants:
#1800M05
Start at $50
Fall front pants are very comfortable, and a defining characteristic of the Gerogian and Regency ears. All fall front pants have pockets. Yes, pockets are historically documented. You can have pockets!
Fly Front Pants:
#1800M06
Start at $50
Frock coat:
#1800M07
Starts at $250
The frock coat was for informal day wear. It closes in the front and can be double or single breasted.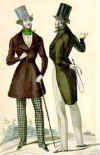 Morning Coat:
#1800M08
Starts at $250
The morning coat has a cut-away front similar to the tail coat, but was worn for less formal occasions. It is single breasted or open.
Sack Coat:
#1800M09
Starts at $200
1850's predecessor of the modern suit coat. This is a loose fitting coat with straight seams. It was worn as a sport coat for many years, but did not become business wear until the twentieth century.

Overcoat:
#1800M10
1870's. The overcoat is a long, fur lined coat that can be double or single breasted. It fits loosely over all other garments.

Cloak:
#1800M11
Starts at $100 ½ cloak
Starts at $200 full cloak
Accessories:
Cravat:
#1800M12
Starts at $25
If you have a question, or would like more information about an item or order, please contact us via phone, e-mail or postal mail.
If you would like a paper catalogue, please send $5.00 with your information request.