Welcome to the 1500's! The Renaissance is in full swing. Art and culture, science and literature, technology, trade and religion are all flourishing, growing and changing. It's a hustle and bustle new world, with a whole New World to conquer and explore! Kings and Queens are extravagant, opulent and down right jewel-encrusted. Everybody's got an army, and they're not afraid to use it! Down with the Protestants, um, urr… I mean Catholics, no, no… I mean heretics… wait, who are we persecuting this week?

This era is the blossoming of our modern Western history. King Henry VIII & Queen Elizabeth in England, the Medici's in Rome, the Don's in Venice, Durer, Donatello, Michelangelo, Raphael, and Da Vinci all working at essentially the same time.

Fashion is evolving quickly in this century, there are at least two major changes in style. Can you imagine dressing differently from your great-grandparents? Kid's these days!

Women's Clothes

Undergarments:

Shift:

#1500L10

cotton $35

linen $45

silk $50

Drawers:

#1500L02

linen $35

cotton $25

Drawers have a draw string waist and stop just below the knee.

After 1550... or before. You're the only one who'll know.

Hoes:

#1500L03

linen, wool $30

Knee length hosen are historically correct, but I'll make full if you want more protection for your legs.

Under-petticoat:

#1500L04

cotton $35

linen, wool $50

flannel $40

This petticoat goes under your farthingale for warmth, comfort and modesty.

Corded Stays:

#1500L05

$75

Corded stays are made from two layers of linen with hemp cording drawn through.

*I have no documentation for this garment, but many of the women in paintings look like they are wearing a stiff, form-fitting garment under their bodices. Without some stiffening the bodices would wrinkle under the bust and at the sides. Bodices could have been lined with leather or canvas, stiffened with starch, boned, breasts could have been bound with cloth, but corded stays are another light-weight, washable possibility, and they allow for more flexibility in your wardrobe and lifestyle.

Partlet:

#1500L06

linen

Starts at $35

A partlet is a collar and ½ shirt, like a dickie. It can be worn under the bodice or over it, like the picture below. Single women wore it open, married women wore it closed... generally.

Effigy Corset / Pair of Bodies:
#1500L07
Start at $80
Corsets, or a "pair of bodies" are fully boned and very rigid, some were even made of iron. They reduce the waist and flatten the bust. The bottom front dips low, while the sides and back are at the natural waistline. These bodies are cut high under the arms and tabs at the waist add extra support for farthingales. I've found that boned tabs are more comfortable for full-figured women than straight-cut waistlines, but this is a matter of preference.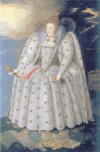 French Farthingales
Bumroll:
#1500L08
$30
The bumroll is a stuffed pad that is full in the back and tapers to the front, then ties around the waist. It can be paired with the wheel for added support or worn by itself.
*a note on bumrolls: I haven't found any reliable historic documentation for this garment, but some ladies in paintings look like they are wearing something similar to this undergarment. If you have a good primary or secondary source, please let me know.
Wheel:
#1500L09
$100
The Wheel or Drum (above) is a cylindrical construction radiating out from the waist and falling to the floor, giving the torso a "serving tray" look.
Spanish Farthingale:
#1500L10
reed, metal banding $75
The Spanish farthingale (below) came first and exited last, it's a conical gored skirt with hoop supports and a draw-string waist.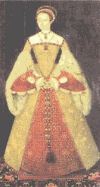 Outerwear:
Forepart:
#1500L11
silk, brocade, velvet, satin
Starts at $60
All foreparts have a cotton or muslin base dyed to match, only the front panel is decorative fabric.
Overskirt (separate):
#1500L12
linen, wool, silk
Starts at $100
brocade, velvet, satin
Starts at $120
Stomacher:
#1500L13
silk, brocade, velvet, satin
$50

Gown / Kirtle:
#1500L14
wool, linen, silk, brocade, velvet, satin, other
Start at $200
Each gown has front and side openings that lace closed for a snug fit. Sleeves can be sewn or tied-on. The skirt is pleated and sewn to the bodice. Bodices are lightly boned or corded to improve the fit.
Hooded Cloak:
#1500L15
wool
Starts at $150
brocade, velvet
Starts at $200
Accessories:
Ruff:
#1500L16
linen, lace
Starts at $50
Small ruffs are starched linen and can have lace edging. Large ruffs are linen, lace or both and are supported by an underpropper, which is a wire collar. All underproppers come with a padded neckband for comfort.
Apron:
#1500L17
Linen, cotton $30
Coif:
#1500L18
Linen $20
Flea Fur:
#1500L19
Starts at $40
Garters:
#1500L20
Start at $5 / pair
Men's Clothes
Undergarments:
Braies:
#1500M01
cotton $10
linen $20
Shirt:
#1500M02
lower class, wool / linen: $45
upper class, wool / linen: $55

Outerwear:
Doublet:
#1500M03
linen, wool Starts at $150
brocade Starts at $200
The doublet was originally worn under armor to prevent bruising but later it became a fashionable garment. It buttons down the front and at the cuffs. The chest can be padded, and have wings on the shoulders to hide the sleeve attachments. Doublets usually ended at the waist, but can extend with tabs. Doublets can be slashed, embroidered, and trimmed. Functional or fashionable!

Full Hose:
#1500M04
linen, wool Starts at $65
silk, brocade Starts at $75
Early in the century, hose were long and form fitting. They could have slashes or cut-work. Later in the century hose ended at or above the knee and ballooned out into the pumpkin or melon shape that characterizes the Shakespearean era. These can be pleated for volume or allowed to hang in loose folds.
Jerkin:
#1500M05
Wool, linen Starts at $150
Brocade Starts at $200
leather Starts at $250
Jerkins are usually made of leather and worn over doublets. They can be buttoned all the way, or left open at the top or bottom depending on your time period. Jerkins are sleeveless and cut to fit the body. They can have long or short skirts.

Gown:
#1500M06
Knee length Starts at $200
Floor length Starts at $250
Henry VIII wears a skirted jerkin and a knee length gown typical of the first half of the century. Gowns can be floor length or just below the knee. They are voluminous garments that add bulk to a man's shoulders. Gowns are luxurious, with elaborate trim, embroidery and fur linings. Sleeves can be slashed, trimmed, embroidered… just about anything that can be done should be done.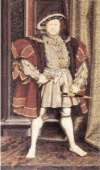 Accessories:
Work Apron:
#1500M07
$25
Belt:
#1500M08
Starts at $35
Pouch or purse:
#1500M09
Starts at $45
Codpiece:
#1500M10
Starts at $25
It's a small (or not so small) stuffed roll that goes over your fly. It was a separate piece, but can be sewn to your hosen. When else are you ever going to get to wear something this silly and not get picked on by your football buds?
Garters:
#1500M11
Start at $5 per pair
If you have a question, or would like more information about an item or order, please contact us via phone, e-mail or postal mail.
If you would like a paper catalogue, please send $5.00 with your information request.