Welcome to the Age of Enlightenment. Pirates sail the high seas attacking ships in the Atlantic and Indian Oceans. The slave trade fuels the Colonies, who export rum, molasses, sugar, cotton, tobacco, gold and gems. The invention of the steam engine, electricity, steel and the Spinning Jenny kicks off the start of the Industrial Revolution.
Philosophers talk about reason, logic and Laissez-faire capitalism. Mozart, Beethoven, and Bach write music that stirs the heart and soul. Watteau, Gainsborough and David paint portraits and propaganda that influence ideas and fashion.
The golden age of the monarchies is in full bloom… and then…
Revolution!
"Live free or die!"
"Viva la revolucion!"
The people rebel against their kings and queens and a new democratic age is born.
Fashion reflects all the changes in ideas, philosophy, art and politics.
Women's Clothes
Underwear:
Shift / Chemise:
#1700L01
cotton $30
linen $45
silk $50
+$10 ruffles
Hooped Petticoat:
#1700L02
Reed / metal banding $75
90" - 120"
Paniers:
#1700L03
basket paniers $50
oval paniers $100
Stays:
#1700L04
back-lacing $75
back and front lacing $100
Jumps:
#1700L05
$50
Jumps are soft, front-lacing stays that were worn for jobs like washing and in very rural areas, or when a woman was pregnant.
Bum / Hip pads:
#1700L06
Start at $20
Drawstring Petticoat:
#1700L07
cotton $30
linen $40
Silk $45
Quilted Petticoat:
#1700L08
Starts at $100
Corded Petticoat:
#1700L09
$100
corded petticoats are soft and add a gentle volume to skirts.
Outerwear:
Bedgown:
#1700L10
Indian cotton, wool, silk, linen, brocade
Starts at $50
Bedgowns were worn in Europe and the colonies by working women as day wear (linen, cotton & wool) , and by upper class women as a morning and evening "undress" garment (silk satin, wool, quilted or embroidered). Bedgowns can be pinned, laced, left open over a pair of stays or overlapped and belted at the waist. Sleeve and collar lengths and widths vary depending on style.

Caraco:
#1700L11
Starts at $100
The Caraco Jacket has different characteristics depending on the region and year. Sleeves can be long or short, wide or narrow. Skirts can be long or short, joined or tabbed. The style of this garment differs among social class. Upper class caracos fit over bum rolls or hoops. Lower class caracos fall naturally over petticoats, much like men's coats.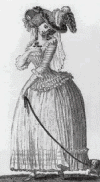 Open gown:
#1700L12
Starts at $200
An open gown has a split front that shows off a decorative petticoat.
Closed gown:
#1700L13
Starts at $200
A closed gown has a joined skirt in front and may have a front laced bodice that is completely closed or opens over a stomacher.
Sack Back Gown:
#1700L14
silk, satin, brocade, block print cotton
Starts at $300
The sack back gown, Watteau Sacque or robe a la Francaise has several variations. The informal sack (below) is an early version. The excess material is loosely pleated and left hanging. This version could have been left open in front as a robe gown.
Later sacks have precise pleats and fitted bodices that are either closed or worn with a stomacher.
This gown can be used as every day wear for middle and upper class women, or as formal court wear with paniers. Formality is determined by materials & cut.

Pet-en-l'air:
#1700L15
starts at $200
The pet-en-l'air is a ¾ sack that was worn for informal occasions or by middle class women. For those of you who speak French, this is not a mistranslation. It really means "fart in the air." I won't speculate as to why.
Polinase:
#1700L16
starts at $200
Polinase gowns started with lower class women tucking their skirts up through pocket slits or waistbands to keep them out of the mud. Upper class women copied and adapted this "milk maid" or provincial style for both formal and informal occasions.
Polinase gowns are often paired with matching (or contrasting) petticoats, hoops, hip & bum pads and paniers. The upper part of the gown can be closed or worn with a stomacher.

Waistcoat:
#1700L17
wool, quilted linen, quilted satin
Starts at $100
Waistcoats are used for warmth and worn over stays and under gowns.
Stomacher:
#1700L18
embroidered linen, brocade, silk, satin
Starts at $50
Stomachers are a decorative fully-boned front piece worn between a pair of stays and a gown. They were pinned or laced to the stays or the gown. Stomachers can be sewn onto one side of the gown and fastened with hooks & eyes to the other. They can be very elaborate.
Mantle:
#1700L19
silk, lace, fur
Starts at $100
Mantles are similar to shawls but are made of heavier material and often lined with fur. Lightweight dress mantles can be made from lace.

Riding Habit:
#1700L20
Starts at $200
Riding habits mimicked men's fashions. They hve clean lines, formal cuts and are made from serviceable fabrics like linen or wool. Summer habits can be lined with muslin or cotton. Winter habits can be lined with wool or fur.

½ Circle Cloak:

#1700L21

½ length Starts at $100

full length Starts at $200

Women and children usually wore 1/2 circle cloaks rather than men's full circle cloaks. 1/2 circles are very attractive and have very clean lines. Collars and hoods can be added.

Accessories:

Bag:

#1700L22

Starts at $45

Cap:

#1700L23

cotton $10

Linen $20

Pockets:

#1700L24

$25 per pair

Apron:

#1700L25

$10

Tucker / Fichu:

#1700L26

$10

Engageantes:

#1700L27

linen, cotton, lace

Start at $10

False sleeve ruffles. They are pinned to a gown or chemise to create a froth of lace. One pair of engageantes can be worn with many different gowns. Add them to a simple gown to make it more formal.

Men's Clothes

:

Undergarments:

Shirt:

#1700M01

cotton $35

linen $45

silk $55

(+$10 ruffles)

Shirts have full drop sleeves with button cuffs. Collars can be fold down or stand-up. Necklines can be plain or have ruffles.

Outerwear:
Sleeveless waistcoat:
#1700M02
$100
Sleeveless waistcoats go under a coat or frock coat. Paul Revere is pictured in his "shirtsleeves," a shirt and sleeveless waistcoat. This is a form of "undress" that was appropriate for the home, but not for public.
Sleeved waistcoat:
#1700M03
$120
Sleeved waistcoats are informal dress wear worn over a shirt and breeches. They were appropriate for public, and were the most common outer garment for lower and working class men.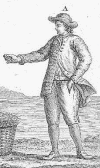 Knee Breeches:
#1700M04
Fly front or Drop front.
Start at $50
Knee breeches extend a few inches below the knee and button, buckle or tie closed. Stockings can be worn over the knee band to create a more formal look, or under the knee band for an informal look.
*Wearing the socks over the knee band makes breeches appear shorter than they are. Breeches from the 1700's should still cover your knees when you sit.
Coat:
#1700M05
Starts at $200
Coats are knee length and full skirted with pleats or vents. Cuffs can be over-sized and turned back to reveal the decorative lining. They can be trimmed or left plain. Self fabric covered buttons were a favorite decoration. Coat styles changed depending on region and year.

Capote:
#1700M06
Starts at $200
Capotes were a favorite blanket coat in North America. They were worn by trappers, traders, native Americans and townspeople.
Frock Coat:
#1700M07
Starts at $220
Frock coats have a wide, flat collar and are less formal than a coat. There are many different styles of frock coat depending on year and region.

Banyon:
#1700M08
cotton, linen, silk, satin, brocade
Starts at $200
A banyon is a dressing gown worn by men in their homes over a shirt, waistcoat and breaches. It was only worn out when a man was going to the barber.
Cloak:
#1700M09
Full length Starts at $200
½ length Starts at $100
Men's cloaks are usually full circle cloaks that fall in elegant folds. They can have capes, hoods or collars. Styles change with time period and region.
Accessories:
Cravat:
#1700M10
$35
Bag:
#1700M11
Starts at $45
Garters:
#1700M12
Start at $5 per pair
If you have a question, or would like more information about an item or order, please contact us via phone, e-mail or postal mail.
If you would like a paper catalogue, please send $5.00 with your information request.