Welcome to the beginning of the Renaissance! The Crusades have ended, the Black Death decimated Europe 50 years ago, but everyone's fine now. The sciences are thriving again and there's plenty of time for art, music, poetry, dance, architecture, innovation and especially fashion.
Someone imported a spinning wheel from Persia 100 years ago, and the fabric industry has taking off. Wool, linen, silk, satin, brocade, and velvet are being woven in homes and workshops all across the continent. Italian silks and brocades are some of the most beautiful fabrics in the known world.
Sleeping Beauty, it's time to wake up and smell the roast peacock!
Women's Clothes
Undergarments:
Chemise:
#1400L01
linen $45
silk $50
The chemise is the basic undergarment for women from the Middle Ages to the beginning of the twentieth century. The neck is wide and gathered into a band, often with embroidery. Sleeves are loose enough to slip your hand in, and then rolled into a cuff. Length varies, but floor or ankle seems to be the most common in the 1400's.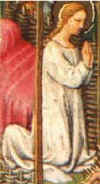 Hose:
#1400L02
linen, wool $30
silk $35
Hose come to just above the knees and are tied with a garter below the knee, then folded down. Hoes are form-fitting garments, please see the measurement chart.
*a note on women's underwear:
I haven't found any evidence to support or deny the existence of lady's underwear (drawers / briefs) at this time, but feel free to order from the men's page; I won't tell if you don't. If anyone has a good secondary source regarding the existence of women's braies, I'd love to hear from you.
Outerwear:
Cotehardie:
#1400L03
linen, silk, wool, brocade, velvet
Start at $200
The Cotehardie, or Cote is the most common gown worn in the 1400's. It has long fitted sleeves that button or lace to the elbow, a fitted top and a long, full skirt that can be tied or held up for walking.
It can be lined with linen, wool or (faux) fur. It can be trimmed with ribbon, embroidery or a contrasting fabric.
The cote buttons or laces up the front and/or back either from neck to hips or neck to floor. Cuffs can end at the wrists or continue in a small bell over the hand for added warmth and then folded back for work.

Surcote:
#1400L04
linen, silk, wool, brocade, velvet
Start at $200
Surcoats are worn over the Cotehardie. They are more decorative, with bell or open sleeves and can be lined in a contrasting color. They are made from wool, velvet or other warm fabrics. Please consider your climate when ordering this gown.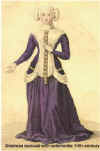 (The illustration at right is from the 1394).
Houpellande:
#1400L05
linen, silk, wool, brocade, velvet
Start at $250
The Houpellande is the outermost garment and is usually very elaborate. It is a loose gown, worn belted at the waist and has a collar, fancy cuffs and trim. It is floor length or longer and often sportes a train in the back. The extra fabric was very practical as it kept the ladies warm in drafty castles and the cold, mini-ice-age climate of Europe in the Middle Ages and Renaissance.
Go wild with your sleeve designs, it was the thing to do!

Accessories:
Belt:
#1400L06
Starts at $35
Bag / purse:
#1400L07
Starts at $45
Veil:
#1400L08
Starts at $25 (circular or rectangular)
Flea Fur:
#1400L09
Starts at $40
Men's Clothes
Undergarments
Shirt:
#1400M01
linen $45
silk $50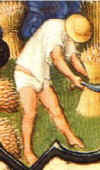 Braies:
#1400M02
linen $20
cotton $10
These are your boxer-briefs, or even shorts for those really hot days. They have a draw string top and two gussets, front and back. Braies come in short (pictured above) or long, which stop just above the knee.
Braies were worn throughout the middle ages and Renaissance by men, and possibly by women.
Outerwear:
Chausses:
#1400M03
linen, wool $45
brocade $50
Chausses are your pant legs. They come in full length and knee length. Full length chausses tie to a belt around your waist, or to the drawstring on your braies. Knee length chausses are gartered below your knee and then folded down. These are form-fitting garments and require good measurements, please see the chart.

Full Hose:
#1400M04
linen, wool $65
brocade $80
Full hose are like modern day women's tights, only much thicker (and much more manly). They are cut on the bias and tailored to your measurements, please see the chart. They tie to a belt or ribbons on the inside of your cote. Full hose have a drawstring waistband and a tied groin flap for when you're in a rush to get to the privy. An optional leather sole can be added, but it's best to wear shoes with these as they will last longer.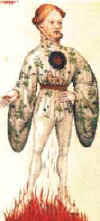 Cotehardie:
#1400M05
wool, linen Starts at $150
brocade Starts at $200
Men's cotehardies can be very simple or very elegant, fitted garments like the example above (full hose). They are lined with a contrasting color and similar fabric, though wool and linen have always been a popular combination. This was everyday wear, much like a button-down shirt over a T-shirt today.
Full Houpellande:
#1400M06
wool, linen, silk, velvet, brocade
Starts at $250
Full or long houpellandes fall to the floor or just beyond. They are made from luxurious fabrics and are lined with material that is equally elegant. Houpellandes are where you show your stuff. Go wild! Everybody else did.

Small Houpellande:
#1400M07
wool, linen, silk, velvet, brocade
Starts at $200
Small Houpellandes are a decorative outer garment made from rich fabrics with a center front closure. They are all about elegance. Small or short houpes fall from just above the knee to mid-calf. They are often lined with contrasting fabric, have dagged or pointed edges and elaborate trim. They are belted at or slightly below the natural waistline depending on the year and region.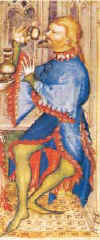 Tunic (short):
#1400M08
wool, linen starts at $150
brocade, leather starts at $200
Tunic (long):
#1400M09
wool, linen starts at $200
brocade starts at $250
Tunics are worn as work jackets or formal dress wear (below) depending on the fabric used to make them. Tunics can have a neck to hem opening and be belted closed, or a slit at the neck for a pull-over and lace closed.

Accessories:
Hood:
#1400M10
wool, linen $60

Coif:
#1400M11
wool, linen $35
Coifs cover your head. Great for girls too. Get 'em before they go out of style (around about 1450 except for clergy, artists, intellectuals… and women. Babies will still wear them in 2010, long after the world has ended).
Belt:
#1400M12
Starts at $35

Purse:
#1400M13
Starts at $45
Have a place to hang things and hide things, like cell phones… I mean gold coins.
If you have a question, or would like more information about an item or order, please contact us via phone, e-mail or postal mail.
If you would like a paper catalogue, please send $5.00 with your information request.