The Horses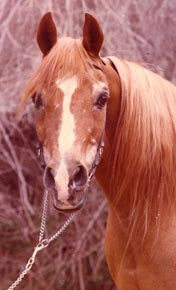 We have bred fine CMK Arabians, Anglo-Arabians and part Arabians for over 30 years. All of the Arabians and part Arabians on the ranch trace back to Narab 3064. Narab was owned most of his life by Jim and Verna Miller of Southern California. He lived to 38 and was the sire of many top Arabians including Bimbo, a top trail horse owned by Bill Scott and Jarabu, a Top Ten Jumper ridden by Dean Miller. Narab won the aged stallion class at the Sierra Empire Show at the age of 30. It was judged by Bazy Tankersley of Al Marah Arabians. There is a Narab perpetual trophy at this show. Narab was five gaited and was still being ridden well into his 30's.
The Narab daughter, Hillglor's Diletra was the foundation mare of my Arabians. A fantastic competitive trail horse, Dilly won an NATRC National Championship, Region 2 Lightweight Championship and was third in the United States in year end points. In endurance riding, Dilly won the Cuyamaca 50 twenty minutes ahead of the next horse and was Top Ten at several rides. She was IAHA National Champion Best Condition Horse and IAHA National Top Ten Endurance Horse. Dam of 11 foals, she is buried here on the ranch. She was a fantastic athelete that could read my thoughts perfectly and my best friend.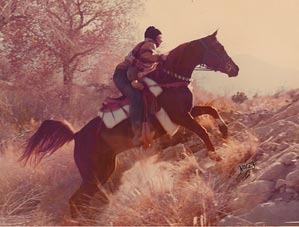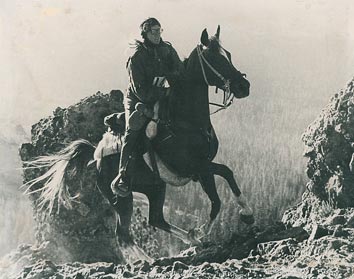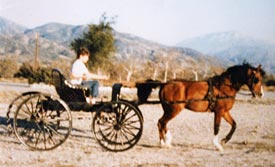 Mirab, also by Narab, was a top endurance horse and a Regional Reserve Champion Competitive Trail Horse. He had over 2000 miles in endurance racing with 2 wins, Best Condition Awards and several Top Tens. We did the Applegate Lassen 5 day 250 mile ride, Death Valley 5 day 250 mile ride, Camp Pendleton 100, Bill Thornburg 100 and many others. I saw lots of fantastic country from the back of this great horse. He was also used for driving, jumping, dressage, reining and working cattle. Sire of over 60 fine foals, I had to put him down on May 25, 2001. He is buried beside Dilly. I will miss my partner forever.

I have three Anglo-Arabians by Mirab as well as Fire, Miraba and Sassy by Mirab out of Dilly so part of both of them is still with me.