Clicker Training Horses by Karen Parker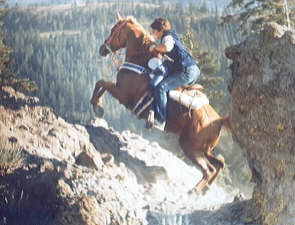 Clicker Training is the greatest method I have found in 50 years of playing with horses. You can teach a horse to do anything you can dream up with it, Clicker Training develops a horse's mind and turns him into a fantastic willing partner. The videos I sell come with free email support. I also do video lessons. Send a video of you working with your horse for a personal lesson and help with problems for $25.
Clickin' On Ranch consists of 40 acres in the beautiful Illinois River Valley of southwestern Oregon. It is the home of Karen, Justin and Sarah Parker and fourteen horses. Karen has an extensive background in many horse sports ranging from endurance to dressage. She has won two National Championships, a National Top Ten, a Regional Championship, a Reserve Regional Championship, and a Regional Top Ten. A professional farrier for 29 years she has raised and trained horses her entire life. Clickin' On Ranch has fantastic trail riding close by with five wilderness areas and the beach within easy reach. The ranch offers clinics, videos, personal video lessons and fine horses for sale. (The photo is Karen on Miraba at Tevis.)
Happy Trails, Karen
Francisco, Karen, Justin, Sara and Jan helped Alexandra Kurland demonstrate clicker training at Equine Affaire. Here is Alexandra's thank you note: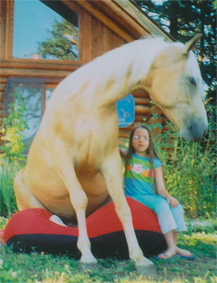 Hi Karen,
I got home to a mountain of email and a problem with my server, so this is the first chance I've had to say THANK YOU!!! You and the whole Francisco team were awesome. I have to share a comment from someone who watched I think it was the third demo. He said he'd been involved with horses for decades, was trained in the traditional methods and had become interested in Natural horsemanship because it was so soft. After watching Sarah and Francisco he realized he realized he wasn't even close to being soft! He was blown away by what he saw, and so was the friend he was with, another traditional horse trainer. Pretty awesome.

You've done a superb job with Francisco and I must say that you made my job really easy. So my great thanks to you, to Jan, and to Sarah and Justin.

You are all awesome!

...So hurray for Francisco. He sent some major ripples out and showed people what is possible.

Alex
[and later]
You and Francisco did a tremendous job promoting clicker training. He's the horse people want to own, polite, fun, safe, with bright eyes and a happy attitude. You showed people what clicker training can create. And that they could do it themselves. Very empowering. Very important. What is going to catapult clicker training to the next level of awareness is the opportunity of people to see these clicker trained horses. So important. ...
Alex