This is my cylinder for the Moebius Seaview Kit. Not available at this time.
It has taken me a while but I have my Seaview cylinder ready for sale. Unlike my other experimenters kits this one is built, tested, and ready to install. You will only need your receiver and a battery. I can also supply a receiver if requested.
The cylinder has many nice features.
1-RCABS ballast system
2-Direct Drive Johnson high torque motor.
3-Mtroniks Viper-10 ESC.
4-My new RCABS bulkhead output seals
5-Easy to disassemble modular construction
6-High torque servos
These cylinders will be built to order and the price will be $495.
The cylinder is designed to use my BTP (Bigdave Thrust Pump) System for the Seaview which is a single centrally mounted pump jet which is included with the cylinder.
It takes in the water from an opening in the rear underside of the hull and ducts it out the two nacelles. This system also has good reverse thrust.
No major hull cutting is required with this system as the cylinder is installed via the center hull split. This is the way the hull comes and there is even a nice stock flange joint.
The cylinder comes with a CD manual showing how the conversion is done.
Kit includes
1-Cylinder (Ready to install with your receiver and battery)
2-Assembled BTP Pump Jet with silicone thrust tubes and mounting parts
3-CD manual
Please email me if you have any questions about the system.

This is the cylinder as it comes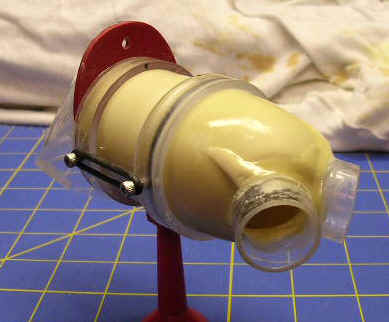 This is the BTPS drive system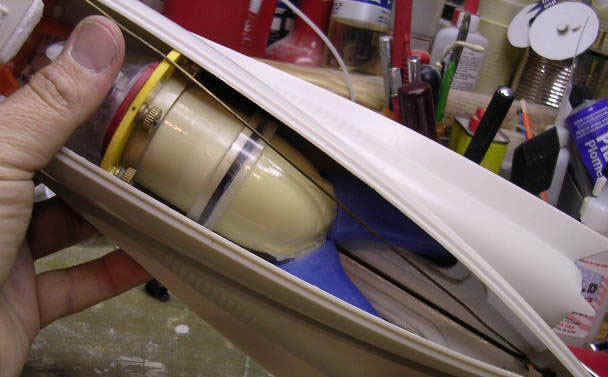 This is the drive system in the hull
Here are some links to the Seaview running. The model was built by Steve Neill.
http://www.youtube.com/watch?v=GMIM6Ia_efs
http://www.youtube.com/watch?v=bT6j0qDV6LE&eurl=http://www.rcgroups.com/forums/showthread.php?t=968303&page=2