US Army Nike AA Missile Base
Bristol, Rhode Island
This part of the website is a tribute to all those who
served in the Nike program during the Cold War
especially those at the Mt. Hope Nike Site and
our good friends and neighbors in the town of
Bristol, Rhode Island.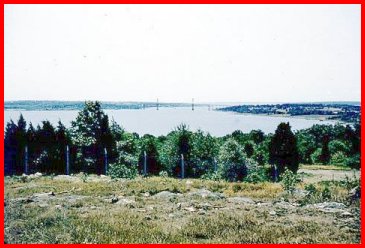 1957 view looking south from the MTR radar location on top of Mt. Hope towards the Mt. Hope Bridge. The launcher area would be close to the far shore on the right hand side.
The Army moved into the small town of Bristol, RI in 1956 and began building a Nike Ajax Missile complex which was to be one of seven defending the city of Providence, Rhode Island. The IFC or Radar Control Area was constructed on Mt. Hope and the Launcher Area was located several thousand yards to the southwest, just north of the Mt. Hope Bridge and east of Rt. 136. The total project was done by Ferber Construction Company of New Jersey and involved 40 acres at a construction cost of $1,600,000 total for both areas.
Our crew was temporarily quartered at Boston Army Base until the construction was finished in 1956 and we moved on site at Bristol. At that time in the IFC area there were just dirt access roads and rough rocky ground . The radar equipment consisted of a Battery Control (BC) van, Radar Control (RC) van, Acquisition Radar (LOPAR), Target Tracking Radar (TTR), Missile Tracking Radar (MTR) and associated equipment. The IFC and Launcher Area crew were trained at Ft Bliss, Texas and had extensive training on this equipment at Red Canyon Range Camp, New Mexico. The Nike equipment was then trucked and trailered to Bristol. In November 1956 the construction of the barracks, mess hall and administration buildings was finished sufficiently for the Battery personnel to move in. It was a rough beginning for a Nike base but soon things began to shape up and the base started to look as it should. The equipment was located where it would be operational and checked out electronically with the Ajax missiles that had arrived at the launcher area (LA). The missiles were fueled, warheaded and mated with their boosters right in the Launcher Area Missile complex.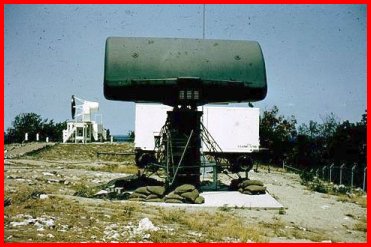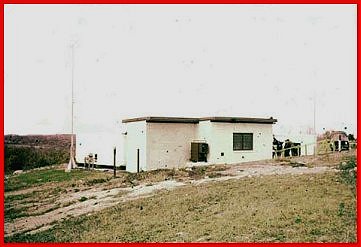 Left photo: (late 1956): LOPAR, BC van and TTR. Sandbags are on the three LOPAR radar supports to keep it from "walking" off the hill while rotating. Note the wheels are still under BC van.
Right photo (1957): Interconnecting Corridor between two vans. RC on the left and BC on the right. Tall lightning rods are just visible by both vans. On the extreme right is one of the 208 volt 3 phase 400 cycle Hobart generators used to power the system.
*** *** *** *** *** *** *** *** *** *** *** ***
Index Page for quick access to individual sections click here
*** *** *** *** *** *** *** *** *** *** *** ***
Our Latest Updates!
. . 4 Mar 2009 - JP Moore's web pages of early days at Red Canyon Range Camp .
now added to our website. .
Go to:.http://www.frontiernet.net/~w2hyn09/RCRC.html
. *** *** *** *** *** *** *** *** *** *** *** ***
Click here for page of websites
that are dedicated to America and Our Military


Or the Constitution of the United States!
1775 Navy Jack Flag
*** *** *** *** *** *** *** *** *** *** *** ***
©2006 William Shaw