The latest from our Bristol Nike folks
including recent and some older photos
Charles, in loving memory
December 23, 1949 - July 3, 2005
Charles and Myra Venezia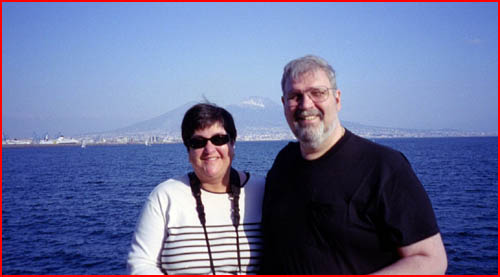 Naples, Italy 2003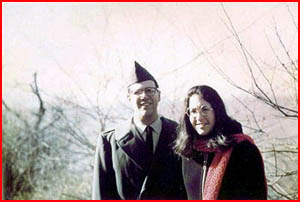 1972
Charles added:
Myra and I were married in December, 1971, on my 22nd birthday, between Basic and AIT - we had actually planned to get married the following year, but when we found out that the Army paid married guys an extra $121/month BAQ, we decided to tie the knot sooner rather than later. So we'll be having our 33d anniversary this year. (2004)
I trained as a 16C in Fort Bliss, but when I got to Bristol in May of 1972, I became the Training Clerk - a good gig, since I worked regular hours in the Orderly Room, flying under the radar, so to speak. Myra and I had an apartment on Hope St. in Bristol. I left "C" Battery in May of 1973, spent 14 months in Korea (Foxtrot Battery, near Incheon). I worked as an Elevation and ABAR operator for most of my tour, but spent my last two
months back in the Orderly Room. Myra and I lived on the local economy, made lots of Korean friends (Myra taught English in Incheon), saw all the sights, and finally had our honeymoon, in Hong Kong.
Got out of the Army in July, 1974. Apartment in Staten Island, NY, and scored a job in Manhattan as an insurance underwriter for $8500/year. Worked my way up pretty quickly - made Assistant Vice President after about five years, spent the next 15 years in various management and executive positions. In 1995, went to work for a firm that provides network services and software for insurance - mainly I consulted on implementation of electronic data interchange standards, but I also did a lot of interesting special projects, working with trading partners like IBM Global Network, EDS and ATT.
I'm mostly retired now, but I still do a little free-lance consulting for friends. Myra and I live with our daughter in Fairfield County, Connecticut, about 90 minutes east of NYC - Myra teaches in middle school, our daughter is in college studying journalism, and we travel whenever we can. And I surf the net in the middle of the night a lot.
*****************************
Webmaster's note:
Charles passed away 3 July 2005 after a 5 year battle with colon cancer. He will be sadly missed by all of us as a good husband, father and friend to all that knew him. His daughter Diana has set up a Memorial Website for Charles at:
http://www.charles-venezia.memory-of.com/about.aspx