The latest from our Bristol Nike folks
including recent and some older photos
And from Hawaii is Dave and Karen Leatherman!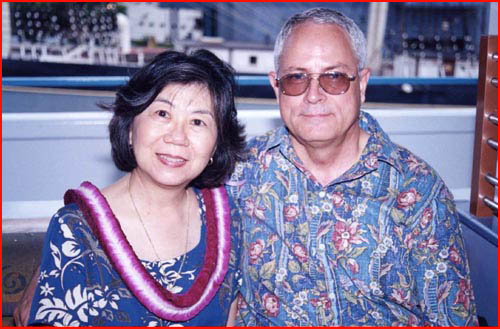 Photo August 2003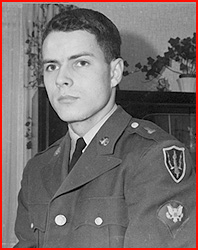 Photo Dec 1961
Dave added:
Up-dated 08 November 2008.
I was originally assigned to the Foster Site after basic training, arriving in January 1960 and later served at Coventry and then N. Kingston at Quonset NAS, until we were deactivated and I was transferred to Bristol. I was only at Bristol a few months before I left Bristol in Dec 1961, going to Ft. Sam Houston, Texas for training as a medic and Laboratory Tech. After several close friends were assigned to a 155mm Mobile howitzer unit in Oklahoma, I decided a career change was in order. I worked in the IFC as a TTR and MTR operator. I made the Army a career and served one tour in Germany and survived two Vietnam tours. I was stationed in several places in CONUS and in Hawaii three times and retired in 1981 with the rank of Master Sergeant after 22 years. I met my wife while stationed in Honolulu during my first tour while she was finishing her last year of college, and after a two-week honeymoon in Hawaii; I went to Vietnam for a second time. We have two sons; the oldest is an Episcopal Priest. He and his wife of 9 years have returned to Hawaii where he now serves as Chaplain at Iolani School and as an AF Chaplain (Major) in the Hawaii National Guard. They have one daughter Annaliese Marie who is a year and a half. The youngest son graduated from college, did some graduate work and is now studying to be an electrician. He and his wife live with us while he is going to school. They have one daughter, Daryan Elizabeth Mahealani, two and a half and we wee just informed they are expecting another baby in May… Karen and I have been married since 1968. I was fortunate to have served three tours in Hawaii. We have traveled to Europe and about every two years, the lower 48. I still have friends from the Nike days that live in Danielson, CT, just a short distance from Foster Center and we visit every few years and they come to Hawaii. My fondest memories in my Army career were the times at the Nike Sites. My how times have changed! We did a lot of camping and traveling over the years when the kids were growing up. I enjoy woodworking, stain glass and home projects, and Karen is involved in arts and crafts (hand-sewing and teddy bear making), and is the organist for our church. With the two grandchildren we are enjoying life more than ever. Dining out is always a pleasure and even more so with friends. I retired in Nov 2008 after 26 years of working in the Army Drug Detection program as a Medical Technologist and Karen retired in October 2006 after more than 30 years as a Microbiologist. Both of us worked at Tripler Army Medical Center in Honolulu.