« December 2007 | Main | October 2007 »
Tuesday, November 27, 2007
DMC-FZ18
So, what is DMZ-FZ18? It is my new 8 MB, 18X optical zoom camera!
It has image stabilization but at 18X, you still need a tripod. So far I caught a cardinal, nuthatch finch, and of course, a chickadee!.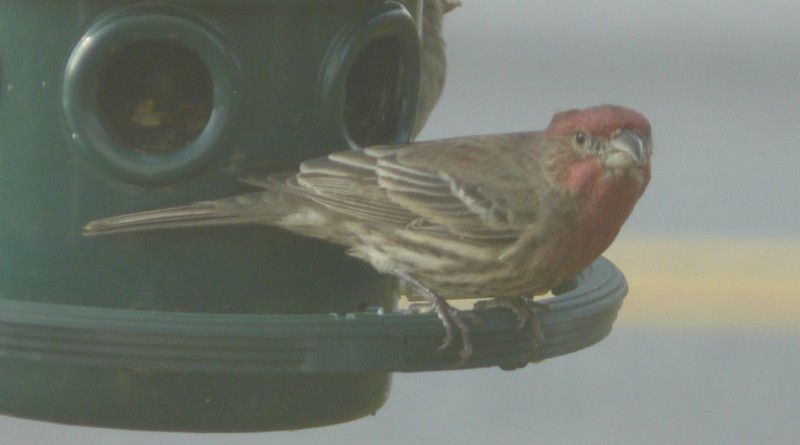 Thursday, November 15, 2007
Chickadee
I was working on my feeder a couple of weeks ago, when I saw a white blur coming right at me. It turned out to be a bird landing on the feeder. I was close enough to reach out and touch it... that is if I HAD NOT JUMPED BACK TEN FEET! When I jumped, the bird flew back to the tree. I walked back to the feeder, picked up the feed sack and then slowly backed away. The bird flew back onto the feeder and I was able to get a good look at it.
So I went in the house and grabbed a field guide to try and identify the bird. Here is the thing, if you are not a birder, and I am not, it is next to impossible to ID a bird! It took some time, but I finally know what it was. I found a couple of sites that list the top birds in Pa, Top 25 Feeder birds in Pa and Birds Of Penna When I saw this picture,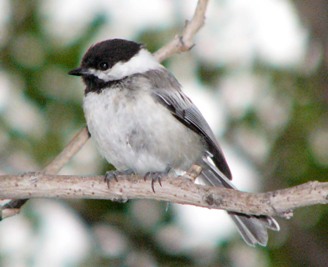 I thought it was my bird. When I read the text, I knew it was! "Every hunter, hiker, and skier probably knows this pert little gray-white-and-black bundle of woodland energy. They've enjoyed his curiosity—he'll edge closer and closer if you remain quite still" They were wrong about the staying still part! Anyway it is a BLACK-CAPPED CHICKADEE. I have since received my "National Geographic Field Guide to Birds: Pennsylvania (NG Field Guide to Birds)" by Jonathan Alderfer, and hope to do better at IDing the visitors to my feeders.
As a follow up to my last post, the software I have to do remote captures does not work under Windows Vista. But that is another rant... in fact, I already did that!
12/08/07 update: OK, now I have a pic of the little guys!

Saturday, November 10, 2007
New Category- Backyard Birding
My mother fed wild birds ever since I can remember, but I did not catch the bug until recently. My mother simply tossed bread crumbs, and whatnot, into the yard, while I use the more traditional method of feeders. I have two of them, and cameras pointed at both. Visit my web site to view the web cams.
I am not very good at identifying birds, so I ordered a couple of books from Amazon:
"Birds of Pennsylvania Field Guide, Second Edition" by Stan Tekiela; Paperback
"National Geographic Field Guide to Birds: Pennsylvania (NG Field Guide to Birds)" by Jonathan Alderfer
"Birds Of Pennsylvania" Franklin Haas
Hopefully, they will help.
One idea I came up with, was to use a point and shoot camera to capture an image every ten minutes, or so. I have the software to do that, but the feeder where I would point the camera is the one that gets the least activity.
Last winter I had cardinals as regular visitors, so I loaded that feeder with a cardinal mix. In the other feeder I have a nyjer / black oil sunflower seeds mix.