Chuck & Jerri's Home Page
Welcome to our Home Page. We hope that you will enjoy our part of the world. We live in New Richmond, Wisconsin about 35 miles east of St. Paul, Minnesota roughly 250 miles south of Canada. Our cabin, which we call PineSong, is located near Cable, Wisconsin about 120 miles northeast of our home.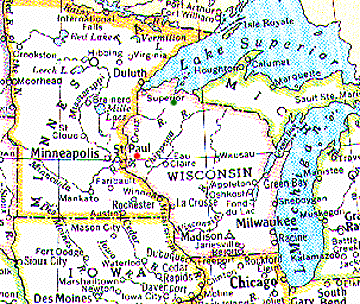 New Richmond is near the red dot, PineSong near the green
"A visitor is a jewel on the cushion of hospitality."
More photos of various people and places are here.

According to the little counter you are visitor number

since March 14, 1998.
Copyright ©1998-2011 Chuck and Jerri Rang