New York State Fair
Opening Day
August 25, 2005


We checked the weather, and since it may be quite hot the next 10 days, we decided to go to the fair today. If you plan ahead, you can get advance sale tickets for $6 instead of the regular $10 admission. We looked forward to seeing the animals, eating fair food, and looking at the rides and exhibits.

We checked out the butter sculpture, a fair fixture.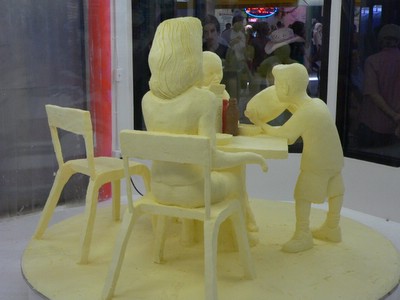 It looks like it is about half life-size. It is kept in a glass walled refrigerated room at 55 degrees.
~

But we really wanted to see the chickens. We hurried to be there in time for the rooster crowing contest.


If you have a rooster to enter, you can pay the $6 entry fee. If your bird crows more than the other 11 in the competition, you win $10. But that also enters your bird in the last day championship contest, where the grand prize is $25. As the farmer said when he won the state lottery, "I guess I plan to keep farming until the money's gone."

The poultry building (which also houses rabbits) is huge.
This next photo shows about 1/4 of the first floor.

The birds are stacked two or three high.
Lots of them had very strange feathers.

But there are not only chickens, geese and turkeys.

| | |
| --- | --- |
| | These doves look almost Elizabethan in their ruffs. |

And this guy was certainly a wild hare !

There were litt
le horses and big horses.

| | |
| --- | --- |
| This little horse is being shown by a child. | These are Clydesdales. They are impressively large. |
~


Five hours of walking the 200 acre fairground, and we felt just like these little piggies.



Especially after the sausage sandwiches and fried dough. Yum.



And there were llamas.




Another beautiful day.
There is lots to do in central New York.

Where will the next adventure take us?
e-mail us here.
Here's a link to all the rest of the grandkids' pages.
Published 8/25/05
Photos by Leslie or David

Send comments, please. We love to hear from folks.