September in Maine
September, 2005


We left on Thursday, after picking up an SUV in Syracuse. We were a little concerned about gas prices and projected shortages, but decided to take our chances, and to adjust the budget if necessary . Our first morning in Maine found us at McDonalds with a view.

We went off-roading at Coopers Farm. Along the way, we found blueberries (it's the end of the season, and there were very few berries) and an apple tree. The apple was pretty good, but not quite ready. Looks like this will be a great year for apples everywhere.

When we got to the ocean, near Wells, we saw our first lighthouse.
Nearby was a lobster shack where I got my first lobster roll.
Expensive there!! One lobster roll and one cup of chowder was $20. Order at the window, pick-up and eat at picnic table. We're not in Kansas anymore.


We drove through Ogunquit.
Traffic was horrible, even after Labor Day.
We paused to photograph the Ogunquit Library

Wells and Ogunquit are artsy, charming, crowded.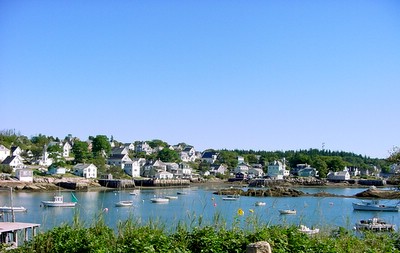 We decided to head inland to Bangor.
It's a lovely little town becoming quite gentrified.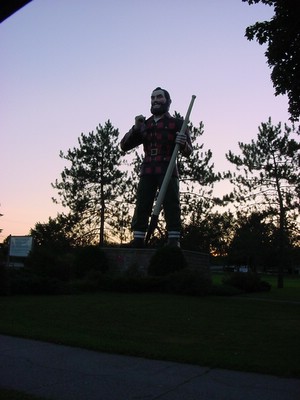 Paul Bunyan watches over the town.
~
We had a very interesting Thai Dinner.
(The night before, we had a VietNamese dinner.)


e-mail us here.
Here's a link to all the rest of the grandkids' pages.
Published 8/25/05
Photos by Leslie or David

Send comments, please. We love to hear from folks.