Public Radio Exchange (PRX) can help provide you with quality programming.
The Public Radio Exchange is a nonprofit service for distribution,
peer review and licensing of radio programs.
Meet the PRX Team at IBS Conferences.

Save 25% on all Live365 startup investment, usually $150 for IBS Members.
Save 15% on all monthly service charges, usually $63.75 for IBS Members!
Call Live365.com today: 1-866-Live365 (1-866-548-3365).




Do you want more information on how Powerful Radio and Geller Media helps IBS Members?
Just click heresend Denise McIntee an email with your questions.




VOICES OF OUR WORLD is a 28-minute weekly public affairs program focusing on
human rights, peace, global economics, the environment, the plight of refugees,
the struggle of indigenous people and the rights of women and children.

Voices of Our World won the 2003 Gracie Allen Award for excellence in public affairs programming in local markets.

FREE on CD.

Contact: Elinoar Astrinsky, producer of Voices of Our World, 914-941-7636 x 2476 or radio@maryknoll.org
Listen to us on the web: www.maryknoll.org/voices




Specializing in Public Radio,
Ken Mills Agency (KMA) is owned and operated by Ken Mills. Ken and his associates create radio programs, market programs to stations and other media and provide strategic assessment of programs. The company specializes in public radio programming.

Contact Us:
Ken Mills Agency
1635 Kelly Drive
Minneapolis, MN 55427
USA
763-513-9988
763-513-1689 fax
ken@kenmillsagency.com



Do you want more information on USA Network News?
If you're with an IBS member station, IBS can help!
Just click here to send USA an email with your questions.




Radio Systems, Inc.
601 Heron Drive
Logan Township, NJ 08085-1741 USA
Telephone: +1-856-467-8000
Fax: +1-856-467-3044
e-mail: sales@radiosystems.com


AM1000 RANGEMASTER AM Transmitters

You can update your AM Radio signal on campus with these FCC Certified (Part 15) transmitters.

RANGEMASTER Company has been selling exceptional personal radio broadcasting solutions since 1997.

RANGEMASTER basic product was FCC certified in 1997.

Check RANGEMASTER references!
RANGEMASTER will be glad to provide you with contact information so you can talk with one of our many satisfied customers.

RANGEMASTER main goal is to enjoy, and help others to enjoy legal Part 15 broadcasting.

RANGEMASTER Company
Attention: Keith Hamilton
Office Phone: (919) 362-9393
FAX: (919) 367-0607


NFCB (National Federation of Community Broadcasters)!

AIR is a professional service organization for radio producers; enabling producers a community for idea exchange, professional development and technical inquiry through a daily list-serve, chats with industry veterans, training sessions, mentoring, biannual conferences and a quarterly professional development magazine.

BMI is an American performing rights organization that represents approximately 300,000 songwriters, composers and music publishers in all genres of music. The non-profit-making company, founded in 1940, collects license fees on behalf of those American creators it represents, as well as thousands of creators from around the world who chose BMI for representation in the United States. The license fees BMI collects for the "public performances" of its repertoire of approximately 4.5 million compositions - including radio airplay, broadcast and cable television carriage, Internet and live and recorded performances by all other users of music - are then distributed as royalties to the writers, composers and copyright holders it represents.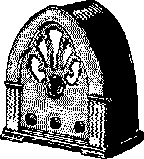 Links and content being added - stop back and visit again.
Please send us your comments, suggestions and critiques.
Contents of this site copyright 1996 - 2010, all rights reserved by the
Intercollegiate Broadcasting System, Inc.,
367 Windsor Highway, New Windsor, NY 12553-7900
Phone: 845-565-0003
Fax: 845-565-7446
Web site design and content by
Jeff Tellis, IBS Vice President for Information Services
September 15, 1941 - March 14, 2006