My Name is Joe Marasco and I welcome you to my collection of 60's & 70's Hockey Bobbing head dolls. Inside, there are ~214 pictures (Jan 2010) and 15 different pages (JAN/09) of information on these interesting collectibles. I hope you can take the time to enjoy all the pictures. I look forward to your comments or write me if you have 60's sports dolls for sale. I occasionally have dolls for sale so let me know what you are looking for. You can reach me at: Joe

Click= HISTORY OF VINTAGE HOCKEY BOBBING HEADS of the 60's! to begin your journey and meet:
"THE BOBBING BOYS OF WINTER"

LATEST UPDATES=
** Added pictures of 3 new dolls that were recently discovered. Added information on the 3 dolls in the REGULAR SERIES, INTERMEDIATE & ODD BALL sections. (Jan 2010)
** check out my page that shows all the hockey dolls that are known, INDIVIDUALLY and in ALPHABETICAL order. The pictures can also be enlarged for close up detail. See the"CLOSE UPS" page. (CLOSE UPS )

** Check out my updated TOP 25 RAREST hockey dolls to collect & my PRICE GUIDE. See my "PRICES" page. (PRICES ) (Jan 2010)

** I created a new section showing the Japanese patents that I have found for the bobbing head dolls created in the 1960's. See my new ORIGINAL JAPANESE PATENTS page for 9 baseball patents that I found and a description of the Japanese text that you see on the patent application. If any reader finds a patent # different from those presented in my Patents Section on any of their dolls, please pass it along to me. I will then find the artwork and add it to my web site. ENJOY!

** small stuff

I have a standing question for any of you readers or hockey doll collectors - I want to know when some of the minor leaque dolls were first sold. If you know or remember buying or seeing some of these dolls in the arenas where they were sold, send me an email. The minor leaque dolls did not have dates on the bottom of the bases. The Baltimore Clippers & the Portland Buckaroos for example, had their own mold designs so I am not sure exactly when they were produced. Any help would be appreciated. THANKS

Price Guide for Bobbing Head dolls =
This book came out (Nov. 2005) about bobbing head dolls. It was sold at most larger book stores (Borders, Barnes & Nobles) & on-line book stores. I have even seen it on Ebay & Amazon.com! It was written by Lou Criscione that alot of you already know. I am proud to say that he used alot of my hockey dolls for pictures in the book. List price is $12.99 but i understand that Lou sells it from his website for ~$10.00 PPD.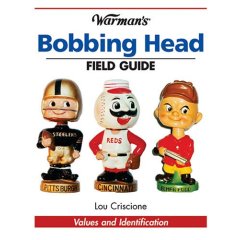 (Site started 8/19/01 -- last update 3/1/11)