Fulton Village and Tower - Borders Region, Scotland
---
Earliest Reference to a Fulton in the Borders area:
"Richard of Rutherfurde witnessed a charter by Cyril Saddleler in 1330, (Liber de Calchou, 381), a deed of gift by Thomas Vigurus, burgess of Roxburgh, to Sir William of Fultoun, and another by the latter to the monastery of Dryburgh, circa 1338. (Liber de Dryburgh,261-262)" The Scots Peerage, Founded on Wood's Edition of Sir Robert Douglas's Peerage of Scotland, Containing an Historical and Genealogical Account of the Nobility of that Kingdom, edited by Sir James Balfour Paul, LL.D., Vol. VII, David Douglas, Edinburgh, Scotland, 1910., p.366. Copy available Edinburgh Library, Edinburgh, Scotland.
---
Fulton Village in Roxburghshire, Scotland:
1) Blaeu's Atlas
The village appears as Foultoune in the Blaeu's Atlas, 1654. A copy of this map is available at the Belfast Linenhall Library, Belfast, Ireland, in the book Upper Teviotdale and the Scotts of Buccleuch, A Local and Family History by J. Rutherford Oliver, W. & J. Kennedy, Hawick, Scotland, 1887.
2) Statistical Account
"Fulton -- Has now scarcely any vestiges of its ancient consequence, except some remains of its tower, which are still standing, and sometimes used by the tenant as a bught for his sheep. The well known surname Fulton, corresponds to the name of this place; but we do not adventure to conjecture, whether there have been any connection between the one and the other; for we have been able, as yet, to trace less of its history, even by tradition, than any of the former." The Statistical Account of Scotland 1791-1799 by Sir John Sinclair , reissue general editors Donald J. Withrington and Ian R. Grant, E.P. Publishing, Ltd., 1979, p. 563. Copy available at Midlothian District Library Headquarters, Loanhead, Scotland.
3) Gazetteer
"FULTON, a village in the shire of Roxburgh, and parish of Bedrule, near the river Rule 4 miles southwest of Jedburgh. There are now scarcely any vestiges of its ancient consequence, except some remains of its tower. "Ordnance Gazetteer of Scotland, A Graphic and Accurate Description of Every Place in Scotland, Edited by Francis H. Groome, Vol. 1, Blackwood, Le Bas and Company, London, England, 1903, p. 593. A copy is located at the Scots Ancestry Research Society, Edinburgh, Scotland.
---
"Bedrule, a hamlet and a parish of Teviotdale, central Roxburghshire. The hamlet, lying on the right bank of Rule Water, 4 1/4 miles WSW of Jedburgh, its posttown and railway station, consists of the parish church (rebuilt about 1803; 140 sittings), the manse, the school, and a few scattered cottages. Close to it on a grassy knoll, are scanty traces of an ancient castle, the stronghold of the Turnbulls, where about 1494, 200 of that fierce Border clan were brought before James IV, with halters round their necks and naked swords in their hands.
The parish is bounded NW by Ancrum, NE and E by Jedburgh, S by Hobkirk, and W by Hobkirk and Cavers. It has an extreme length from N to S of 4 1/2 miles, a width from E to W of from 1 to 2 3/8 miles, and an area of 3952 1/8 acres, of which 35 are water. RULE Water traces nearly all the western, the TEVIOT more roughly the north-western, boundary; and the surface has a general eastward rise to DUNIAN Hill (1095 feet above sea-level), Black Law (1110), and Watch Knowe (957). The rocks belong mainly to the Silurian system, but partly also to the Devonian; the soils of the uplands are thin and poor, in places spongy, while those of the haughs are occasionally argillaceous, but chiefly a rich sandy loam super incumbent on gravel. In the S the peel tower of Fulton stands, fairly perfect, on a greensward slope, confronting 'dark Ruberslaw' (1392 feet) across the Rule; northward are a hill-fort and the sites of Ruecastle (burned in Lord Dacre's raid, 1513; and again in Hertford's 1545) and Newton Tower. William Turnbull, Bishop of Glasgow from 1448 to 1454, was probably a native of this parish;... Bedrule is in the presbytery of Jedburgh and synod of Merse and Teviotdale;... "The Topographical, Statistical, and Historical Gazetteer of Scotland, Volume First A-H, A Fullarton & Co.,Glasgow, Scotland, 1842, p.137. Copy located at the Scots Ancestry Research Society, Edinburgh, Scotland.
---
FULTON NT 605158 "This ruin stands on moorland above the Rule River. The tower was held by Margaret Home in the 1570s before her marriage to William Turnbull. It consisted of a main block 9.3m by 7m over walls 1.2m thick. The unvaulted basement has gunports. The hall above has a fireplace at the west end. Not much remains of the third storey bedrooms or of the staircase wing on the SE side." The Castles of Lothian and the Borders by Mike Salter, Folly Publications, Worcs, England, 1994, p. 144 and floor plan on p 16, map on p. 167.
---
At Fulton, once a separate village and farm, but now united to Bedrule, there is a considerable ruin of one of those strongholds called Border Peels. There are three side walls pretty entire, and of great thickness and solidarity. The building is about the usual size, of a square form, with loop-holes in the wall, for the discharge of arrows. There is a tradition in the country, that the last person who inhabited this Peel was one of the Turnbulls, between whom and the Kers of Fernihirst (sic) there was a deadly feud. A band of the latter came to seize Turnbull, and having got access by stealth into the tower, came upon him, who, never dreaming of such a visit, was holding his infant child on his knee, while the gudewife prepared the sowens for supper, and amusing it by singing the old Scottish ballad,
Little wat ye wha's coming,
Jock and Tam and a''s coming.
The Kers rushing in upon him exclaimed, "Little wat ye wha's coming" indeed, and were proceeding to seize him. Turnbull, though thus totally unprepared, leaped up and seized his sword, and being a powerful man, was preparing for resistance, but was withheld by the tears and entreaties of his wife, who clung to him and prevented further resistance. What became of him, after he had thus fallen into the hands of his enemies , the writer has not been able to learn." The Statistical Account of Roxburghshire by the Ministers of the Respective Parishes, William Blackwood and Sons, Edinburgh, Scotland, 1841, p. 284. Copy located at St. Andrew's Public Library, St. Andrews, Scotland.
---
LDS International Genealogical Index- Early Records:
The following two early entries appear in the County of Roxburgh:
| | | | | | |
| --- | --- | --- | --- | --- | --- |
| Foulton, Thomas | Jean Turnbull | H | M | 26 Nov. 1731 | Roxburgh, Minto |
| Foulton, William | Margaret Amos | H | M | 15 May 1737 | Roxburgh, Wilton |
There were also nine marriages and births listed for the 1800s.
---
"In an attempt to regulate and govern the Border region more effectively, the two governments had reached an agreement in 1249 known as the Law of the Marches. By its terms both sides of the Border were divided into three area - East, West, and Middle Marches - each to be administered both judicially and militarily by a March Warden, the first being appointed in 1297....On the Scottish (East March) side, the Wardenship was usually held by the Home family who, from their fortress at Home Castle, guarded the richly fertile coastal plain known as the Merse.... Incorporating the Sheriffdoms of Selkirk, Roxburgh and Peebles, its (the Scottish Middle March) judicial centre was Jedburgh where justice courts were held, and its Wardens, usually the Kerrs, resided at their castles of Ferniehurst and Cessford. The Scottish Middle March was also the home of the notorious 'Limmers' or thieves of Teviotdale and Liddesdale. Infested with towers and 'strong houses' these grim little valleys were home to Scotts, Elliots, Armstrongs, 'great surnames and most offensive to England', and it was men of these families who persistently launched some of the largest and most devastating raids into the English East and Middle March. No-one was safe from their plundering, Scotts or English, and redress was hard to obtain.
Remote and inaccessible, Liddesdale in particular was a veritable robbers' roost and the blatant lawlessness of its inhabitants necessitated the appointment of an additional Warden, or Keeper. Residing in the forbidding and gloomy fortress of Hermitage Castle, 'the strength of Liddesdale', these Keepers, at the end of the 16th century, included the likes of James Hepburn, 4th Earl of Bothwell, and Sir Walter Scott of Buccleuch, dangerous rogues who were, more often than not, in deep collusion with the thieves and raiders they were charged to control, and 'wynked' at their nightly depredations." The Border Reivers, The Story of the Anglo-Scottish Borderland by Keith Durham and Angus McBride, edited by Lee Johnson, Reed Consumer Books, Ltd., London, England, 1995, p 5-6.
"The criminal traffic across the Middle March frontier was enormous; it was wide, and desolate, and criss-crossed by the secret ways of the raiders, through the mosses and bogs and twisting passes of Cheviot, the "high craggy hills" above Teviotdale, and the bleak Northumberland valleys. This was the hot trod (lawful pursuit of reivers) country, the scene of the Redeswire Raid and the massive forays when as many as three thousand lances came sweeping over the moorland to harry Coquetdale or to make a smoking waste from Teviotdale to the Jed Water. No Wardens carried such a burden as those of the Middle Marches; it was, as one of them said, "an unchristianed country". The Steel Bonnets, The Story of the Anglo-Scottish Border Reivers, by George MacDonald Fraser, first published 1971, paperback edition published by Collins Harvill Publishers, London, England, 1989, p.38.
---
Rule Water and Its People
1) "Before the Union of the Crowns, farmhouses in exposed positions were frequently built where they could communicate with a neighboring tower or peel to give timely warning of the approach of the English. Bonchester-townhead was one of these farms on the north side of Bonchester hill, and on the estate of Abbotrule. The foundations are still well defined, and in the adjoining dyke stones of large size, which were evidently used in the buidling, are numerous. It had a vaulted chamber, the ruins of which 60 years ago were distinct, and the arched roof was in places visible. The peels of Langraw and Fulton were both within sight of this defensible farmhouse; and from its elevated position a few minutes' walk commanded a view of Wauchope Castle and several of the Southdean peels. In 1645 Thomas Turnbull was the tenant. He was succeeded by his son William, who died in 1686, and a tombstone in the old churchyard of Abbotrule records his death." (page 191).
2) Rulewater & Its People - Tombstone Inscriptions: "In remembrance of Isobel Cockburn, daughter to Walter Cockburn, hynd (born) in Fulton, who died Feb 19, 1782, ages 17 years." (page 195).
3) Families of Spittal, a village several miles north of Bedrule: Surnames: Veitch, Murray, Bunyan; Thomas Bunyan (c. late 1700s), Agnes Turnbull (marriage c. early 1800s). (page 234)
4) Ink Drawing of "Fulton Tower, Bedrule, 1907", (page 235).
5) "William Armstrong, now tenant in Bedrule Mill is descended on both sides of the house from an old family of shepherds. His grandfather was at Berryfel, afterwards at Fulton, Bedrle and Roughlea." (prior to 1834) (page 293) "When the rentroll of the barony of Abbotrule was drawn up in 1626, it was found that the Turnbulls held most of the farms. In 1569, Adam French, eighth Laird of Thorndykes and wife Margaret Hopringle acquired from Andrew (Home) commendator of Jedburgh Abbey for payment of 30 hundred merks the land of Bedrule..." (page 293)
"In 1658, Charles Kerr obtained a charter under the Great Seal to the lands of Abbotrule." (page 293)
Rule Water and Its People, An Account of the Valley of the Rule and Its Inhabitants, first published in 1907, preface by George Tancred, Weens, Rulewater, a special edition produced by Cedric Chivers LTD, Bristol, for the Borders Regional Library, Selkirk, printed at U. Press, Edinburgh., Scotland, 1992.
---
Fulton Fisherman from the Borders:
"The villages along the southern belt of the Merse along Tweedside down stream from Coldstream once rang in the early morning with the clatter of studded fishermen's boots. Ladykirk, Paxton, and Hutton at one time all had salmon fishing crews working nearby fisheries. Many of the families renting fisheries from proprietors could trace their connection back one hundred years , as could the Fulton family with the Hotham's of Milne Graden, where the little traugh fishery had been leased and worked by the former for five generations up until 1990. Discovering the Borders I by Alan Spence, John Donald Publishers, Ltd., Edinburgh, Scotland, 1992, p. 81.
---
Fulton Tower Materials - Questions:
One of the lingering questions has been what happened to the village of Fulton that is listed in the Beau's Atlas of 1654 ? I think after one reads some of the historical data on the Border's area, one concludes it was a miracle that anyone survived. In any case, I know that Margaret Home (I have also seen it spelled Hume) lived in the Fulton Tower in 1570 and married a Turnbull.
James VI on the 20 January 1571, granted to Margaret Hume, daughter of John Hume of Cowdenknowes, the lands of "Fultoun" and "Crocecleuch" in the barony of Bedrule. This would suggest that the Humes were not related to the Fultons and the Tower was a gift from the King (spoils of war). The Hume family members were the Scottish Wardens on the Scottish East March, but the Fulton Tower is in the Scottish Middle March. By the way, the Kerrs of Ferniehurst were the Wardens on the Scottish Middle March and we know that they had a deadly feud with the Turnbulls.
Perhaps all the male Fultons had met "Jedburgh Justice" (immediate execution with no trial) at the "Capon Tree" nearby. This huge old oak tree with its numerous limbs are just at the right height for multiple hangings. The history books explain that this sort of "Justice" occurred during the reigns of both James V (1513-1542) and James VI. Some historical materials describe 24 Armstrongs and 140 of the most powerful thieves hanged on the spot. I would say that could easily explain how an entire village could be quickly decimated, especially the male inhabitants.
---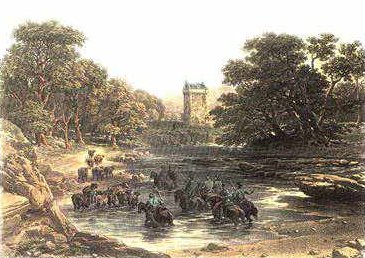 ---
Gilnockie Tower Print:
An antique print obtained in Edinburgh, Scotland, of the Gilnockie Tower, a peel tower in Canonbie, Dumfries, that was the stronghold of the Armstrong family. It was located about 30 miles southwest of the Fulton Tower. It has been hand-painted with water color. When you study the picture, you feel transported back in time and can hear the water gurgling , can smell the cattle and hear them mooing, as you approach "home". The Fulton Tower probably looked very much like this one and the surroundings with all the trees is most likely how the flora was in the 1400-1500s.
---
---
"The following preliminary sketch has been compiled from various notes made by Dr. Robert Valpy Fulton, of Dunedin, N.Z., and other sources.
With regard to the origin of the name, one writer says that Fulton, Fulltown, Fowltown, Fowlertown, Fullertown, and Fullerton come from a member of the king's household, who in A.D. 1205 was granted a royal charter by King John, to supply the royal table with game.
There are two probable roots of the name - Fugel, meaning a bird or fowl, and Ful, meaning foul, muddy, swampy, etc., the one deriving it from the locality, the other from its visitants. The name Fullerton probably had a different origin, from either a fuller, a cloth-worker, or some Saxon name like Folkher. At any rate, Fulton and its variations are from very early dates clearly distinguishable from Fullerton, and the former is never found with the later in one family.
The Fultons appear to have been of Saxon origin, and at an early date to have migrated up the east coast, eventually settling in Ayrshire, where to this day they exist in considerable numbers.
There is, however, reason to believe that the whole of the Fultons did not migrate to Scotland. It will be seen, in the remarks upon arms farther on, that there were in time of the Crusades a certain knight, Sir de Fulton de Holt - presumable the place of that name in Norfolk - and, in 1604, a Fulton family in Shropshire. There is also the indication, such as it is, afforded by the charter of King John just mentioned. At the present day, the name is of rare occurrence in England." Memoirs of the Fulton of Lisburn, compiled by Sir Thoedore C. Hope, printed for private circulation, 1903, Chapter I ,The Fulton Family, p. 9. Copy located at Belfast Linenahll Library, Belfast, Ireland, and at the New York Public Library, N.Y.
"The English surname Fulton is of local origin, being derived from the place where the original bearer once lived or held land. In this instance, the name is derived from the now extinct border village in Roxburghshire. The name is derived from Old English and means filty or muddy place, and was probably adopted as a surname by one who lived in the vicinity of a swampy piece of land. The name has also been translated as "fowl enclosure", and most likely given to one whose occupation was looking after fowl." The Historical Research Center, Family Name History for Fulton, 1991.
---
Fulton Surname Historical Overview:
FULLARTON, FULLERTON, FOULERTON. (1) From the barony of Fullerton in Dundonald parish, Ayrshire, in Latin de villa aucupis. Alanus de Fowlertoun who founded and endowed out of his lands a convent of Carmelite or White Friars at Irvine died c. 1280. His son, Adam de Fowlerton, had a charter of the lands of Foullartoun and Gaylis in Kyle Stewart from James the High Steward, c. 1283 (Nisbet, Plates, p. 116). A branch of the family settled in Arran, and are said to have had from Bruce a charter of the lands of Kilmichael there in 1307 with the office of coroner. In 1329 there is a record of payment of the receipts of Arran by Ade de Foulerton, and also a record if salt under his charge at Glenkill (ER., I, p. 184, 201). Rankin de Fowlartoun, dominus de Corsby, appears in 1429 (Ayr, p. 83), Johannes de Foulartoun held a tenement in Glasgow, 1487 (REG., p. 454), and John Fouller or Fullarton was first minister of Sanquhar after the Reformation (Fasti, II, p. 318). (2) In 1327 Robert I granted to Galifridus de Foullertoune the land of Foullertoun in the sheriffdom of Forfar (RMS., I, App., 79), with the office of falconer within the sheriffdom. The estate was held by the family for at least 120 years, after which they transferred themselves and their name to the parish of Meigle still called Fullarton. Stodart (p. 121) says Fullarton of Kinnaber in Angus is a branch of Fullarton of Ayrshire. David de Fowlarton was one of the assize on the marches of Woodwrae, 1388 (Bamff, p. 22), William de Foultertoune and Robert de Foulertoune witnessed transumpt of charters, 1450 (REB., I, 141) and Robert Fowlartoun de Dunovn was one of an inquest on lands of Ouchtirlowny, 1457 (RAA., II, 112). ffowlertoune 1371, ffulartone 1680, Folartoun 1447, Folertoun 1450, Fowlartoune 1532, Fulareton 1432, Fulertoun 1450, Fullarttown 1682, Fullertowne 1679, ffulertoun, Fowillertoun.
FULTON. From a place in Ayrshire which I am unable to find. There was also an old village of the name in the parish of Bedrule, Roxburghshire. Thomas de Fulton witnessed a donation to the monastery of Paisley, c. 1260, and in 1272 he witnessed a quitclaim of the land of Fulton (RMP., p. 58, 51). Thomas de Fultoun and Alan de Foulton witnessed grants by Malcolm, earl to Levenax to Paisley, 1273 (Levenax, p. 15-17; RMP., p. 103). Alan de Fulton appears again in 1284 as witness to a resignation (RMP., p. 65) Henry de Foultone of Lanarkshire rendered homage in 1296 (Bain,II, p. 212). Thomas de Fultone, vicar of the church of Irnnewyk (Innerwick), and Thomas de Fougheltone of Lanarkshire also rendered homage in same year (ibid.,p. 204,211). Robert Fultoun possessed a tenement in Irvine, 1506 (Irvine,I,p. 159), and John Fultoune possessed one in Glasgow, 1554 (Protocols,I). Robert Fulton (1765-1815) of Ulster Scots descent was the first to successfully to apply steam to navigation in the United States. Ffultoun 1669, Fulltone 1709. The Surnames of Scotland, Their Origin, Meaning, and History, by George F. Black, PH.D., published in 1933 by Birlinn Limited, Edinbugh, and Cromwell Press Ltd., Wiltshire, reprinted by N.Y Public Library, N.Y., 1946, p. 282-283
---
"In Ireland Fulton is found exclusively in Ulster and mainly in Co. Antrim. Most of the early references to the name in Scotland were in Ayrshire and were in the form de Fulton, meaning 'of (the place called) Fulton'. But it has still not been established where this place was. There was a Fulton in the parish of Bedrule in Roxburghshire and some in Scotland may have taken their name from there.
Several Fulton families came to Ulster from Ayrshire in the early years of the Plantation and settled in the counties Tyrone, Derry, and Antrim. The Lisburn Fultons, in Antrim, for instance, were there in 1611. In mid-nineteenth-century Antrim, the name was found mostly in the barony of Lower Belfast, in the Carnmoney district. The Carnmoney Fultons have been there since the early eighteenth century and seem to have had some connection with the Tyrone family." Surnames of Ulster, p. 74. Copy located at Londonderry Public Library, Ireland.
---
Fulton / Foulerton Name Spelling Variations:
"The sound of a name is generally more important than its spelling, which would have been standardized only comparatively recently. Shakespeare, who was somewhat literate, spelt his own surname in over twenty different ways in his lifetime." Collins Guide To Scots Kith & Kin, A Guide to the Clans & Surnames of Scotland, no author or editor listed, Harper Collins Publishers, Glasgow, Scotland, 1953, 1989.

Fougheltone
Foulartoun
Foulerton
Foulertoune
Foullartoun
Fouller
Foullertoun
Foullertoune
Foulton
Foultone
Foultoune
Foultown
Fowlarton
Fowlartoun
Fowlerton
Fowlertoun
Fowlton
Fulton
Fultone
Fultoun
Fultoune
Fullarton
Fullerton
Fullertown
Fulltown
Fultin
Fulton
Fultone
Fultoun
Fultoune
Fultown
"Individual names hardly ever can be interpreted successfully on their own...(they have) horizontal links with other place names...and created at a particular point in time, they have vertical links....(They) have distribution both in space and time. Place names have come to be recognized as valuable raw material for the study of settlement history....Early Anglican settlements pushing northward ... names that end in tun.
FULTON Rox (Fougheltone, Foultone 1296) LOE fugol-tun 'bird farm'." Scottish Place-Names, Their Study and Significance, Batsford Local History Series, by W. F. H. Nicolaisen, B. T. Batsford, Ltd., London, 1976, p 34, 38. Copy located at Londonderry Library, Derry, Ireland.
---
Prepared By; Roberta R. (Fulton) Hirth
27 July 1996
---
Return to our Fulton Homepage
Last Updated 8/9/2005