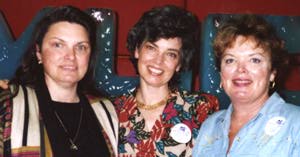 ---
Florence (Fulton) Wolfe
Roberta (Fulton) Hirth
Lucille (Fulton) Rudiger
---
These three Fulton sisters were born in Liberty, Sullivan County, New York. They are direct descendants of James Fulton, who was born 7 August 1739 in Dalkeith, Scotland and who died the 23 November 1824 in the Fulton Settlement, Bethel, Sullivan County, New York, USA. James established one of the earliest settlements in Bethel, Sullivan County, New York in 1804 called, quite appropriately, the Fulton Settlement.





Some Items of Interest
Odyssey to the Fulton Settlement in Bethel, Sullivan County, N.Y., USA
Descendants of (from Forfar) Fulton
Fulton Surname Derivation and History
Fulton Tower, Roxburghshire, Scotland
Fulton 1995 Reunion in Scotland and Ireland
Fulton 1997 Reunion in Nova Scotia, Canada
Fulton 1999 Reunion in Salt Lake City, Utah
---
Thanks for coming.
Our Web Counter indicates that you are visitor number
since October 9, 1996.


Email: Roberta Fulton Hirth at


---
Copyright 1996-2005 Roberta R. Hirth - All Rights Reserved
Permission is hereby granted for use of the information included herein for Individual Personal Genealogical Research only. No use shall be made "for profit" without the express written consent of the author.
---
Last updated 8/9/2005 jsh