STAINED GLASS HORSE PORTRAITS
---
ALL HORSE AND PONY BREEDS IN ANY COLOR
I Can Design From Your Photo
All of the designs below hang free in a window. The frame around is simply a visual effect to enhance the designs. They DO NOT come in frames.
Bay Arabian

HEAD STUDIES

Approximately 8" X8"

RC-3 $55.00





Palomino Quarter Horse
Black Arabian

FULL BODY PORTRAITS

Approximately 15 in

RC-5 $135.00

Hand Painting

i.e apaloosa

$10.00 extra

Black Clydesdale

Lippizan

$150.00

Bay Hunter Jumper

$150.00

RIDER ADDITIONAL $35.00
SPECIALTY DESIGNS
CAROUSEL HORSE.

A wonderful addition for your carousel collection. Measures 9" to the top of the post. Shown in lovely white baroque glass.

RC-85 $42.50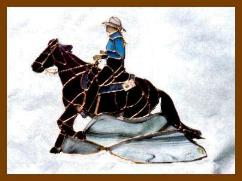 Cutting Horse - Free Hanging design
Custom Design Done From Customer Photo - There is a $35.00 art charge for custom design work
---
All designs are copyrighted and may not be reproduced.