STAINED GLASS DOG HEAD PORTRAITS
ANY BREED OR COLOR
Each piece is hand-crafted and detailed. Chain and wire accents and hand-painting add to the beauty of these designs. The glass is carefully choosen to best represent the breed, color,and texture of the coat.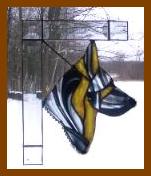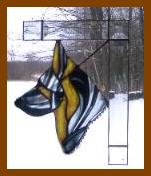 Stained glass head studies set in L design of five bevels. Can be ordered as one or as a pair to accent your window. All breeds available as well as horses & cats.
Measures 12" high
$65.00 each
Golden Retriever

Black & Tan G.S.

Cocker Spaniel

Doberman Pinscher

Boston Terrier

Rottweiler

Giant Schnauzer

Black Lab

Shetkand Sheepdog
Designed from customer photo
The above designs are available in all colors appropriate to
the breed.
The average piece is 8" x7 " and contains 14 pieces of glass.
RC-1A $49.50

A portrait of your dog can be designed from your photographs for a $30.00 design charge.
All designs are copyrighted and may not be reproduced.