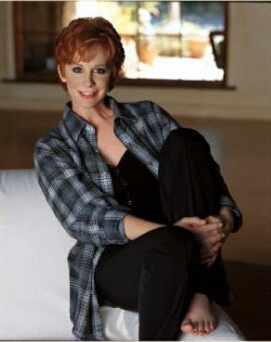 Check out her Official Web Site at Reba.com

Reba McEntire is the greatest female singer around. Her full name is Reba Nell McEntire Blackstock She was born in McAlester, Oklahoma, and grew up on a ranch in Chockie, Oklahoma.
---
Reba got her break singing the National Anthem at the National Finals Rodeo in 1974, in Oklahoma City. Since then she has become "Number One Best Selling Female artist" ever.
---
She has won many awards, too many to list here. Reba was honored with the title of "Female Country Artist of the Century" in November 1999. Reba does a lot of "Humanitarian Work" and also has acted in various movies.
---
The Texoma Medical Center in Denison, Texas is the home for The Reba McEntire Rehabilitation Center, Reba's Ranch House, and The TMC Reba Mobile Mammography Unit.


Click Here to see pictures of the center.
---
She also had her own television show on WB called "Reba" It was a comedy about a divorced woman raising her kids.

The Dream Comes True
We all love Reba McEntire in our family. However Karen is the biggest fan, she has every album. Her dream had been to go to a Reba Concert, and it finally came true in 1999.
---
The last two concerts that were in our area Karen couldn't make them. The first time in '96 she was pregnant with Alex and the doctor advised against it, the second time in '98 tickets sold out so fast, we didn't get a chance to get any. If you would like to read the full story of our adventure click below -


Click Here to Read About A Dream That Came True

This is not an Official Reba Website. This is a fan page, Reba is copyrighted to Starstruck Entertainment; Nashville,Tenn. No infringement or violation of copyright is intended. The picture on this page and other Reba pictures were scanned by me,sent to me thru e-mail, or I have permission to use them.
---


Labeled by ICRA