The Dream Comes True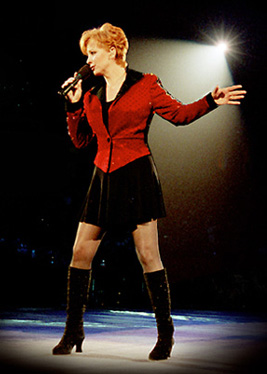 August 16, 1999 Yes, dreams do come true. Karen's did on this date, she saw Reba McEntire in concert at the Iowa State Fair in Des Moines, Iowa !
Pre-Concert Jitters
Karen didn't get much sleep the night before the concert. She went to bed around 11:30 p.m., and finally fell asleep at around 12:30 a.m., but was back up at 2:30 a.m. until 5:00 a.m. before laying down. She slept until 7:00 a.m. and was back up again.
She spent the early morning hours tending to the kids, and after that she started to pack for the journey. Most of the packing was for Jeff and Alex to stay at Grandpa and Grandma Blunk's for the night. When we were ready, I saw she didn't have her Reba T-shirt on (she did have the Reba hat on), and had her go put one of hers on. I even talked her in to letting me wear one.
If you ever saw the commercial about the woman giving her husband the tupperware container, and making him swear the oath, well that was us with the Reba shirt I was going to wear. Please note that I did return it in good condition. We double checked that we had everything, especially the tickets, then it was time to go.
The Journey
The first stop on our journey was to Karen's Mom and Dad's. (A special Thank-you to them for babysitting, we really appreciate it !) After visiting, we were off at 1:15 p.m.. The second stop was to see Josh and Beth and the Grandkids. They live in Winterset now, and that's on the way to Des Moines. Samatha and Rebecca are growing like weeds. After visiting for awhile, we were off again at 4:45 p.m. for Des Moines. We arrived at the fairgrounds at 6:00 p.m.
The Fair
Since the concert didn't start until eight o'clock, we walked around the fair checking out the different things. We saw the Budweiser Clydsdale Team being driven thru the streets, we checked out the exhibit of items made from matchsticks, this was a great exhibit, each item (a crooked house, the Space Shuttle, etc.) was made entirely of matchsticks. The detail was incredible. We saw the huge sculptures made entirely out of butter, the "Last Supper" and the Cow were really incredible, and also had great detail. With all the free shows, foodstands (there must have been a thousand), exhibits, and the Rides Midway, this is a fanastic fair. Worth going to just for the fair itself
The Concert
Finally, the big moment arrives. At 7:00 p.m. the gates to the grandstand open (we got there early and waited), and we and about ten thousand people start coming in to find our seats (glad we got there early). We were in the upper deck, but center section. Karen had her binoculars, but I wasn't sure if the pictures would be any good. (We'll find out when they come back.)
One of the persons who had stood in line with us for two hours to get our tickets, on June 19th, came and sat in the two seats next to us. Karen said "Hi, how are you doing?" and his wife said to him "Do you know that woman ?" He said she looked familiar, and his wife didn't look to pleased at first, but after realizing who we were, she calmed down. The four of us couldn't believe we had tickets next to each other, Karen and I went to one window when it was our turn for tickets, and he had gone to another window.
I don't know his name, he is an elderly gentleman, and he can keep you in stiches. He's quite a character, and fun to be with. The couple on the other side of us were really nice also, I was glad we were sitting with people who wouldn't ruin this for Karen.
The concert opened with Dick Hardwick, a comedian. He was funny, and a few of his jokes had Karen roaring with laughter. During the comedian's performance a long white limo drove in to the left and Karen got even more excited, "There she is, I bet that's her limo !", she shouted. We didn't see who was in the limo, as it went behind the stage area, but who else could it be ? After the comedian finished at 8:30 p.m., the stage hands started setting up lights and making final checks. Then we saw a group of twenty people or so escorted thru the security gate to behind the stage. These must have been contest winners, etc., who got to see Reba in person. When the last ones were escorted out, the show began.
When Reba took center stage at 9:00 p.m., the applause was deafening. She wore a white pants outfit, and started her performance with "Why Haven't I Heard From You". Karen was jamming now. Reba sang a lot of her best songs from the last twenty three years, and also "Forever Love" from her latest movie of the same name.
This woman and her band can really put on a performance and Reba sang her heart out for us. Karen sang along with every song and watched thru her binoculars quite a bit (I did get to use them also). Reba also sang her song "Does He Love you", and her back-up singer sang Linda Davis's part, and that girl can belt out a tune too.
Even though they had the big screens there on each side of the stage, I rarely looked at them, I was so taken by the whole act, and didn't want to miss anything by looking at the screen.
After (what we thought was) Reba's last song, and she began leaving the stage, she recieved a standing ovation. But, things weren't over. In the darkness of the stage, I could see the band members were still in their places. Then the lights came on, and Reba appeared again, this time with a black and silver jacket on, and started singing one of my favorites, "Fancy".
People were still standing when she came in, and started applauding and yelling, then we all set down to enjoy this last one. When Reba left for the last time, it was to a thundering standing ovation that was even louder than the last one. Her limo was to the left and could be seen now, and we watched as she got in to leave, and the people were still applauding. Then, BOOM ! They sent Reba off with a fantastic display of fireworks that was just wild.
---
Sorry, my pics were too far away to be worth showing.
---
Back To Home |
---


Labeled by ICRA