Al Whiteing's Family Homepage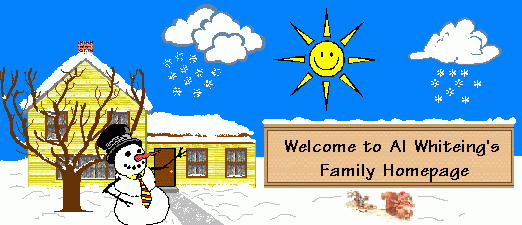 Still coming to you live from Arion, Iowa in the USA !
I have overhauled our website. I've made it a little simpler, to give me more time for other projects
Some of our original pictures and pages will remain.
---
With Facebook and other activities I have neglected this site. I haven't added anything for a long time. I don't know when I'll start up again.
---
The link to Arion History has been re-updated, I didn't know they had moved to another server.(Again)
---
| | | |
| --- | --- | --- |
| | Our Pages | |
---
Terms For Using My Homepage
Due to copyright laws. Images, backgrounds, or any other material that are mine or someone else's on my Homepage MAY NOT be copied, or reproduced in any way (with the exception of any cooking or baking recipes I post on my homepage. You may copy them.). Please, DO NOT link to any images, or backgrounds to use on your site. Certain pages have links at the bottom to the websites where I gathered my backgrounds, images, etc. also. Thank you for being understanding. Have fun while you're here.
---
Animated Graphic Websites

Backgrounds by Windy
The Clip Art Connection

MyFreeClipart.com

---


Labeled by ICRA