Our Chef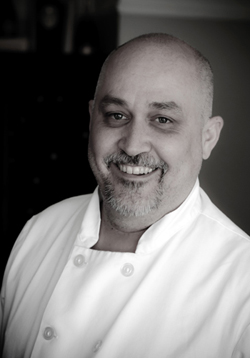 New to the vibrant Sacramento dining scene is Elk Grove native Bret Bohlmann. A year 2000 graduate of the San Francisco Culinary Academy, Bret honed his skills at several Bay Area restaurants: Cypress Club, Vivande, and Bon Appetite among them. On Valentine's Day of 2006, Chef Bret and his wife Debbie launched their Boulevard Bistro on Elk Grove Boulevard, in the heart of Old Town Elk Grove.Bret is creatively living his passion, and often says, "Food is amazing; let there be no rules!"
The bistro is housed in a lovingly converted 1908 California Bungalow, with a calm fine-dining ambiance and intimate seating for thirty. The restaurant is located just blocks from where Bret rode his tricycle as a child, and now, back home again, Bret brings his passion for Escoffier Old World French techniques to the revived historic main street in Elk Grove.

This restaurant provides Bret with the opportunity to share his love of wild game, offal and nose-to-tail cuisine. As a full supporter of the slow food movement and an enthusiastic participant in his local community, Bret is humbled to have been awarded Sacramento Magazine's Best of Elk Grove, KCRA's A List, and his most recent honor, induction into Zagat's America's Best Restaurants guide.
Current events are generally posted on our Facebook page so please take a peek!