The latest from our Bristol Nike folks
including recent and some older photos
Phil Mason BG, USA, Ret.
Battery Commander of the Bristol Nike Site
1959-1961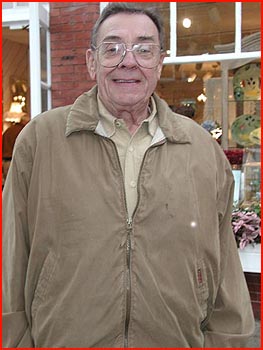 October 2003
Phil added:
After serving at Bristol as the Battery Commander, I was sent to Omaha, Nebraska to serve as the Battalion S-3 for a new Nike Hercules Battalion (6/43 ADA) being activated. In March of 62 I departed Omaha to attend the Officer Advanced Course at Fort Sill and Fort Bliss, stopping along the way to marry Frances Gallogly who I had been going with since my assignments at Rehoboth and Bristol.
Upon completion of the Advanced Course, I was assigned to Germany to command A/1/67 another Hercules Battery located at Darmstadt. Between these assignments, our daughter, Cathy was born. This was the fourth Battery that I had commanded. From there I went to Headquarters, 32nd AADCOM to work in the office of the G-3. While there our second child was born in the Landstuhl Army Hospital. I was next sent to Fort Leavenworth, KS to attend the Army Command and Staff College and complete my college education.
I was then assigned to Sandia Base, Albuquerque, NM followed by a trip to Viet Nam where I worked in the G-3 shop followed by an assignment to the Pentagon (our twins were born during this tour) followed by assignment as a Battalion Commander for the 1/1 ADA Hawk Battalion, then as Chief of Staff for 32nd AADCOM, followed by another assignment in the Pentagon. From there I attended the Army War College and graduate school where I earned my MBA. I was next assigned as the Program Manager for Air Defense Command & Control at Redstone Arsenal, AL, then to Fort Bliss to Command the 11th Air Defense Brigade, which had been moved from Rehoboth, MA to Fort Bliss. During the time I was in command of the 11th Brigade, the 31st Brigade in Florida was inactivated and much of that Brigade was moved to Bliss and attached to the 11th Brigade. Also during this time we were responsible to activate two Hawk Battalions for deployment to Fort Riley and Fort Lewis. We also activated the first Patriot Battalion to conduct the first operational test of Patriot. At one point the 11th Brigade had 12 Battalions. This was by far the most enjoyable and satisfying job of my Army career.
Next I was off to return to Redstone to be the Program manager for Stinger, but within a week of arrival, the promotion list for BG was published and at the end of one year on the job, I was back in the Pentagon serving in Research, Development and Acquisition where I had worked only five years before. In this job I was responsible for about one half of the Army's Research/ Development & Procurement funds. This involved considerable Congressional Testimony. From this job I retired with 35 years of active duty. I had been enlisted for seven years before receiving my commission.
After retirement from the Army I worked for Sanders Associates in Nashua, NH as VP of Marketing, but when Lockheed bought them, I went to work for Hughes Aircraft, who was bought by Raytheon. I retired for good from Raytheon in August 1998.
My wife, Frances passed away on December 23rd, 1995 (THE WORST DAY OF MY LIFE) and I have never remarried. I remain unmarried and living alone. I have four children, three girls and one son, all married and all have children, a total of eleven. All three daughters with their families live close to me, however our son is a LTC, experimental test pilot in the Army, so I feel relatively sure that he will stay for retirement.
In retirement I have become an exercise freak because I never had enough time when I was working. I read at least one non-fiction book each week, am learning to cook, visit many friends, most from my Army days and spend considerable time with our grandchildren doing, I think, a better job than I did as a father when our children were growing up.