US Army Nike AA Missile Base
Bristol, Rhode Island
Rehoboth Nike Site Years Later
by Glenn Meigel, LTC, USA, Ret.
Added bonus:
Pictures of the Rehoboth Nike Housing Area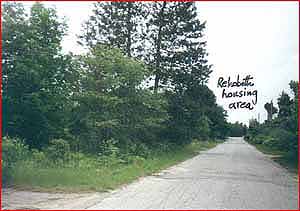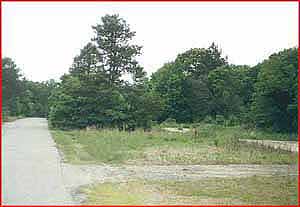 All that remain are cracked asphalt roads, concrete slabs where the houses used to be, and overgrown vegetation. Some of those big green things aren't trees; they're now wild, overgrown bushes and shrubs that used to be neatly trimmed adorning some houses! Buildings of the Rehoboth Battery LCA once located there (not shown but south of and behind the housing area) are still being used today as Rehoboth Town Council offices.
Acronyms.
AADCOM- Army Air Defense Command
(32nd AADCOM was headquartered in Darmstadt, Germany)
BC- Battery Control
HIPAR- High Power Acquisition Radar
IFC- Integrated Fire Control
LCA- Launcher Control Area
LOPAR- Low Power Acquisition Radar
MTR- Missile Tracking Radar
ORE- Operational Readiness Evaluation
PC- Politically Correct
PLL- Prescribed Load List (spare parts)
RC- Radar Control
TO&E- Table of Organization & Equipment
TPI- Technical Proficiency Inspection
TRR- Target Ranging Radar
TTR- Target Tracking Radar
*** *** *** *** *** *** *** *** *** ***
Webmaster note:
Many thanks to Glenn for his many pictures and stories.