"Four Former Comrades-in- Arms Join Forces Again After Forty Years"
or
" Four Old Guys Reunion."
13 October 2007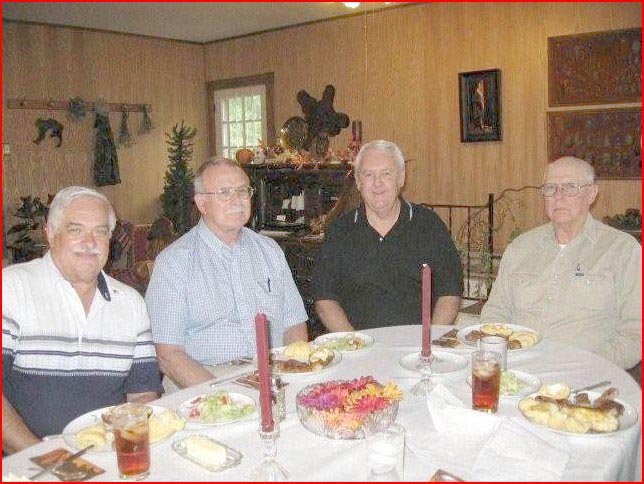 Ken McDermott, Ron Gelinas, Jerry Daugherty and Ken Mort
enjoying a fabulous steak dinner prepared by Ken Mort's wife Kathryn.
*** *** *** *** *** *** *** *** *** *** *** ***
Jerry Daugherty, Ron Gelinas, Ken McDermott, and Ken Mort, all of whom were stationed at the Mt. Hope Nike Site, at some time between 1960 and 1965, got together in Jamesport, MO the second weekend of October this year. Jamesport is Ken Mort's home. He raises cattle there.
This reunion occurred almost solely because of the information maintained by Bill Shaw at his Nike Site Web site. Had it not been for the accidental discovery by Mac that he had been sought for years, when he discovered the site, Ron would not have known that he and Mac both have lived in El Paso for 30 years or so. So a conversation began and contact made with Jerry and Ken ensued with the object of the four of us getting together. It didn't take long to figure out that Jerry, in Iowa and Ron and Mac in El Paso were more free to travel than was Ken. After all, a working cattle ranch requires constant attention. And so, in less than a month from initiation, a plan was laid for the trip.
From Iowa, Jerry and his wife Donelle, made a side trip on their way to AZ, where they were bound, to get their winter home ready for their annual Snowbird run. Mac and Ron flew to KC, and met up with the Daughertys and we all found our way to Ken and Kathryn's place on Saturday. The weather was abysmal, cold and rainy, but the gloom was quickly dispelled by the warm reception that greeted us at the Mort's home. Gracious host and hostess that they are, Ken and Kathryn made us feel at home, fed us a wonderful steak dinner and allowed us to sit around and recall the time we spent as Air Defenders. That's what they're called here at Ft. Bliss now. We spent a lot of time trying to put faces to names that we all recalled. Some have gone on before us, to their reward. They were missed. We all agreed that this meeting was a great occasion, a chance to revisit old friendships, while there was still time. We plan on meeting again, perhaps in RI, and encourage others who regularly drop in to Bill's Web site to get in touch with us.
After dinner, we rode around with Ken while he showed us his ranch. Very impressive! He and his son, Greg, raise Registered Angus cattle; some of which have been accepted for import to Japan, a very difficult market to enter. Reluctantly, at day's end we returned to our motel and traveled on Sunday morning. But glad beyond words to have made the trip. Thanks for keeping the memory alive, Bill. We owe you.
Yfs (your faithful scribe),
ron
----------------------------------------------
Biography received from Ken Mort
Kenneth Mort
CPT USA Retired
While still in high school, my military service began with an eight year enlistment February 3,1955 in Battery B, 381st Field Artillery Battalion, 102nd Ozark Division, located in Gallatin, MO. This was a USA Reserve Unit comprised of WW2, Korean War Vets, and young recruits with reserve commitments. 1LT Neven Smith was the CO. This was still the brown shoe-Ike jacket Army. I remember some of the non-commissioned officers from this area were William Landes, Marvin Teel, and Charles Ramsbottom.
On the 27th day of August, 1958, I enlisted for 3 years in the regular Army, attending basic training, at Fort Leonard Wood, Missouri. After basic, I was assigned to Battery B, 4th Missile Battalion, (Nike Ajax) 56th Artillery, Bristol, Rhode Island.
The men of this unit were also WW2, Korean War Vets, and young Troopers, like myself. Many of the older NCO's were fine example setters. The officers were young, sharp and commanded respect. The younger "Indians" made this Nike site what it was. Not afraid to work long hours, they improvised when necessary, explored equipment capabilities, and expanded their knowledge and understanding of our mission. My hat is off to those I served with. I reflect back to the knowledge initiative, resourcefulness, patience, dedication of those there from 1959 thru 1963. And to those before who set the pace and those who followed in our footsteps.
I was the Fire Control Sergeant, when I applied for, and was accepted to Infantry OCS at Fort Benning, GA. After graduation, I attended Airborne Training and was assigned to the Officer Training Company at Fort Knox, KY on January 7th, 1964. I was the Executive Officer and Tactical Officer.
As the Platoon Tactical Officer, I was directly responsible for leadership development and rating off Allied Student Cadets from Africa and the Middle East. The cadets were from Republic of the Congo, Jordan, Nigeria, Liberia, Syria, Tunisia, and other Middle Eastern countries.
This assignment was extremely challenging due to the language barrier, (this farm boy had not learned the Arabic language) and the sensitive nature of all foreign relations.
Following Fort Knox, I attended Ranger Training during the Fall of 1965 at Fort Benning, GA. After graduation, I was assigned to the First Battalion, 9th Infantry (Manchu) 2nd Infantry Division in Korea.
I assumed command of Charlie Company on the 3rd of January 1966. I remember that very cold day and how proud I was.
Charlie Company, known as the point of the spear has a long and distinguished record dating back to Custer's time. Our Battalion was ordered to the DMZ and Charlie led the move. The DMZ landscape was a nightmare! Artillery craters, barbed wire, mine fields, graveyards, skeletons of villages and homes, and remains of rice paddies. The earth had been shelled, mined, overgrown, booby-trapped, burned, and abandoned to nature. Except for us and the North Korean infiltrators. I do not recall any restrictions on "engagement" while in the DMZ.
On the 29th of June 1966 i was WIA (wounded in action) by a land mine. Two other soldiers were also wounded. I was evacuated to Fitzsimons Army Hospital in Denver, CO for care.
After discharge, I returned to Missouri and worked at the First National Bank in Gallatin for 20 years as an agriculture loan officer.
Kathryn Stith and I were married in 1969. Our son, Kraig J, was born in 1971. The three of us started raising cattle in 1988 and continue to do so in the Jamesport area.
I was awarded the Army Commendation Medal, Purple Heart, Good Conduct Medal, Korea Defense Services Medal, Parachute Medal, Expert Infantry Badge, Expert Badge with Bayonet and Pistol Bars and Ranger Tab.