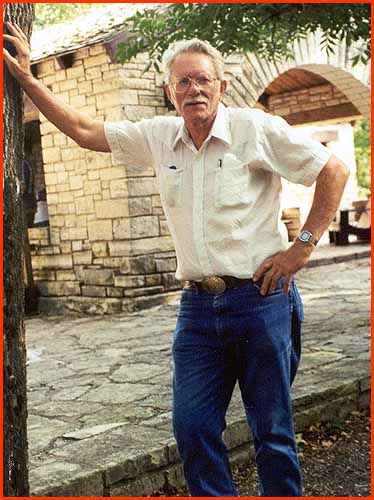 Hayden Moody
Hayden H. Moody, Sp-4.
TDY to RCRC Jan 12, '59 until closure.
The scene is etched in my memory as we rolled into Red Canyon that cold January day after the 180 mile trip from El Paso in the back of a deuce and a half. I believe it was a Wednesday, for Nike was tied behind the Supply building draped in his colorful blanket. I was one of four switch board operators; the others being Govenor Nugent, Jr., William Winchester, and Judge T. Crenshaw, accompanied by MSgt Mickley, who was to assume command, from Sgt. Ribron, as NCOIC, Comm Section.
The five of us were TDY from 525th Combat Sig Co, Ft. Bliss, a new company, not having passed the required proficiency tests to become active. Guard Duty or KP came around about three times a week because of under staffing, so we four (MOS 721) operators were delighted when asked to go to RCRC. Upon viewing our new home, we began to wonder if the decision had been in our favor, and at that time Red Canyon was at the pinnacle of its existence. Little did I know that for the next seven months I would experience duty that few military personnel of that era had the opportunity to enjoy. Much of this was a reflection of Lt Col McCarthy's attitude of "accomplish the mission."
Volunteering for the inevitable draft to avoid a layoff at Western Electric Co., I began Army life at Ft. Chaffee, AR in July 1958, turning 21 while there. The military really changed my life style. I had been living on my own in Dallas for a couple of years; went to basic at 6'2", 162#, and came out in eight weeks with same size waist and 25# heavier. Therefore, the relaxed military discipline that we experienced at RCRC, (i.e., reduced working hours, lack of spit and polish, unbloused boots, few, if any, formations, extra rations, etc) was more to my liking than that of Ft. Bliss. Red Canyon was truly a unique place to serve and have the privilege to establish some memorable friendships, among them, Don Bogges, Sgt Ribron, Gary Snider, Gary Wolff, Al Schickner from Chi-town, Security Guards Clady and Dominguez. Hard to remember their first names, as you know, we went by last name or nickname.
So many things happened in that short seven months, there is not enough time to ruminate on all of them.
Gary Snider and I, coming from Ruidoso, sideswiping the steer, hitchhiking into Carrizozo to get a wrecker. Yes, the steer was butchered and gone when we returned.
Addiction to Grand Prize Beer; ugh.
Guv Nugent at a payday crap game while I turned my laundry in to supply. He "broke" the game before I could get there and dropped ten silver dollars on me for missing the show.
The JATO bottle that we launched from the Comm Center hill which landed about a half mile downrange, missing the landlines to Bliss by mere feet.
The numerous forays downrange to gather booster fuel and one time, after stashing the lot for later pickup, being given a ride back to camp by the good Col. McCarthy. He told the two of us it was too hot to be out there walking. We had an air-conditioned ride in his staff car.
And, the finale! That 55-gal drum packed about half full of booster fuel and detonated after the "closing party" at the mess hall.
Somehow I survived this and then spent the rest of my active duty, less two months at Ft. Hood, at Oro Grande Range Camp. I qualify as a genuine "Desert Rat" after seventeen months in the sand.
Eight months after returning to Dallas and WECO, I went with Philco-Ford Tech Rep Div., later transferring to their Electronics and Tech Services Div., and for the next thirteen years was employed at military bases in Newfoundland, England, Turkey, Libya, Panama, Germany, France, Thailand and numerous states, including two years in Alaska. The final six of those thirteen years, I was assigned to the AUTOSEVOCOM Project. After returning to the Waco area in 1974, I worked in the electronics industry, tried my hand at selling real estate and built our house. Then I became the group leader for the maintenance department of Olan Mills' photo finishing plant and took early retirement when the plant closed in the Spring of 1998, ending a very pleasant and challenging eighteen-year association.
I had met a student nurse in Philadelphia while we both were attending school in '61 and, upon her graduation, we were married in January of 1963, four years to the day of my arrival at RCRC. We have two children, Janise and Brett, who have given us five adorable grandchildren, two girls and three boys. My wife, Joyce, will retire soon from Providence Health Care Center Surgery Dept., with over thirty one years service. We both enjoy genealogy and I am a member of Sons of Confederate Veterans. After Joyce's retirement, as our health allows, we hope to do some mission work before we get too old. I am presently a volunteer for Rick Caywood Ministries, Chihuahuan Connection. We distribute food and medical equipment to missions on this side of the border from Brownsville, TX to San Diego. I am a team driver on a Volvo diesel w/53' drybox. Wish I had not waited so late in life to do God's work. What a blessing!
My thanks go to JP for his efforts in perpetuating memories of Red Canyon Range Camp. Without him and Jim Eckles the trip back in time, RCRC revisited, would have never have happened. Thanks again guys.
H. H. Moody
China Spring, TX
PS: J.T. Crenshaw was driving a logging truck in Ninety Six, SC the last I heard. The rest of the 525th Sig Co personnel mentioned are unaccounted for.