~Ray Rutherford~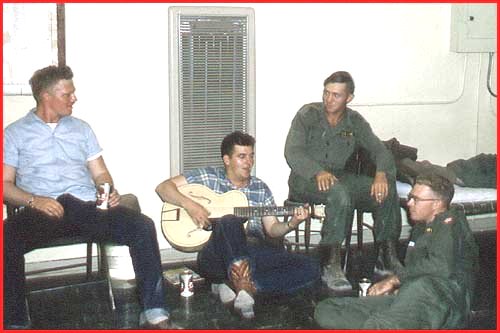 Ray Rutherford entertaining the troops at Red Canyon Range Camp in 1957. Alan Graham took this photo of Ray playing guitar, Billy Horner sitting nearest the bunk and Pete Engeman on the floor of the commo shack.. The man on the left is possibly named Thom. Ray, Alan, Billy and Pete were assigned to the Communications (Commo) Unit.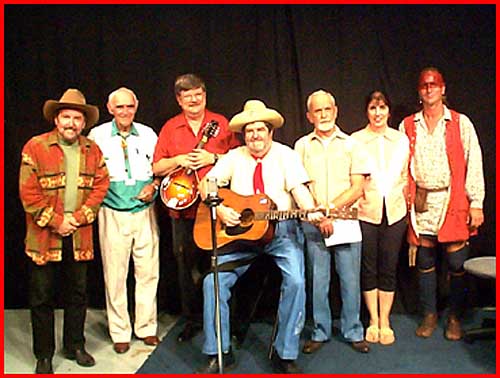 Ray E. Rutherford, better known as "Cuzn' Raye" or "Rawhide Raye, plays guitar during a July 2003 television production. Ray is also on a PBS TV show from Knoxville, TN every Saturday morning as a sidekick to Marshall Andy on the "Riders of the Silver Screen" Program.


I graduated from Norris High School, Norris, Tennessee in 1953. After graduation, three pals and I went to Cleveland, Ohio to find jobs. I got a job in a foundry and worked for a few months. I suddenly realized this was not going to be my occupation.

I came home and went to Nashville, Tennessee and enrolled in the Tennessee School of Broadcasting. I graduated from there and got a job in a radio station in Guntersville, Alabama. I worked there until I got a letter from the President that said, "Greetings from the President of the United States!"

I took my basic training at Ft. Chaffee, Arkansas. After basic training I was sent to Ft. Bliss, El Paso, Texas. For nine weeks I went to school for guided missiles. I heard they were looking for volunteers to go to Red Canyon Range Camp, and I volunteered. When I got there, I said, "Lord, what have I got myself into?" But after a few months, the place grew on me.

I met a guy from Montana who played a guitar, and another fellow from New Jersey by the name of Charlie (?). We formed a little band and got a job in Carrizozo, New Mexico at the Cactus Bar on Saturday nights. A lot of good memories come from the Cactus Bar, with all the "lovelies" there by the names of Rae, Betty, Phyllis, etc. I can't forget our picnic and beer parties at Nogal Lake.

I was discharged from the Army in February, 1959. I came home, and then went to California, and worked out there for two years. My parents were getting old, so I came back home and got a job in a factory where they made heaters. I worked there until the plant closed.

I heard that the Museum of Appalachia, which is a tourist attraction, was looking for entertainers. I got the job and I am still here. I play bass in the Museum of Appalachia Band, and on TV with Marshall Andy and the Riders of the Silver Screen Band.

I hope all the RCRC Desert Rats are wealthy and healthy.
Cuzn Raye