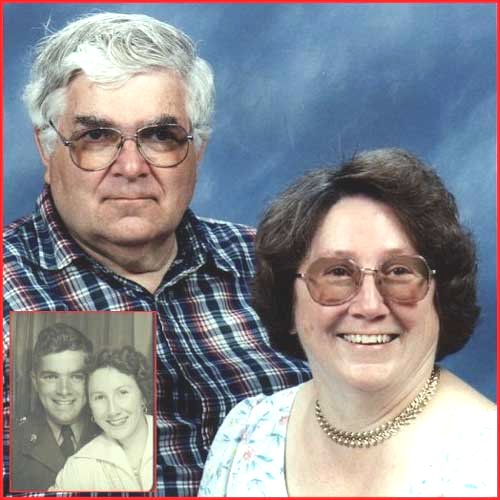 Bill Shaw
The color photo of Bill and Mary Shaw is current. The inset was shot in one of those little booths that you crowd into in El Paso, Texas in 1956, the day before they were married.
It was a real challenge first to date and then marry a West Point colonel's daughter when I was a lowly PFC. I was more than just a bit outclassed to start with and met some real stiff opposition to us dating. In Oct 1956 we were married at St. Michael's Chapel at Ft Bliss and I am still married to same wonderful woman 47 years later. We have had 7 children, 9 grandchildren and 1 great-grandchild.
I enlisted in the Army in 1954 and my total service time with reenlistments was nine years. The first 3 years were at Ft Bliss Nike Ajax IFC school and HQ permanent party in the Radar Park. The last 6 years were at Bristol, RI at the PR38 Hercules Nike base as an IFC techy with more schooling at Ft Bliss for Nike Hercules, Improved Nike Hercules and FUIF (SAGE system). June 1963 was my return to civilian life and we moved to Rochester, NY. In 1965 we moved here to the beautiful Finger Lakes area of New York, just southeast of Rochester in the small town of East Bloomfield.
My Ham Radio/Nike missile Base website is at
http://www.frontiernet.net/~w2hyn51/
Bill Shaw - ex SP6 Nike IFC techy.