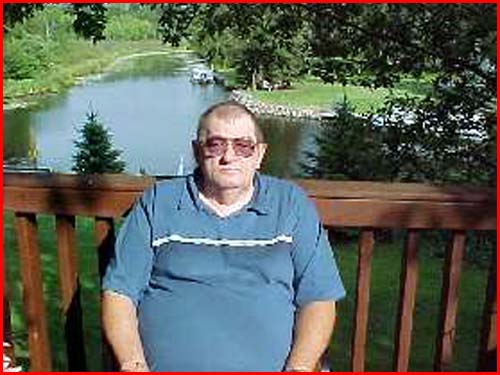 Joe Perry
Photo:
This is our yard. We live on a channel that goes out to Forest Lake, MN. At 6 miles long and 2 miles wide, it is a good fishing and boating lake. 08/09/2003
I joined the Army in June of 1955, took basic at Fort Leonard Wood, Missouri. From there I went to Aberdeen Proving Ground in Maryland. Then I went to Texarkana to the arsenal just out side of New Boston, and we closed it down. I was the last GI to leave the Base. Then I went to Fort Bliss and worked at the Central Motor Pool as a driver. I and one other guy tested all the equipment that was worked on by the civilians. We drove every thing the military had. When they asked me if I would drive trucks at Red Canyon, I said, "Why not?" I spent the next two years at MY BELOVED RED CANYON RANGE CAMP.
My High School Sweetheart came down and we were married at the Catholic Church in Carrizozo on the 4th of July 1957. I was discharged from the Army in June 1958.
We have 5 children: 4 boys, 1 girl, 10 grand children, and 2 great grand children. We have been married 46 years and both are retired.
Keep up the good work.
JOE PERRY