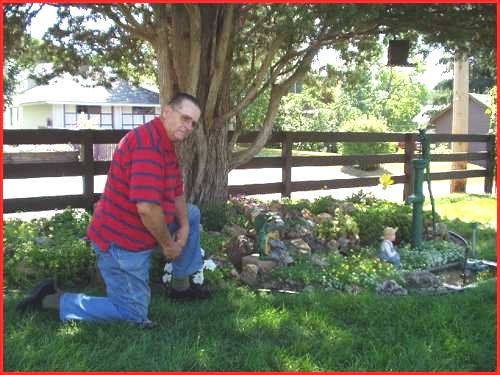 Curt tending his beautiful garden on 08-09-2003.
Curtis Thienes
I was born and lived in the Milwaukee, Wisconsin area until going into the military service on 4 February 1957. First stop, was Basic Training at Ft Leonard Wood, Missouri. Then off to the 1st Guided Missile Brigade Ft Bliss, Texas for advanced training and testing. Third stop, was assignment to Range Operations Battery, Red Canyon Range Battalion, 2nd Guided Missile Group, at IFC area #4 as a AD Msl FC Crewman (Nike-Ajax), MOS 227.10 which later changed to 173.10. Fall of 1958, I was transferred to manage the Missile Fueling Section. Was also involved with the construction of the Chapel during 1958. Other thoughts about my stay at RCRC may be found in the book: The Malpais Missiles by JP Moore.
Returning to La Crosse, Wisconsin on 3 Feb 1959, I became a member of the US Army Reserve program with Company B, 397th Engineer Battalion (C) (A) Onalaska, Wisconsin. After moving though various positions at company level and promotions, I transferred to Headquarters and Headquarter Company, 397th Engineer Battalion (C) (A) Eau Claire, Wisconsin as S-3 Operations Sergeant. I finished my military career with the Ft McCoy Facilities Engineering Area Support Center, Sparta, Wisconsin unit of Headquarters, 416th Engineer Command, Chicago, IL. Retired from the military service on 15 Mar 1983 as a Master Sergeant, E-8.
I have a lovely wife of 46 years with three children, one daughter (born at the local hospital in Carrizozo, New Mexico) and two sons. They have blessed us with a grandson and a granddaughter. I retired with many years of service from La Crosse Lutheran Hospital as Facility Operations Supervisor.
Curtis Thienes