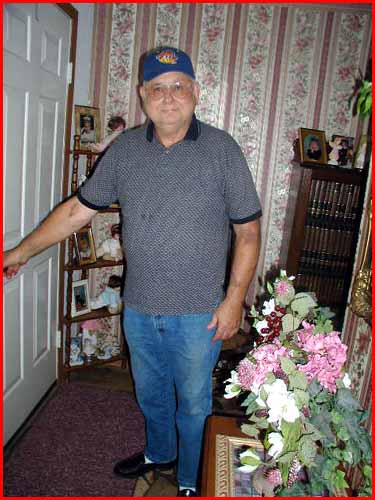 Joe Felin
[Photo taken 08/09/2003 shows Joe in his home in Missouri. He is taking medication which he says causes him to look like The Incredible Hulk.]
In the fifties, everything started with the local draft board for many us older teen-agers. Being born 3-8, (third of 8 kids,) our Dad just recently dying of a massive heart attack and no money.

I was the first of us to graduate from high school (1952.) Oldest brother was with the U.S. Signal Corps, in Korea, my next oldest brother had a "good paying job" on the railroad. I looked both directions, was able to get hired on the railroad right out of high school. It truly was "the best of times, the worst of times".

As the draft board kept getting closer, I kept looking at the U.S. Army & vice-versa. The Recruiting Sgt. gave me a deal one could not resist. When reached the processing center, in KC MO, the Officer said this was no longer available but an even better offer might be available. I knew I had been taken and refused all offers except to volunteer for two years. This gave me a RA (vs. U.S.) Serial Number, which would really move me along above the draftees (per this officer). No guarantees this time, just basic training & wherever the ball bounced. The GI Bill had also expired so apparently some people did get in ahead and were able to get an education, later in life. Did not do too bad as have had a very enjoyable employment record & retired Oct. 15-2002, with over 50 years in the Railroad & Railroad Supply business (counting the two years in the U. S. Army). Also advanced to Spec 4 (Bird Corporal) in about 20 months, while on active duty. The Army time actually added a few pennies to the railroad retirement pension I am now enjoying.

After the processing center in KC MO, it was via bus to Camp Chaffee, AR. Then to Camp Carson, CO. for basic training. Definitely, you are in the Army now! Then home on leave enroute to Ft. Bliss, TX for something called SAM. We arrived in Ft. Bliss just before Thanksgiving, then were sent TDY to RCRC for a lot of chores, with pots & pans being the most hated. I was able to get on outside the mess hall and ran a D-8 cat part of the time. This is what I was doing when I left the railroad, operating a D-7 Cat. Still learning new trades.
Our NIKE Pkg. training started sometime in early 1956, as I arrived at my permanent duty site, Philadelphia, PA on my birthday, May-17. The big 22, one of a few GI's old enough to legally buy beer in West Chester. Some of the guys at Ft. Bliss were one year older than me and just out of college. In Philadelphia, we received a lot of OJT enlistees, mostly under 21. 22 was an old man! NOTE: This old man stuff is from M/Sgt. Geo. Peltonen (Ret.) still living in Philadelphia. George & I were the PX Stewards. We literally worked our way through the Army, as we were paid for a couple of hours for each day worked. We finally got exempt from both guard duty & KP, because of these extra PX duties. We also made the supply run to Valley Forge Army Hospital at least once a month.
After release from active duty in Aug, 57, at Ft. Dix, NJ, I was assigned to the reserves. I always kept them advised of my address but was never called up for summer camp. Was it seven years into the service, the mailman delivered the Honorable Discharge? I have always been proud of this achievement.
As a civilian traveling salesman, it has always been an honor in representing my employer at the military locations. They included Red River Ammunition Depot, Texarkana; Louisiana Army Ammunition plant, Minden, LA; Rock Island Arsenal, Rock Island, IL; U.S. Army Command St. Louis, MO & last but certainly not least, McAlester Army Depot, McAlester, OK.
Looking back on these experience and recently reading you fellows' accounts of UFO's at the NIKE sites, during the cold war, it got me thinking about the very few times B-176 PH 75, actually went into the high alert and our hair stood on end. My assignment was in the BC Van, computer, acquisition radar, early warning plotting board, switchboard & gofer. I remember one practice alert, the high-speed air force planes came in about 5 o'clock & exited about 11 o'clock, on the early warning plotting board. They were highballing.
Years later, I was on a business trip in Seattle, WA the week of 9-11, sitting at the Sea-Tac Holiday Inn Lounge, across from a completely closed down giant airport. It really gave one the creeps, then next day, maybe see only aircraft all day long (in the air). The nearby Boeing plant was on everyone's mind. My son was at work, in Springfield, MO, on his birthday sitting down to coffee & birthday cake, when the WTC event occurred. He now celebrates his birthday on another date. Our world really changed during this short period.
Another almost like a dream thing occurred on May 4, l999 when several of us made the Red Canyon & Oscura Range Camp reunion in Las Cruces, New Mexico. We all owe a lot of thanks to JP Moore, et al for making this possible. We can all say, "Yes, we are proud we served. All gave some, some gave all." Uncle Sam really went first class with us on this trip.
One more goal is to attend the annual NIKE (SF-88) homecoming, near San Francisco, CA and the restored NIKE base. Maybe some of us can get together there?
This bio would be much less than complete without giving high praise to The Malpais Missiles by Master Sergeant J. P. Moore, USAF Retired. If you read it once, you will read it several times.
End of my best shot.
Joe Felin