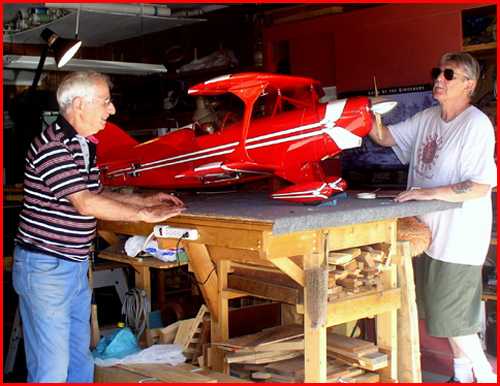 Bruce Graydon, (right) admires neighbor John Trolla's (left) beautiful Curtiss Pitts Aerobat Special. 08/09/2003.
Bruce Graydon
"RED CHINESE BATTLE 19 ALLIED OUTPOSTS, TOUCHING OFF FIERCE
HAND TO HAND BAYONET FIGHTING IN WORST FIGHT IN LAST SEVEN MONTHS!"


HOLEY MOLEY! This was the warm fuzzy that greeted me on the front page of
the DENVER POST in May, 1953 as I rode the bus to report for active duty. After
slapping us around all day, they put us on a train headed for Camp Crowder,
Missouri. Another week of slapping and yelling and then a troop train to Fort
Bliss. We were greeted there by a new bunch of big, nasty persons wielding
broom handles which they used to whack us on our butts to keep us running in a
circle until the trucks arrived to take us to
"THE HILL". Those of you who had the pleasure of basic at Fort Bliss will
understand what I am talking about. Those of you who had the pleasure of being
assigned to DOG-7 will R-E-A-L-L-Y understand what I am talking about.

After infantry training we went on to the artillery portion of basic. About
three weeks into that, I was pulled out of ranks along with 3 or 4 other guys
and told we were being transferred to a new type of artillery
training...something called guided missiles. The Army was hopeful, anyway, since the first
successful test of the NIKE AJAX was still a couple of months away.

I spent the next nine months in EASY COMPANY, 1ST GM GROUP. PACKAGE 8 to be
exact. Around the first of May, 1954 we trucked on up to the garden spot of
New Mexico, otherwise know as RED CANYON RANGE CAMP. A few squad tents, a
slit-trench latrine, lots of wind and sand and a few rattlesnakes. Between
competition from other Packages and the scarcity of missiles, we spent the better
part of May waiting for our turn at firing the Ajax. I would guess that one out
of five would go koo-koo and explode either on the pad or shortly after
liftoff, spewing JP-3 and Red Fuming Nitric Acid all over the place. We spent a lot
of time diving under trucks or whatever to dodge the fire. Bill Smoot tells
about slipping a snake into someone's bunk. I, too, was the recipient of such
a prank. I awoke one morning to find that a handful of baby rattlers had
spent the night with me. The locals still tell their grand kids the legend of the
howling GI from the canyon of painted walls.

By the end of May we had successfully fired our three, and we packed up and
headed back to Bliss. We were then reformed into Dog Battery, 738th Missile
Bn. and assigned to another garden spot...Fort Dix, New Jersey. On what was once
a pear tree orchard, we literally hacked out a Nike site. This was a
temporary site until the REAL thing was built...which as I understand, turned out to
be P-38 at Marlton, NJ

In May, 1955 I was discharged, and I returned to Denver. With the help of
the GI Bill, I attended the Art Institute and studied graphic design. I spent
the next 30 years working as a commercial artist. I also worked my way into
photography...motion picture cinematography to be exact where I had the chance
to work and meet some wonderful folks. Gene Autry, Joel McCrea, Walter
Brennan, Barbara Stanwyck, Ben Johnson, Robert Young, Richard Carlson, Leslie
Nielson...just to drop a few names.

Retired now and living in Fort Collins, Colorado with my sweetie pie,
Katrina. Three kids and two grandsons, one of which was the Colorado State High
School Diving Champion a couple of years ago. My wife retired after 32 years
teaching English and literature at Fort Collins High School and now every day is
like Saturday. We love to travel, especially to Italy. We've been there 8
times, and we our now planning our ninth trip for later next year. I still
dabble in the arts, read, work in the yard, and I have just started my 37th
rendition of a HO model railroad....I'll get it right if it kills me!

JP has done a great job keeping us all in touch over the years...especially
the reunion at White Sands in 1999. Any old Desert Rat wants to say hello, e-mail JP, the Webmaster. He will get the message to me ASAP. That goes for anyone from THE HILL and DOG-7 in particular.

Bruce Graydon
Fort Collins, Colorado
Launching Specialist, Dog Battery, 738th Missile Bn. Fort Dix, New Jersey 1953-55.