Jacob's Ladder
Click image or reload page to replay animation

1. Opening A.
2. Release thumbs.
3. Pass thumbs under all strings and return with the far little finger string.
4. Pass thumbs over top and return with far index finger string.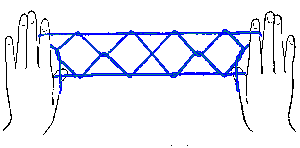 5. Release little fingers.
6. Pass little fingers over the index string and pick up from below the far thumb string. Return to position.
7. Release thumbs.
8. Pass thumbs over both index strings and return with the near little finger string.
9. With the right index and thumb, pick up the left near index string and move it over the left thumb.
10. Again with the right index and thumb, pick up the lower near thumb string and move it to the far side of the thumb.
11. Repeat 9 and 10 for the right hand.
12. Dip each index into the triangular space between the thumb and index.
13. Release the little fingers.
14. Rotate hands away from you, straightening your index and extending the figure.