<!==================================================>

Back to Main Page
To Trip 4


To Trip 6


Bermuda
November, 1988
For the atmosphere of Britain without the crowds or 5 1/2 hour flight, consider Bermuda. The week before Thanksgiving that year I had the opportunity for a 5 day all-inclusive visit to this enclave literally in the middle of nowhere. I went via US Air and LaGuardia Airport to the sunny island chain situated 600 miles east of the North Carolina coast and 700 miles southeast of "The Big Apple."
One of the best tours was actually the taxi ride from the airport near St. George (Bermuda's second largest city) on the easternmost island. It crossed the small one-way bridge linking the access road to the other islands and my final destination, the Elbow Beach Hotel on the south shore. As the name implies, this was the beach section of Bermuda, where there really is pink colored sand! With only 5 days on an island chain only 21 miles long and as narrow as 1 mile across, you'd think the beach scene was the only attraction, but that's far from true.
A short bus trip away was the capital, Hamilton. Do take the bus, rather than a taxi, and mingle with the locals. Language is no barrier here, and they will be more than happy to assist you in any way they can. First stop for me was City Hall, a relatively new structure for a colony founded some 400 years earlier. There was a small museum display there outlining the country's history. In fact, much of the cityscape appeared to have been rebuilt in the past 50 years. A one mile walk across the entire length of the harbor was very relaxing, passing through the dockyards (its true lifeblood, as everything has to be shipped in or out), the old Customs House, along the shopping district, and ending up at the Princess Hotel, famous in its own right. Every shop boasts its duty-free status, and most contain British goods from Wedgwood china to real English wool sweaters and even some Irish crystal and linen. A little farther west was also a Baccardi rum manufacturing plant- sorry, no tours!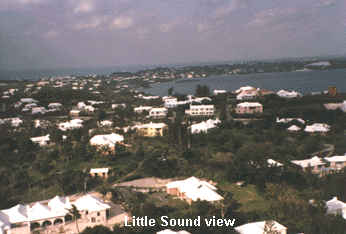 I spent a day at the westernmost tip, the former naval dockyards, newly renovated to a major tourist attraction of museums, craft stores and alike. Half the fun was getting there. Forget the bus, I took the water taxi, a relaxing half hour boat ride. The Naval Museum was a must see, and included sunken treasure found among Bermuda's many shipwrecks. The islands (some 300 large and small) are protected by a torturous coral reef, causing the demise of many a ship. In fact, the colony was founded in 1612 by survivors of a shipwreck! Did you also know that Bermuda was a favorite hangout for Confederate warships during the Civil War? It was here that I also saw an active US naval sub on maneuvers.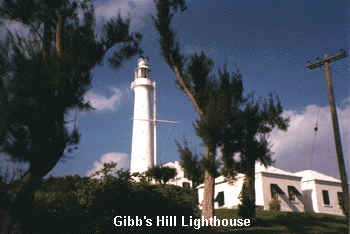 Farther south is supposedly the smallest land bridge in the world. I can't remember its actual dimensions, but it was short, but wide enough for my small bus to get by. A bit east lies a US Air Force base. The Gibb's Hill lighthouse is another must-see stop. I was amazed by its giant lens, which illuminates the night sky up to 40 miles away.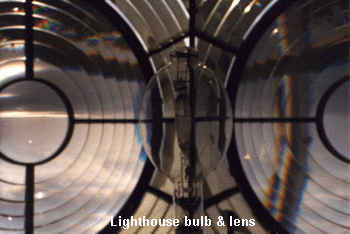 To paraphrase, "All roads lead to Hamilton," at least when it means bus travel. This even includes school buses, which make the main bus stop their terminus as well. The prim and proper attitude of Bermudans is clearly seen in the uniforms of the children, including shorts for all the boys! Besides buses, motor scooters is a favorite mode of transport, but watch out. They drive on the left here, and tourist accidents are not uncommon, especially at round-about traffic circles.
East of Hamilton is an area called, "The Flatts." Attractions include the zoo (which was disappointing, being on the very small side), the Perfumery manufacturing plant and a pottery shop. A great controversy embroiled this latter establishment, which prided itself on all hand-made items. Well, come to find out, they were actually sneaking cheap Chinese ceramic items into the country and putting their own labels on it! The whole affair caused quite a stink.
On Bermuda's east end lies its historical roots, St. George, the oldest city. Nearby is where its founder's shipwreck accident took place. The historic walking tour was a highlight of my trip. The city's official town crier leads the tour twice a week decked out in 18th century garb a la Ben Franklin (the resemblance was remarkable). Stops along the two hour trek included several churches and other buildings of historical interest, all along narrow paving stoned streets.
It was here that I learned I was in the presence of British royalty. Everyone was talking about the visit by Princess Alexandra and her husband. I believe she is the Queen's cousin, making an official state visit tour to Bermuda followed by several Caribbean nations. I did get up close and personal with them both, who enjoyed mingling with Bermudians and tourists alike. The Royal Rolls Royce which accompanied them is what I really wanted to bring home as a souvenir if I could have!
I don't think that I mentioned that the Bermudan dollar is on par with the American one, and both are intermingled constantly. The US dollar is still preferred, and I had to do quite a bit of hunting to track down some local currency for my coin and banknote collection. As a stamp collector, I had to visit the original Perot post office in Hamilton, where the world famous provisional stamps originated. It's decorated as it had looked 150 years ago. I've seen examples of these stamp rarities auctioned off in the six-digit range, way above my limit.
Don't expect to find McDonalds, Burger King, or any of the other mainstays of American cuisine on your plate here. As I understand, exclusive rights to such establishments were bought up years ago and never enacted upon purposely not to spoil the unique ambiance and charm here. I did find one hamburger place for lunch in Hamilton, but that was about it. Meat pies were on many a street corner. The pubs had the best value when it came to food, which owing to transportation costs, was unreasonable at best to downright expensive at worse. I didn't care. I simply snacked my way through lunch time, making sure that I arrived back at Elbow Beach for high tea punctually at 4 PM each day, where I could enjoy fabulous finger sandwiches, scones with double creme, fresh fruit of all types (including delicious figs) and pastries. I made sure to leave room for the gourmet five course meals served nightly at 8 PM, where suits are not optional. A dinner jacket at a minimum is required anywhere you decide to dine in the evening. For you night owls, forget Bermuda, for it has no nightlife to speak of. By 10 PM everyone is at home and ready for bed.
If you're looking for sun, fun and a tranquil destination, Bermuda's just what the doctor ordered!
---
<!==================================================>