<!==================================================>

Back to Main Page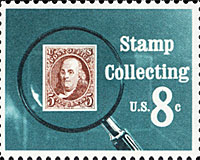 Now playing: Take On Me
| | |
| --- | --- |
| | This is where it all began, with the introduction of the world's first postage stamp by Great Britain in 1840. It quite appropriately depicted the reigning monarch, Queen Victoria. Nicknamed the "Penny Black", it started our hobby, coined by the French "philately" or "one who loves to avoid paying taxes." You see, back then it was usually the recipient of a letter who had to pay the fee (or "tax") to get his or her mail. The concept of a pre-paid method for sending letters was totally new back then. We take it for granted today. |
| | |
| --- | --- |
| The major stamp collecting group in the US is the American Philatelic Society (APS). With 57,000 members, this organization is the largest group of its kind in the country. Membership offers a bimonthly magazine, The American Philatelist, as well as a wealth of services, including an approval and Internet sales division and an sales outstanding stamp insurance program. I am a life member of the society (LM #4501) and strongly encourage all philatelists no matter what your specialty to join. A link to their excellent home page is provided here: http://www.stamps.org. I have been Chairman of the APS Chapter Activities Committee since 1997, overseeing 700 Chapter clubs. Their web site is http://www.stamps.org/cac/. | |
| | |
| --- | --- |
| | Are there still stamp collectors trying to collect the entire world? There sure are! The International Society of Worldwide Stamp Collectors (ISWSC) has well over 650 active members in 25+ countries ranging in age from 7 to 90. Beginners through very advanced worldwiders are represented in this group, where fun is still what philately is all about. Each member gets a bimonthly award-winning newsletter, "The Circuit." Additional benefits include the opportunity to take part in several sales, trade and exchange programs, at least 2 auctions a year, and of course, corresponding and trading with members who share your same interests. There is also a very active youth program for members and non-members alike run from 6 centers around the world, all free of charge. I am a past-president and member #379. I also was the society's webmaster. View their link here: http://www.iswsc.org |
| | |
| --- | --- |
| The Cover Collectors Circuit Club (CCCC) is another international organization catering to worldwide stamp and cover collectors, now in its 50th year of operation. The "cover" which is exchanged is actually the outer envelope used to mail a circuit form to four members one after the other. Most members make their covers very special by using commemorative cancels, hand drawn cachets, full sets of stamps, etc, and also include their own exchange offers. There are about 25,000 members active today around the world. I am this group's publicity director, and designated member OM "FIT"-84683. I also run their web page which you can see by clicking here: http://www.covercollectors.org/ | |
| | |
| --- | --- |
| | I am also active in my areas's largest stamp group, the Rochester Philatelic Association (RPA). I have been Vice President and President twice. We meet monthly between September and June on the 2nd and 4th Thursday of most months at the Twelve Corners Presbyterian Church at 1200 South Winton Road. Meetings feature speakers and slide presentations, along with silent auction tables and an exhibit contest. You are welcome to join us at a meeting anytime. The RPA sponsors upstate New York's only national stamp show every June, ROPEX, and have three times been its chairman. I also run the RPA web page, found here http://www.rpastamps.org |
| | |
| --- | --- |
| The Rochester Philatelic Association is also a member of the Federation of New York Philatelic Societies. It comprises some 30+ collecting groups from throughout central and upstate New York. I formerly represented the Northwestern region of the state. I run their web site at http://www.nystampclubs.org. Their bi-monthly award-winning publication, The Stamp Insider, can be viewed online at the site. | |
I also belong to the following philatelic organizations:
American Association of Philatelic Exhibitors (AAPE-Life member)
American Topical Association (Life member #1863)
I'm also a judge, nationally accredited by the American Philatelic Society and American Topical Association, and regionally by the Federation of New York Philatelic Societies. Click here to view my past and future judging assignments.
---
What do I collect and/or exhibit?

Check out my exhibits online at http://www.frontiernet.net/~stamptmf/exhibits/index.html
See some of my awards http://www.frontiernet.net/~stamptmf/exhibits/bawards.html
Interested in exhibiting? Check out my articles http://www.iswsc.org/exhibit.shtml

Quiz time- What does a

and a

have in common?
I'd bet that you may not have known that they are both made out of ceramics. I graduated from Alfred University in 1981 with a BS degree in ceramic engineering, specializing somewhat in glass compositions, another ceramic material. Although no longer in the ceramics field, I decided to combine interests and create a stamp exhibit about ceramics and ceramic materials. I started finding material in 1989, putting it all together for the first time in 1994 at ROPEX, where it earned a national silver. It has done well in regional and national competitions, garnering national vermeils and golds, and golds (and a best in show!) at local/regional competition. See selected pages online.
| | |
| --- | --- |
| | I prepared a thematic exhibit together in 1990 on wrestling for the 1990 Empire State Games in Buffalo which can be viewed on my online exhibits page. I seriously started collecting the theme around 1999, and eventually will work it up like my ceramics exhibit. Click http://www.wrestlingsbest.com to visit my amateur wrestling web site, with six million+ unique hits, including a variety of stamps! |
In May of 2000 I first displayed an exhibit entitled, "Life is Just A Bowl of Cherries- Idioms Illustrated & Explained. It's a fun and interactive display all about the origins of common everyday English language phrases and expressions. The judges have been very kind in their thoughts about it, and it has won several regional golds and "Best in Shows." See it online.
| | |
| --- | --- |
| On the more serious side, drug advertising post cards mailed in the late 1950's through mid-60's are an inexpensive but interesting part of postal history. Sodium pentothal (Abbott Labs) and other drugs were touted on these cards mailed from foreign "stops" on ficticious worldwide tours by drug companies. These gimicky cards were mailed to doctors and nurses touting specific medications made by these firms. Picture post cards with native views were used, along with the appropriate stamps of time, making it an ideal area of study. I have a nice collection of these and am always looking for more to view or buy. I also maintain an extensive spreadsheet on varieties, postmark dates, etc. on these. I have a web site running for the Dear Doctor Postcard Collector's Club at http://www.deardoctorpostcards.com. Eventually it will become an exhibit. | |
I have a keen interest in history, as evident by my 16 page exhibit online dealing with 20th century events as illustrated on covers relating to them. Among the items you'll see is an envelope from the 1906 San Francisco earthquake, a cover which actually "missed the boat"- the Titanic, and a postcard and cancel mailed during the Versailles Peace Conference ending World War I.
| | |
| --- | --- |
| | Holographs have always been fascinating, and there are many stamp and stationery issues from around the world which would make a nice mini-exhibit. Shown here is a souvenir sheet from Malaysia. The holograph is a bit difficult to reproduce effectively here. |
| | |
| --- | --- |
| You never know what you can find in dealer's junk boxes, and I take every opportunity to check every one out! Occasionally I find a gem (at least to me) having an unusual marking on it, like postage due, return to sender fingers, etc. The more unusual ones are best, of course, like this slightly singed cover from the South Pole's US McMurdo Station having a marking, "Soiled in POST OFFICE by having furnace trouble." From this humble beginning in 1995 I started a collection of unusual 20th century auxiliary markings. This requires quite a bit of research to write up! Eventually I'll put this exhibit together. | |
| | |
| --- | --- |
| | The history of airline companies is another area of interest of mine, especially philatelic material which traces the evolution of livery colors/designs and corporate logos. This collection is small but growing. Click here to visit my commercial airline and accompanying airport link pages. |
---
<!==================================================>