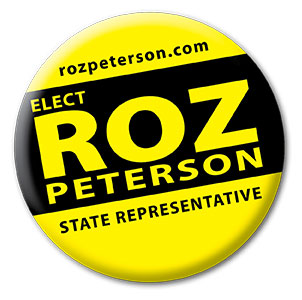 How You Can Help
Thank you for your interest in supporting Roz for State Representative. There are many ways you can help Roz's campaign. You can make a generous contribution, donate your time or display a sign on your lawn. There are numerous volunteer opportunities to choose from: write a letter to the editor, walk in a parade, host an event, make phone calls, just to name a few. If you'd like to help, we'd like to have you!
Volunteer:
Roz needs your help! You can make a difference by just doing a little (or a lot). It's up to you! Elections are won by just 2 or 3 more votes per neighborhood. There are many ways to help our campaign efforts.
Your support is greatly appreciated! Please complete this form and mail it back to the supplied address or you can email Roz at rozforhouse@gmail.com.
Contribute:
Roz Peterson is running for election to advocate for responsible government, grow jobs and the economy, education focused on achievement, and provide affordable, quality health care. She needs your help!
A contribution of any amount, up to the 2014 campaign finance limit of $500 per person, will help Roz reach more voters with this message, and help elect her to the Minnesota House of Representatives! Thank you.
To contribute online now, click the Paypal button below. Your credit card information will be collected via a secure server.

If you prefer to make a contribution by check, complete this form and mail with your check to:
Elect Roz Peterson Committee
12295 162nd St W
Lakeville, MN 55044
Minnesota law requires us to collect and report the name, mailing address, occupation and name of employer of individuals whose donations exceed $100 per calendar year. Contributions are not tax deductible.
For questions, please contact us at (952) 892-1782 or rozforhouse@gmail.com.
Prepared and paid for by the Elect Roz Peterson Committee, 12295 162nd St. W., Lakeville, MN 55044