Brandon Kleyla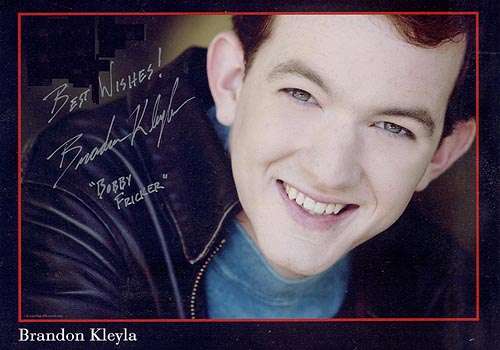 ---
Brandon Kleyla landed the role of Bobby Fricker in the movie "Now and Then". I spoke with Brandon recently by e-mail and asked him a few questions about his experience in filming the movie. He also sent along some great behind the scene pictures.

1) How did you get the part? Did you have an agent at the time? Did you audition? If so were the auditions done in Georgia or elsewhere?

One day, my agent called me and said they were casting this movie with Demi Moore, and it was shooting in Savannah. So I actually DROVE from Florida, up to Savannah, just to audition. I actually auditioned for the role of Morton, the nerd guy who comes up to Ashleigh at the softball game. But they didn't think I was right for that role. However, I got along great with everyone, and it turns out there was a character that they had cut from the film, that they would put back into the film just so we could all work together. Turns out, the role was Bobby Fricker.

2) Where did you stay during the filming? Were you living in the area at the time?

We stayed at the Homewood Suites in Savannah during filming. I know I have my room key around here somewhere!! I was still living in Florida while we were filming.

3) How many days were you there for filming?

I only shot for about 2 weeks, but I was in Savannah for about a month. Great town!!!

4) What were the girls like. I think Ashleigh as Chrissy did a great job in the film.

The girls were all great. All the kids were. They were a lot of fun to hang with, some more than others. Ashleigh and I got along great! Thora was fun, as were Gaby and Christina. I agree with you when you say that Ashleigh did the best. I actually tried to find her just the other day for a film that I'm getting ready to start. Turns out she's going to college, working on becoming a teacher! So I wish she was still acting, but I'm sure she's gonna make one hell of a teacher!

5) I know you were in the Red Rover scene but were you in the softball scene or any of the other scenes that got deleted. I know there was a big carnival scene that was deleted. I was dissappointed the DVD version didn't include any of it.

Actually, I'm in the softball scene. If you watch the widescreen version on the dvd, you can see me sitting on the fence by myself in certain shots. The best shot is when they do the wide shot while Christina is beating the kid up, I'm still sitting on the fence, not paying any attention. I actually turn my head and look away. Yeah, I was in the carnival scene too. I'd love to have seen that on the dvd!!

6) Did you save any mementos from the movie?

Did I keep anything from the set?? Hmmm, lemme think. I still have everything that they gave me during filming. All the callsheets, my script, tons of pictures, my crew t-shirt, stuff like that.. I wasn't able to keep any props or anything like that. Mostly because I didn't have any.

7) I see you are still acting. Has "Scorched" been released yet? How did that go?

Scorched hasn't been released yet, still in the editing stages. It went well. We shot it for about a month, here in L.A. I'll enclose a couple of pictures from it.

8) What are you doing now?

Right now I'm getting to get behind the camera and direct my first feature, "The Road to Canyon Lake." It's a comedy about two guys who travel across California to get to this huge party. And along the way, they have to deal with the Mafia, FBI, Bounty Hunters, and worst of all, their girlfriends. We're plan on the shoot starting in Mid-October. Right now we're doing all the pre-production work, getting ready. I'm excited to be a part of the project. I think it's got a lot of potential, and I'm looking forward to directing a piece that I also wrote the screenplay for. It's going to be fun. I've also got something like 4 other movies now that I'm trying to get started, and on top of all of that, I'm in the process of developing, with coworkers, probably the largest headshot photography studio in the world. There, I'll be head of film production, so it's quite an undertaking.
---

Brandon at the site of the softball scene.

---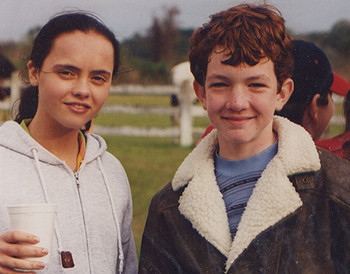 Brandon and Christina

---
Photos Page 2