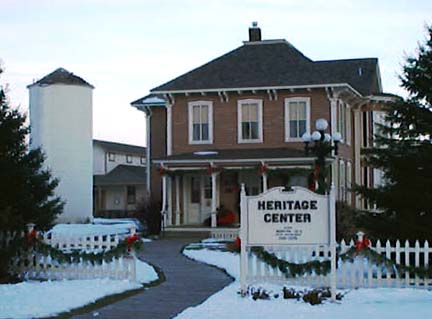 The New Richmond Preservation Society owns and operates the Heritage Center on the south side of New Richmond on land once part of the Bell farm. Pictured above is the Marcus Sears Bell Farmstead, an 1884 Italianate style farmhouse which serves as the centerpiece of the Center. Located on the property are 10 other buildings which house historic displays and facilities for educational tours. In the background to the left is the Agriculture Pavilion, which houses a collection of antique tools and other memorabilia provides space for meetings and classes. The silo on the left is one of two on the site.
Each autumn the Society sponsors New Richmond Heritage Days. The 2000 festival began on September 21st and climaxed with a full day of activities on September 24th. Nearly 2,000 people visited the Center on Sunday this year.
Clicking on the photos below will take you to pages that will show you some of the activities that contributed to the success of this year's event.
| | |
| --- | --- |
| | What does a band have to do with a llama and a novelist? |
| | How does a hand press work? A corn sheller? A spinning wheel? |
| | Where can you find 19th century prices on 20th century merchandise? |